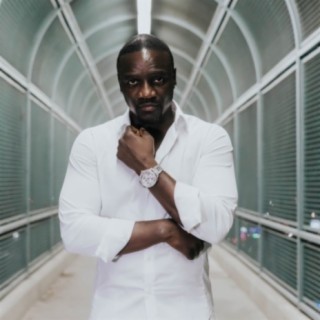 Akon
Current #166

All Time #172

Mixing smooth R&B vocals with hip-hop grooves, Senegalese-American singer, producer, and entrepreneur Akon first gained fame with the single "Locked Up," from his 2004 debut album, Trouble. A Top Ten hit in the U.S. and U.K., the song helped Trouble go platinum, a certification achieved several times over on subsequent albums including 2006's Konvicted and 2008's Freedom. Along with his music, Akon founded his own Konvict label, helping launch the careers of artists including T-Pain, Lady Gaga, and Kardinal Offishall. He has showcased these label connections on 2013's Konvict Mixtape, Vol. 1 and 2017's Konvict Kartel, Vol. 2.

Born in St. Louis, Missouri, in 1973, Akon grew up in Senegal before he and his family (including his father, jazz percussionist Mor Thiam) returned to the United States and settled in New Jersey when he was seven. Akon released Trouble, Akon's debut LP, in June 2004. The album was an interesting hybrid of Akon's silky vocals with East Coast- and Southern-styled beats. The success of the song "Locked Up," a Top Ten Billboard Hot 100 hit, made Akon a star and desired collaborator.

Akon's stand-alone single, "Dirty Work" featuring Wiz Khalifa, arrived in February 2013 and was followed that November by "So Blue." After signing a new contract with Atlantic, Akon issued several singles in 2015 and 2016 including "Want Some," "Hypnotized," and "Good Girls Lie." He then joined Chris Brown and Gucci Mane for the Michael Jackson-tribute single "Moon Walk." The following year, he issued the mixtape Konvict Kartel, Vol. 2. In 2019, Akon released the Latin-influenced single "Get Money," featuring Puerto Rican rapper/singer Anuel AA. It was the first track from his fourth studio album, 2019's El Negreeto, issued on his own Akonik imprint. Download and Listen your favorite songs on Boomplay....more

Country/Region : United States
Listen to Akon's new songs including "Intocable ft. Lapiz Conciente", "Beautiful (Reggae Version) [Mixed] ft. Colby O'Donis & Kardinal Offishall", "Sunny Day (Album Version) [Mixed] ft. Wyclef Jean" and many more. Enjoy Akon's latest songs and explore the Akon's new music albums. If you want to download Akon songs MP3, use the Boomplay App to download the Akon songs for free. Discover Akon's latest songs, popular songs, trending songs all on Boomplay.
Mixing smooth R&B vocals with hip-hop grooves, Senegalese-American singer, producer, and entrepreneur Akon first gained fame with the single "Locked Up," from his 2004 debut album, Trouble. A Top Ten hit in the U.S. and U.K., the song helped Trouble go platinum, a certification achieved several times over on subsequent albums including 2006's Konvicted and 2008's Freedom. Along with his music, Akon founded his own Konvict label, helping launch the careers of artists including T-Pain, Lady Gaga, and Kardinal Offishall. He has showcased these label connections on 2013's Konvict Mixtape, Vol. 1 and 2017's Konvict Kartel, Vol. 2.

Born in St. Louis, Missouri, in 1973, Akon grew up in Senegal before he and his family (including his father, jazz percussionist Mor Thiam) returned to the United States and settled in New Jersey when he was seven. Akon released Trouble, Akon's debut LP, in June 2004. The album was an interesting hybrid of Akon's silky vocals with East Coast- and Southern-styled beats. The success of the song "Locked Up," a Top Ten Billboard Hot 100 hit, made Akon a star and desired collaborator.

Akon's stand-alone single, "Dirty Work" featuring Wiz Khalifa, arrived in February 2013 and was followed that November by "So Blue." After signing a new contract with Atlantic, Akon issued several singles in 2015 and 2016 including "Want Some," "Hypnotized," and "Good Girls Lie." He then joined Chris Brown and Gucci Mane for the Michael Jackson-tribute single "Moon Walk." The following year, he issued the mixtape Konvict Kartel, Vol. 2. In 2019, Akon released the Latin-influenced single "Get Money," featuring Puerto Rican rapper/singer Anuel AA. It was the first track from his fourth studio album, 2019's El Negreeto, issued on his own Akonik imprint. Download and Listen your favorite songs on Boomplay.
FAQs about Akon
Where is Akon from?
He is from United States.
What are the latest songs of Akon?
The latest songs of Akon are Slow Motion, Enjoy That (Nektunez Remix) and Sleep ft. Nektunez.
What are the best songs of Akon?
The best songs of Akon are Don't Matter (Radio Edit), Lonely and Right Now (Na Na Na).
What are the best albums of Akon?
The best albums of Akon are Freedom (Int'l Version 2), Trouble Deluxe Edition and Konvicted (Complete Edition).
How to download songs of Akon?
You can download songs of Akon from Boomplay App for free.
Firstly, install Boomplay app on your mobile phone.
Secondly, navigate to the song you would like to download.
Thirdly, Tap on More > Download.