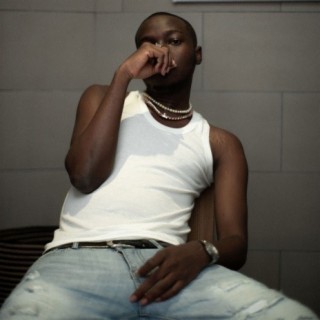 Killertunes
Current #7,763

All Time #2,834

Daniel Otaniye Olaye, a.k.a Killertunes, was born on the 22nd day of June 1986 in Benin city, the capital city of Edo State, Nigeria. Many of Killertunes songs, like Light Up (ft. Walshy Fire, Like Mike & Sha Sha), become very popular and trendy online with a great number of streaming and downloads on Boomplay.

He started learning about music at a young age. He began to learn more about music production at the age of 17.

Killertunes was born into a family of five, but details about his parents and siblings are still uncertain. When he clocked 18 years, he was already producing beats for local artists in his municipality. When Killertuneswas young, he met and collaborated with other producers, creating uniques beats for local artists.

Career
From working with top artists in the Nigerian music industry, Killertunes has proven beyond that he is truly an experienced and capable producer. He developed an interest in music production when he was still a high schoolboy.

Killertunes relocated to Lagos from Edo state to chase his talent in music production. Sooner than expected, he met DJ Spinall, a renowned disc jockey, and he eventually got signed to The Cap Music, which is owned by DJ Spinall.

When DJ Spinall wanted to release one of his studio albums, he allowed Killertunes to produce the album. Within 4 years, Killertunes became one of the most sought-after producers in Nigeria. Soon, musical artists started flooding him from all corners to produce their songs.

He is also well known for giving free studio sessions to upcoming musical artists.

Killertunes is the producer behind the sensational afrobeat song by Mut4y and Wizkid titled Manya. He was also the producer behind hits songs such as Motigbana by Olamide, Beginning by Joeboy, Baba by Kizz Daniel and DJ Spinall, Bobo by Mayorkun and Davido, and many more Nigerian hit songs.

Follow Boomplay and keep up-to-date with the latest Killertunes songs and information.

Awards
Killertunes has once won The Headies Award for Producer of the Year. He has got numerous nominations such as the City People Music Award for Music Producer of the Year, Nigeria Entertainment Award for Music Producer of the Year, Top Naija Music Award for Best Music.

Killertunes songs are included in Boomplay music playlists. Search to stream and download Killertunes songs MP3/ single/ albums on the platform....more

Country/Region : Nigeria
Songs

(23)

Albums

(7)

Playlists

(0)
1

2

3

4

5

6

7

8

9

10

11

12

13

14

15

16

17

18

19

20

21

22

23
Listen to Killertunes's new songs including "Light Up ft. Walshy Fire, Like Mike & Sha Sha", "Sure 4 U", "All My Days ft. Suté Iwar" and many more. Enjoy Killertunes's latest songs and explore the Killertunes's new music albums. If you want to download Killertunes songs MP3, use the Boomplay App to download the Killertunes songs for free. Discover Killertunes's latest songs, popular songs, trending songs all on Boomplay.
Daniel Otaniye Olaye, a.k.a Killertunes, was born on the 22nd day of June 1986 in Benin city, the capital city of Edo State, Nigeria. Many of Killertunes songs, like Light Up (ft. Walshy Fire, Like Mike & Sha Sha), become very popular and trendy online with a great number of streaming and downloads on Boomplay.

He started learning about music at a young age. He began to learn more about music production at the age of 17.

Killertunes was born into a family of five, but details about his parents and siblings are still uncertain. When he clocked 18 years, he was already producing beats for local artists in his municipality. When Killertuneswas young, he met and collaborated with other producers, creating uniques beats for local artists.

Career
From working with top artists in the Nigerian music industry, Killertunes has proven beyond that he is truly an experienced and capable producer. He developed an interest in music production when he was still a high schoolboy.

Killertunes relocated to Lagos from Edo state to chase his talent in music production. Sooner than expected, he met DJ Spinall, a renowned disc jockey, and he eventually got signed to The Cap Music, which is owned by DJ Spinall.

When DJ Spinall wanted to release one of his studio albums, he allowed Killertunes to produce the album. Within 4 years, Killertunes became one of the most sought-after producers in Nigeria. Soon, musical artists started flooding him from all corners to produce their songs.

He is also well known for giving free studio sessions to upcoming musical artists.

Killertunes is the producer behind the sensational afrobeat song by Mut4y and Wizkid titled Manya. He was also the producer behind hits songs such as Motigbana by Olamide, Beginning by Joeboy, Baba by Kizz Daniel and DJ Spinall, Bobo by Mayorkun and Davido, and many more Nigerian hit songs.

Follow Boomplay and keep up-to-date with the latest Killertunes songs and information.

Awards
Killertunes has once won The Headies Award for Producer of the Year. He has got numerous nominations such as the City People Music Award for Music Producer of the Year, Nigeria Entertainment Award for Music Producer of the Year, Top Naija Music Award for Best Music.

Killertunes songs are included in Boomplay music playlists. Search to stream and download Killertunes songs MP3/ single/ albums on the platform.
New Comments(
10

)