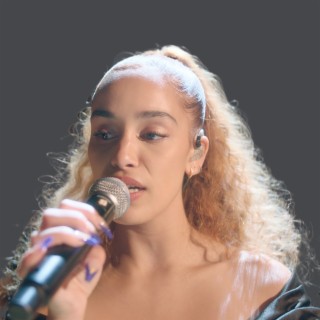 Jorja Smith
Current #7,993

All Time #6,556

Jorja Alice Smith was born on June 11, 1997, in Walsall, West Midlands. Many of Jorja Smith songs become very popular and trendy online with a great number of streaming and downloads on Boomplay.

Her mother Jolene Smith is in the jewelry designing business, while her father Peter Smith is a human resource officer. Smith grew up with her brother Luca. On her father's advice, she took music lessons and later earned a music scholarship from the 'Aldridge School'.

Career
Jorja Alice Smith is an English singer and songwriter who has delivered many chartbusting singles throughout her career. The relatively new artist has already made a mark on the music industry and has been nominated for multiple prestigious awards, including a Grammy. Smith has collaborated with popular artists like Kendrick Lamar, Stromzy and Drake, but it is her own creations which have proven to be most successful for her career.

She released her extended play in 2016, marking her debut in the music industry. Smith began trending on popular music streaming websites and apps after releasing singles like 'Let Me Down' and 'Bridge Over Troubled Water'. She then released her first studio album 'Lost & Found', which broke into top charts nationally and internationally.

She was influenced by Amy Winehouse's music while growing up and listened to a lot of reggae, pop and R&B songs. She started writing songs as a kid and continued to hone her skills over the years before eventually making her debut. The young artist may have found success quite early in her career, but clearly, it has not happened overnight.

Career
Jorja Smith started writing songs at the age of 11. Her music had R&B and reggae influence with a touch of hip-hop and pop. She also took lessons in classical music. At a young age, she uploaded some of her songs and covers of popular tracks by famous artists on YouTube. Soon after that, she was scouted by record producers. To improve her songwriting skills, she took lessons from the English-Irish singer Maverick Sabre.

Smith moved to London to pursue a career in music, releasing her first single 'Blue Lights' on SoundCloud in 2016. She then released her second single 'Where Did I Go?' on the same digital media platform. The song was noticed by popular artists like Drake who called it the hottest track of that time and one of his favorites.

In November 2016, Smith released her debut extended play 'Project 11', which earned her the fourth place on BBC Music's 'Sound of 2017' longlist. Her initial successes gave her enough exposure to earn collaborations with top artists. In 2017, she featured in Drake's world tour as well as in one of his mixtapes. The year proved to be very successful for her, and she released more hit singles like 'Teenage Fantasy' and 'On My Mind'.

In 2018, Smith became the first ever independent artist to be nominated for the 'Brit Critics' Choice Award' and to win it. In the same year, she released the single 'Let Me Down', which became one of her most popular tracks to date. The song featured the rapper Michael Ebenazer Kwadjo Omari Owuo Jr., who is better known as Stormzy. It peaked at number three on 'The UK Independent Singles Chart' and featured in other top charts as well.

She released her debut studio album 'Lost & Found' on June 8, 2018, which became an immediate success. The album with 12 tracks sold over 40 thousand copies in the UK. It was certified Silver by the 'British Phonographic Industry' (BPI Ltd.) and was nominated for the 'Mercury Prize'. The album received overwhelming reviews from many leading magazines and website.

It topped the 'UK R&B Singles Chart', reached number three position on the 'UK Albums Charts' and number one on the 'UK Independent Albums'. The young musician toured across the UK and the US to promote her album. She won her second 'Brit Award' in 2019 in the 'British Female Solo Artist' category. Her other accolades include being nominated at the 'Grammy Awards' for the Best New Artist.

Follow Boomplay and keep Up to date with the latest Jorja Smith songs and information.

Jorja Smith Songs
• Blue Lights
• Be Honest
• Don't Watch Me Cry
• On My Mind
• Addicted
• By Any Means
• Teenage Fantasy
• Gone
• Be Right Back
• Come Over (feat. Popcaan)
• Let Me Down
• Bussdown
• All of This (Jorja Smith X GuiltyBeatz)
• The One
• Where Did I Go?
• Nobody But You
• Goodbyes
• Carry Me Home
• On Your Own
• I Am
• Burn
• February 3rd
• Something in the Way
• Time
• Wandering Romance
• Beautiful Little Fools
• Tomorrow
• Weekend

Jorja Smith songs are included in Boomplay music playlists. Search to stream and download Jorja Smith songs MP3/ single/ albums on the platform....more

Country/Region : United Kingdom
Songs

(0)

Albums

(0)

Playlists

(9)
Listen to Jorja Smith's new songs including and many more. Enjoy Jorja Smith's latest songs and explore the Jorja Smith's new music albums. If you want to download Jorja Smith songs MP3, use the Boomplay App to download the Jorja Smith songs for free. Discover Jorja Smith's latest songs, popular songs, trending songs all on Boomplay.
Jorja Alice Smith was born on June 11, 1997, in Walsall, West Midlands. Many of Jorja Smith songs become very popular and trendy online with a great number of streaming and downloads on Boomplay.

Her mother Jolene Smith is in the jewelry designing business, while her father Peter Smith is a human resource officer. Smith grew up with her brother Luca. On her father's advice, she took music lessons and later earned a music scholarship from the 'Aldridge School'.

Career
Jorja Alice Smith is an English singer and songwriter who has delivered many chartbusting singles throughout her career. The relatively new artist has already made a mark on the music industry and has been nominated for multiple prestigious awards, including a Grammy. Smith has collaborated with popular artists like Kendrick Lamar, Stromzy and Drake, but it is her own creations which have proven to be most successful for her career.

She released her extended play in 2016, marking her debut in the music industry. Smith began trending on popular music streaming websites and apps after releasing singles like 'Let Me Down' and 'Bridge Over Troubled Water'. She then released her first studio album 'Lost & Found', which broke into top charts nationally and internationally.

She was influenced by Amy Winehouse's music while growing up and listened to a lot of reggae, pop and R&B songs. She started writing songs as a kid and continued to hone her skills over the years before eventually making her debut. The young artist may have found success quite early in her career, but clearly, it has not happened overnight.

Career
Jorja Smith started writing songs at the age of 11. Her music had R&B and reggae influence with a touch of hip-hop and pop. She also took lessons in classical music. At a young age, she uploaded some of her songs and covers of popular tracks by famous artists on YouTube. Soon after that, she was scouted by record producers. To improve her songwriting skills, she took lessons from the English-Irish singer Maverick Sabre.

Smith moved to London to pursue a career in music, releasing her first single 'Blue Lights' on SoundCloud in 2016. She then released her second single 'Where Did I Go?' on the same digital media platform. The song was noticed by popular artists like Drake who called it the hottest track of that time and one of his favorites.

In November 2016, Smith released her debut extended play 'Project 11', which earned her the fourth place on BBC Music's 'Sound of 2017' longlist. Her initial successes gave her enough exposure to earn collaborations with top artists. In 2017, she featured in Drake's world tour as well as in one of his mixtapes. The year proved to be very successful for her, and she released more hit singles like 'Teenage Fantasy' and 'On My Mind'.

In 2018, Smith became the first ever independent artist to be nominated for the 'Brit Critics' Choice Award' and to win it. In the same year, she released the single 'Let Me Down', which became one of her most popular tracks to date. The song featured the rapper Michael Ebenazer Kwadjo Omari Owuo Jr., who is better known as Stormzy. It peaked at number three on 'The UK Independent Singles Chart' and featured in other top charts as well.

She released her debut studio album 'Lost & Found' on June 8, 2018, which became an immediate success. The album with 12 tracks sold over 40 thousand copies in the UK. It was certified Silver by the 'British Phonographic Industry' (BPI Ltd.) and was nominated for the 'Mercury Prize'. The album received overwhelming reviews from many leading magazines and website.

It topped the 'UK R&B Singles Chart', reached number three position on the 'UK Albums Charts' and number one on the 'UK Independent Albums'. The young musician toured across the UK and the US to promote her album. She won her second 'Brit Award' in 2019 in the 'British Female Solo Artist' category. Her other accolades include being nominated at the 'Grammy Awards' for the Best New Artist.

Follow Boomplay and keep Up to date with the latest Jorja Smith songs and information.

Jorja Smith Songs
• Blue Lights
• Be Honest
• Don't Watch Me Cry
• On My Mind
• Addicted
• By Any Means
• Teenage Fantasy
• Gone
• Be Right Back
• Come Over (feat. Popcaan)
• Let Me Down
• Bussdown
• All of This (Jorja Smith X GuiltyBeatz)
• The One
• Where Did I Go?
• Nobody But You
• Goodbyes
• Carry Me Home
• On Your Own
• I Am
• Burn
• February 3rd
• Something in the Way
• Time
• Wandering Romance
• Beautiful Little Fools
• Tomorrow
• Weekend

Jorja Smith songs are included in Boomplay music playlists. Search to stream and download Jorja Smith songs MP3/ single/ albums on the platform.
New Comments(
27

)
FAQs about Jorja Smith
Where is Jorja Smith from?
She is from United Kingdom.
What are the latest songs of Jorja Smith?
The latest songs of Jorja Smith are Little Things (Nia Archives Remix), Little Things and Try Me.
What are the best songs of Jorja Smith?
The best songs of Jorja Smith are Be Honest ft. Burna Boy, Bussdown ft. Shaybo and All of This (Jorja Smith x GuiltyBeatz) ft. GuiltyBeatz.
What are the best albums of Jorja Smith?
The best albums of Jorja Smith are Be Right Back, Be Honest (feat. Burna Boy) and Lost & Found.