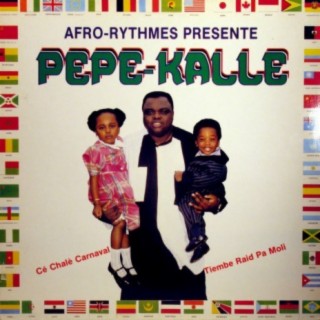 Pépé Kallé
Current #2,635

All Time #3,653

Pepe Kalle (born: Kabasele Yampanya) was musically and physically huge. Blessed with a multi-octave vocal range and a dynamic stage presence, the six foot three inch, three hundred pound, vocalist recorded more than three hundred songs and twenty albums during his two decade-long career. Known affectionately as "the elephant of African music" and "La Bombe Atomique", Kalle thrilled audiences with his robust performances.

Pepe Kalle songs like Roger Milla, become very popular and trendy online with a great number of streaming and downloads on Boomplay.

Career
Learning to sing in a church choir, Kalle was mentored by Joseph Kabasele, "Le Grand Kalle", in whose home he lived and worked in exchange for music and vocal training. Making his professional debut as a member of Kabasele's band, African Jazz, Kalle formed his own band, Bella Bella, with singer Nybomba, later of Sam Magwana's African All Stars, in the 1970s. His greatest work, however, came during the 1980s when he formed and performed with Empire Bakumba.

A true showman, Kalle's concerts are remembered for his playful exchanges with a dwarf, Emauro. While he primarily worked with his own band, Kalle collaborated with Zaiko Langa Langa and members of OK Jazz.

Follow Boomplay and keep up-to-date with the latest Pepe Kalle songs and information.

Pepe Kalle songs are included in Boomplay music playlists. Search to stream and download Pepe Kalle songs MP3/ single/ albums on the platform....more

Country/Region : Democratic Republic of the Congo
Songs

(6)

Albums

(1)

Playlists

(0)
Listen to Pépé Kallé's new songs including "Roger Milla", "Gérant", "Shikamo Seye" and many more. Enjoy Pépé Kallé's latest songs and explore the Pépé Kallé's new music albums. If you want to download Pépé Kallé songs MP3, use the Boomplay App to download the Pépé Kallé songs for free. Discover Pépé Kallé's latest songs, popular songs, trending songs all on Boomplay.
Pepe Kalle (born: Kabasele Yampanya) was musically and physically huge. Blessed with a multi-octave vocal range and a dynamic stage presence, the six foot three inch, three hundred pound, vocalist recorded more than three hundred songs and twenty albums during his two decade-long career. Known affectionately as "the elephant of African music" and "La Bombe Atomique", Kalle thrilled audiences with his robust performances.

Pepe Kalle songs like Roger Milla, become very popular and trendy online with a great number of streaming and downloads on Boomplay.

Career
Learning to sing in a church choir, Kalle was mentored by Joseph Kabasele, "Le Grand Kalle", in whose home he lived and worked in exchange for music and vocal training. Making his professional debut as a member of Kabasele's band, African Jazz, Kalle formed his own band, Bella Bella, with singer Nybomba, later of Sam Magwana's African All Stars, in the 1970s. His greatest work, however, came during the 1980s when he formed and performed with Empire Bakumba.

A true showman, Kalle's concerts are remembered for his playful exchanges with a dwarf, Emauro. While he primarily worked with his own band, Kalle collaborated with Zaiko Langa Langa and members of OK Jazz.

Follow Boomplay and keep up-to-date with the latest Pepe Kalle songs and information.

Pepe Kalle songs are included in Boomplay music playlists. Search to stream and download Pepe Kalle songs MP3/ single/ albums on the platform.