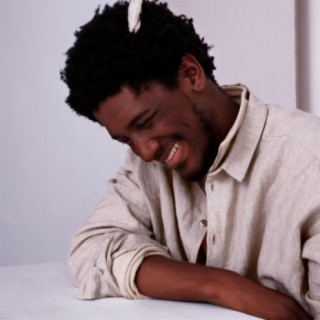 Labrinth
Current #3,912

All Time #5,327

Timothy Lee McKenzie (born 4 January 1989), better known by his stage name Labrinth, is an English rapper, singer, songwriter and record producer. Many of Labrinth songs become very popular and trendy online with a great number of streaming and downloads on Boomplay.

After initially pursuing a career in music production, Simon Cowell signed him to his record label Syco Music as a recording artist, becoming the first singer who Cowell signed without having competed on a talent show in six years. Labrinth collaborated with the English rapper Tinie Tempah, appearing as an uncredited featured artist on the single "Pass Out", and later officially on "Frisky"; before releasing his first solo single, "Let the Sun Shine" in September 2010, all three of which peaked in the top five on the UK Singles Chart.

Career
Labrinth started his career by producing the track "Dead End" for recording artist Master Shortie from the album A.D.H.D. (2009). The track generated interest in McKenzie as a producer and songwriter. Guy Moot of EMI Music Publishing offered the artist a publishing deal. From 2010 to 2011, Labrinth mentored the Urban Development Vocal Collective (UDVC) alongside his sister, ShezAr. He also produced multiple tracks for the collective, contributing towards a nine-track project titled Urban Development. The vocalists also provided backing vocals for Labrinth's original tracks.

McKenzie appeared as an uncredited guest artist on British rapper Tinie Tempah's debut single, "Pass Out", released on 28 February 2010. He had also produced and co-written the track. The single debuted at number-one on the UK Singles Chart, number six on the Irish Singles Chart, and number seventy in Australia. Having spent two weeks at the summit in the United Kingdom, "Pass Out" was awarded Best British Single at the 2011 Brit Awards and Best Contemporary Song at the 2011 Ivor Novello Awards.

It achieved platinum certification from the British Phonographic Industry for surpassing sales of 600,000 copies. Several months later the two artists collaborated for a second time in the release of Tempah's second single, "Frisky", also co-written and produced by McKenzie. The single debuted at number two in the United Kingdom, beaten only by the charity single "Shout" by Dizzee Rascal and James Corden. The track had chart success in Scotland, where it became the duo's second consecutive number one single, also peaking at number three in Ireland.

Follow Boomplay and keep up to date with the latest Labrinth songs and information.

Labrinth Studio albums
• Electronic Earth (2012)
• Imagination & the Misfit Kid (2019)

Labrinth Soundtrack albums
• Euphoria (Original Score from the HBO Series) (2019)
• Euphoria Season 2 Official Score (From the HBO Original Series) (2022)

Labrinth songs are included in Boomplay music playlists. Search to stream and download Labrinth songs MP3/ single/ albums on the platform....more

Country/Region : United Kingdom
Songs

(0)

Albums

(0)

Playlists

(3)
Listen to Labrinth's new songs including and many more. Enjoy Labrinth's latest songs and explore the Labrinth's new music albums. If you want to download Labrinth songs MP3, use the Boomplay App to download the Labrinth songs for free. Discover Labrinth's latest songs, popular songs, trending songs all on Boomplay.
Timothy Lee McKenzie (born 4 January 1989), better known by his stage name Labrinth, is an English rapper, singer, songwriter and record producer. Many of Labrinth songs become very popular and trendy online with a great number of streaming and downloads on Boomplay.

After initially pursuing a career in music production, Simon Cowell signed him to his record label Syco Music as a recording artist, becoming the first singer who Cowell signed without having competed on a talent show in six years. Labrinth collaborated with the English rapper Tinie Tempah, appearing as an uncredited featured artist on the single "Pass Out", and later officially on "Frisky"; before releasing his first solo single, "Let the Sun Shine" in September 2010, all three of which peaked in the top five on the UK Singles Chart.

Career
Labrinth started his career by producing the track "Dead End" for recording artist Master Shortie from the album A.D.H.D. (2009). The track generated interest in McKenzie as a producer and songwriter. Guy Moot of EMI Music Publishing offered the artist a publishing deal. From 2010 to 2011, Labrinth mentored the Urban Development Vocal Collective (UDVC) alongside his sister, ShezAr. He also produced multiple tracks for the collective, contributing towards a nine-track project titled Urban Development. The vocalists also provided backing vocals for Labrinth's original tracks.

McKenzie appeared as an uncredited guest artist on British rapper Tinie Tempah's debut single, "Pass Out", released on 28 February 2010. He had also produced and co-written the track. The single debuted at number-one on the UK Singles Chart, number six on the Irish Singles Chart, and number seventy in Australia. Having spent two weeks at the summit in the United Kingdom, "Pass Out" was awarded Best British Single at the 2011 Brit Awards and Best Contemporary Song at the 2011 Ivor Novello Awards.

It achieved platinum certification from the British Phonographic Industry for surpassing sales of 600,000 copies. Several months later the two artists collaborated for a second time in the release of Tempah's second single, "Frisky", also co-written and produced by McKenzie. The single debuted at number two in the United Kingdom, beaten only by the charity single "Shout" by Dizzee Rascal and James Corden. The track had chart success in Scotland, where it became the duo's second consecutive number one single, also peaking at number three in Ireland.

Follow Boomplay and keep up to date with the latest Labrinth songs and information.

Labrinth Studio albums
• Electronic Earth (2012)
• Imagination & the Misfit Kid (2019)

Labrinth Soundtrack albums
• Euphoria (Original Score from the HBO Series) (2019)
• Euphoria Season 2 Official Score (From the HBO Original Series) (2022)

Labrinth songs are included in Boomplay music playlists. Search to stream and download Labrinth songs MP3/ single/ albums on the platform.
New Comments(
13

)