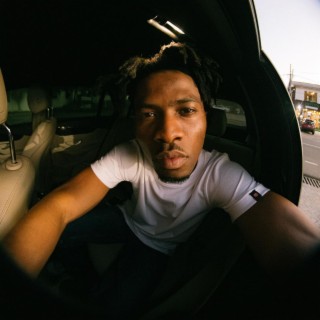 Kwesi Arthur
Current #971

All Time #953

Kwesi Arthur was born on 18th December, 1994 in Tema. He was raised in Tema Community 9, is the second of 4 children with a brother named Dayonthetrack, who is also a musician. After completing his high school education at Temasco in 2013, Kwesi's plans of furthering his education to study Psychology and Law at the University of Ghana came to a standstill due to a lack of funds.

This led the rapper to consider a job offer as a security guard in Tema. Although he was accepted for the security job, Kwesi decided to pursue his music career at a local recording studio instead. Here, he made a deal with the owner of the recording studio to learn music production and record for free: in exchange, Arthur had to perform menial tasks around the studio like sweeping and general maintenance.

In 2016, he met management from Ground Up Chale, a social media movement for young artists in West Africa, where he recorded his hit record Grind day at their studios a year later. Many kwesi Arthur songs become very popular and trendy online with a great number of streaming and downloads on Boomplay.

CAREER AND ACHIEVEMENTS
Kwesi Arthur started writing raps after listening to Drake's debut album, Thank Me Later. In 2017, he released the lead single "Grind Day" from his debut EP, Live from Nkrumah Krom (2017).

The record was released under his independent outfit and supported by a social movement called GroundUp Chale. He later released the remix for "Grind Day", featuring Sarkodie and Medikal. Kwesi Arthur has collaborated with numerous Ghanaian musician, including Sarkodie, Medikal, KiDi, Jason E LA, R2Bees, B4bonah, M3dal, M.anifest, EL, Stonebwoy, Shatta Wale and South African rapper Nasty C .

He was nominated for Best International Act at the 2018 BET Awards.
Kwesi Arthur is one of the most successful artists in Ghana, with his music being internationally recognised and awarded.

In 2020 his song Live From The 233 was one of the most streamed African songs on the streaming service Apple Music

Albums and EPs: Live from Nkrumah Krom (2017), Live from Nkrumah Krom Vol II Home Run (2019)。

Follow Boomplay and keep up-to-date with the latest kwesi Arthur songs and information.

Awards
• 2017Grind Day - Kayso
• 2018Anthem - Barking by Ramz
• 2018Woara (meaning - It Is You) - Shotto Blinkz
• 2018Don't Keep Me Waiting feat Kidi - NytWulf
• 2019Zombie - TwoBars
• 2020Turn On The Lights - Yung D3mz
• 2020Live from 233 - Juiczxx
• 2020Baajo feat Joeboy - Yung D3mz
• 2021Winning feat Vic Mensa

Kwesi Arthur songs are included in Boomplay music playlists. Search to stream and download Kwesi Arthur songs MP3/ single/ albums on the platform....more

Country/Region : Ghana
Listen to Kwesi Arthur's new songs including "Nobody ft. Mr. Eazi", "4LYFE", "Pray For Me" and many more. Enjoy Kwesi Arthur's latest songs and explore the Kwesi Arthur's new music albums. If you want to download Kwesi Arthur songs MP3, use the Boomplay App to download the Kwesi Arthur songs for free. Discover Kwesi Arthur's latest songs, popular songs, trending songs all on Boomplay.
Kwesi Arthur was born on 18th December, 1994 in Tema. He was raised in Tema Community 9, is the second of 4 children with a brother named Dayonthetrack, who is also a musician. After completing his high school education at Temasco in 2013, Kwesi's plans of furthering his education to study Psychology and Law at the University of Ghana came to a standstill due to a lack of funds.

This led the rapper to consider a job offer as a security guard in Tema. Although he was accepted for the security job, Kwesi decided to pursue his music career at a local recording studio instead. Here, he made a deal with the owner of the recording studio to learn music production and record for free: in exchange, Arthur had to perform menial tasks around the studio like sweeping and general maintenance.

In 2016, he met management from Ground Up Chale, a social media movement for young artists in West Africa, where he recorded his hit record Grind day at their studios a year later. Many kwesi Arthur songs become very popular and trendy online with a great number of streaming and downloads on Boomplay.

CAREER AND ACHIEVEMENTS
Kwesi Arthur started writing raps after listening to Drake's debut album, Thank Me Later. In 2017, he released the lead single "Grind Day" from his debut EP, Live from Nkrumah Krom (2017).

The record was released under his independent outfit and supported by a social movement called GroundUp Chale. He later released the remix for "Grind Day", featuring Sarkodie and Medikal. Kwesi Arthur has collaborated with numerous Ghanaian musician, including Sarkodie, Medikal, KiDi, Jason E LA, R2Bees, B4bonah, M3dal, M.anifest, EL, Stonebwoy, Shatta Wale and South African rapper Nasty C .

He was nominated for Best International Act at the 2018 BET Awards.
Kwesi Arthur is one of the most successful artists in Ghana, with his music being internationally recognised and awarded.

In 2020 his song Live From The 233 was one of the most streamed African songs on the streaming service Apple Music

Albums and EPs: Live from Nkrumah Krom (2017), Live from Nkrumah Krom Vol II Home Run (2019)。

Follow Boomplay and keep up-to-date with the latest kwesi Arthur songs and information.

Awards
• 2017Grind Day - Kayso
• 2018Anthem - Barking by Ramz
• 2018Woara (meaning - It Is You) - Shotto Blinkz
• 2018Don't Keep Me Waiting feat Kidi - NytWulf
• 2019Zombie - TwoBars
• 2020Turn On The Lights - Yung D3mz
• 2020Live from 233 - Juiczxx
• 2020Baajo feat Joeboy - Yung D3mz
• 2021Winning feat Vic Mensa

Kwesi Arthur songs are included in Boomplay music playlists. Search to stream and download Kwesi Arthur songs MP3/ single/ albums on the platform.
FAQs about Kwesi Arthur
Where is Kwesi Arthur from?
He is from Ghana.
How to download songs of Kwesi Arthur?
You can download songs of Kwesi Arthur from Boomplay App for free.
Firstly, install Boomplay app on your mobile phone.
Secondly, navigate to the song you would like to download.
Thirdly, Tap on More > Download.