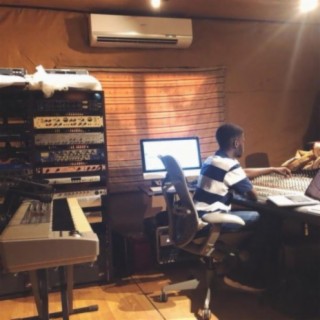 DJ Kwamzy
Current #8,690

All Time #6,767

Music to me is more of a language it's been the soundtrack of my life pretty much I never believed in time travelling but the music takes you to that one place be it your darkest point of life or a birthday celebration, in my opinion, we would be lifeless without it.


My journey began in the fall of 99 September to be precise and as a child I could always remember meddling with wires fixing monitor boards and other electrical gadgets, DJ caught my attention at that age that's all I ever wanted to be till I realised it's more fun to make the records I started of with sampling after watching straight outta Compton and ever since then it's been an endless journey of inspiring producers and DJs such as Wondergurl, DJ Semtex, Boi 1da and many more.


I've been working with the underground scene trying to invoke the sound of Trap music I linked up with a Producer and Artist Nxwrth from Ghana to work on a project called Rage of the night and it's been a buzz this summer. I was the executive producer, we pushed it through my internet radio podcast Rude Radio (An aspiring distribution company were building) and Rudewrld that's responsible for the lifestyle I feel as though my journey has just begun....more

Country : United Kingdom
Songs

(9)

Albums

(5)

Playlists

(14)
Listen to DJ Kwamzy's new songs including "The World", "Good Morning ft BuMan", "SSL" and many more. Enjoy DJ Kwamzy's latest songs and explore the DJ Kwamzy's new music albums. If you want to download DJ Kwamzy songs MP3, use the Boomplay App to download the DJ Kwamzy songs for free. Discover DJ Kwamzy's latest songs, popular songs, trending songs all on Boomplay.
Music to me is more of a language it's been the soundtrack of my life pretty much I never believed in time travelling but the music takes you to that one place be it your darkest point of life or a birthday celebration, in my opinion, we would be lifeless without it.


My journey began in the fall of 99 September to be precise and as a child I could always remember meddling with wires fixing monitor boards and other electrical gadgets, DJ caught my attention at that age that's all I ever wanted to be till I realised it's more fun to make the records I started of with sampling after watching straight outta Compton and ever since then it's been an endless journey of inspiring producers and DJs such as Wondergurl, DJ Semtex, Boi 1da and many more.


I've been working with the underground scene trying to invoke the sound of Trap music I linked up with a Producer and Artist Nxwrth from Ghana to work on a project called Rage of the night and it's been a buzz this summer. I was the executive producer, we pushed it through my internet radio podcast Rude Radio (An aspiring distribution company were building) and Rudewrld that's responsible for the lifestyle I feel as though my journey has just begun.
New Comments(
1

)