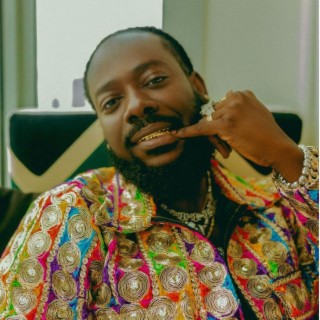 Adekunle Gold
Current #193

All Time #97

Adekunle Gold is an award-winning Nigerian highlife singer, songwriter, and graphic designer. A household name in his home country, Gold calls his music "urban highlife" because of its conscious intersections with contemporary pop, electronica, folk, and R&B.

Adekunle Gold was born Omoba Adekunle Kosoko into the royal family of Lagos State, Nigeria, in which he holds the title of prince. He is the nephew of globally acclaimed "Nollywood" actor Prince Jide Kosoko.

In 2014, he issued "Sade," mixed by Nigerian star Simi, setting first Lagos', and then Nigeria's and West Africa's, radio stations aflame with requests and airplay. It became a national hit. He was nominated for Most Promising Artist of the Year at the City People's Entertainment Awards and won Alternative Song of the Year at the Headies for "Sade," as well as Revelation of the Year at the continent's AFRIMA awards.

The singer issued his debut album, Gold, near the end of 2016 in Nigeria and globally in early 2017 as he issued four more singles in quick succession: "Work," Only Girl," "Call on Me," and "Money." The album was picked up for airplay by state-run radio throughout the African continent, as well as European stations in Germany, Norway, the Netherlands, Spain, and England; it eventually reached public and college radio and then streaming in the U.S. and peaked at number seven on the World Music Albums charts. In addition to his first three singles, the album included the hits "No Forget (feat. Simi)" and "Work."

Download and Listen your favorite Songs from Adekunle Gold on Boomplay. Don't forget to share with your friends!...more

Country/Region : Nigeria
Listen to Adekunle Gold's new songs including "Before You Wake Up", "Ire", "Before You Wake Up (Remix) ft. Vanessa Mdee" and many more. Enjoy Adekunle Gold's latest songs and explore the Adekunle Gold's new music albums. If you want to download Adekunle Gold songs MP3, use the Boomplay App to download the Adekunle Gold songs for free. Discover Adekunle Gold's latest songs, popular songs, trending songs all on Boomplay.
Adekunle Gold is an award-winning Nigerian highlife singer, songwriter, and graphic designer. A household name in his home country, Gold calls his music "urban highlife" because of its conscious intersections with contemporary pop, electronica, folk, and R&B.

Adekunle Gold was born Omoba Adekunle Kosoko into the royal family of Lagos State, Nigeria, in which he holds the title of prince. He is the nephew of globally acclaimed "Nollywood" actor Prince Jide Kosoko.

In 2014, he issued "Sade," mixed by Nigerian star Simi, setting first Lagos', and then Nigeria's and West Africa's, radio stations aflame with requests and airplay. It became a national hit. He was nominated for Most Promising Artist of the Year at the City People's Entertainment Awards and won Alternative Song of the Year at the Headies for "Sade," as well as Revelation of the Year at the continent's AFRIMA awards.

The singer issued his debut album, Gold, near the end of 2016 in Nigeria and globally in early 2017 as he issued four more singles in quick succession: "Work," Only Girl," "Call on Me," and "Money." The album was picked up for airplay by state-run radio throughout the African continent, as well as European stations in Germany, Norway, the Netherlands, Spain, and England; it eventually reached public and college radio and then streaming in the U.S. and peaked at number seven on the World Music Albums charts. In addition to his first three singles, the album included the hits "No Forget (feat. Simi)" and "Work."

Download and Listen your favorite Songs from Adekunle Gold on Boomplay. Don't forget to share with your friends!
FAQs about Adekunle Gold
Where is Adekunle Gold from?
He is from Nigeria.
How to download songs of Adekunle Gold?
You can download songs of Adekunle Gold from Boomplay App for free.
Firstly, install Boomplay app on your mobile phone.
Secondly, navigate to the song you would like to download.
Thirdly, Tap on More > Download.