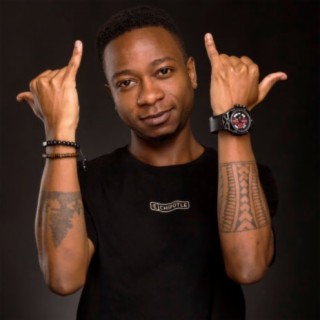 Asum Garvey
Current #8,896

All Time #8,285

Asum Garvey born Malcolm Garvey Mutiso is a Kenyan recording artist, rapper and songwriter. Asum explained the meaning behind his stage name to be coined from the English word 'awesome' and also 'a sum' as in math, a collective, which describes him as a versatile artist who explores multiple genres in his music and is not bound by one.

Asum Garvey describes his music as art inspired by emotion and a record of his encounters on his journey through life. Many of Asum Garvey's songs become very popular and trendy online with a great number of streaming and downloads on Boomplay.

Many of AsumGarvey's songs become very popular and trendy online with a great number of streaming and downloads on Boomplay

CAREER
Asum Garvey began his career in music by releasing his debut single titled 'Bruce Lee' in 2018.He followed up Bruce Lee with 'Joints' and 'The Showman' singles back to back.

In 2019 Asum Garvey released his debut project titled 'The Exercise 2' which preceeded his breakout mixtape 'The Exercise 3' which spawned the hit single Atomic Space featuring Breeder LW released in 2020.

In 2021 Asum Garvey released his debut album Shrapper Sum which featured collaborations from Boutross, Thayo Mwas and DEZ & Salem. Shrapper Sum was a moderate success, receiving over 100,000 streams on Boomplay. His fourth instalment of the The Execrise mixtape series was released the same year

In 2022 Asum released his EP titled Citrine.

Follow Boomplay and keep up-to-date with the latest Asum Garvey's songs and information.

Asum Garvey Songs
• Asum's most popular songs include;
• Spirit
• Kumi na Sita ft Boutross
• Gikosh remix
• Hype
• Acha Nipost
• Doze Kanisa
• Napata
• More ft Thayu Mwas and Valerie Muthoni

ACHIEVEMENTS
Asum Garvey has surpassed 500,000 streams on Boomplay and 167,000 views on Youtube.

AsumGarvey's songs are included in Boomplay music playlists. Search to stream and AsumGarvey's songs MP3/ single/ albums on the platform....more

Country/Region : Kenya
Songs

(114)

Albums

(28)

Playlists

(22)
1

2

3

4

5

6

7

8

9

10

11

12

13

14

15

16

17

18

19

20

21

22

23

24

25

26

27

28

29

30

31

32

33

34

35

36

37

38

39

40

41

42

43

44

45

46

47

48

49

50

51

52

53

54

55

56

57

58

59

60

61

62

63

64

65

66

67

68

69

70

71

72

73

74

75

76

77

78

79

80

81

82

83

84

85

86

87

88

89

90

91

92

93

94

95

96

97

98

99

100
Listen to Asum Garvey's new songs including "Asum's Intervention ft. djprodluigi 🅴", "Kamua ft. Kay Green 🅴", "Stress ft. Boutross" and many more. Enjoy Asum Garvey's latest songs and explore the Asum Garvey's new music albums. If you want to download Asum Garvey songs MP3, use the Boomplay App to download the Asum Garvey songs for free. Discover Asum Garvey's latest songs, popular songs, trending songs all on Boomplay.
Asum Garvey born Malcolm Garvey Mutiso is a Kenyan recording artist, rapper and songwriter. Asum explained the meaning behind his stage name to be coined from the English word 'awesome' and also 'a sum' as in math, a collective, which describes him as a versatile artist who explores multiple genres in his music and is not bound by one.

Asum Garvey describes his music as art inspired by emotion and a record of his encounters on his journey through life. Many of Asum Garvey's songs become very popular and trendy online with a great number of streaming and downloads on Boomplay.

Many of AsumGarvey's songs become very popular and trendy online with a great number of streaming and downloads on Boomplay

CAREER
Asum Garvey began his career in music by releasing his debut single titled 'Bruce Lee' in 2018.He followed up Bruce Lee with 'Joints' and 'The Showman' singles back to back.

In 2019 Asum Garvey released his debut project titled 'The Exercise 2' which preceeded his breakout mixtape 'The Exercise 3' which spawned the hit single Atomic Space featuring Breeder LW released in 2020.

In 2021 Asum Garvey released his debut album Shrapper Sum which featured collaborations from Boutross, Thayo Mwas and DEZ & Salem. Shrapper Sum was a moderate success, receiving over 100,000 streams on Boomplay. His fourth instalment of the The Execrise mixtape series was released the same year

In 2022 Asum released his EP titled Citrine.

Follow Boomplay and keep up-to-date with the latest Asum Garvey's songs and information.

Asum Garvey Songs
• Asum's most popular songs include;
• Spirit
• Kumi na Sita ft Boutross
• Gikosh remix
• Hype
• Acha Nipost
• Doze Kanisa
• Napata
• More ft Thayu Mwas and Valerie Muthoni

ACHIEVEMENTS
Asum Garvey has surpassed 500,000 streams on Boomplay and 167,000 views on Youtube.

AsumGarvey's songs are included in Boomplay music playlists. Search to stream and AsumGarvey's songs MP3/ single/ albums on the platform.