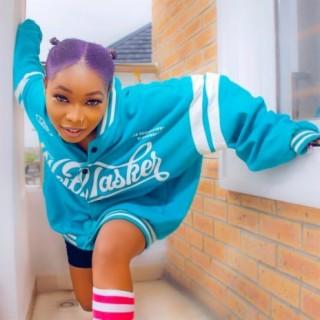 Guchi
Current #80

All Time #112

Ugochi Lydia Onuoha (born November 25, 1997) popularly known as Guchi is a Nigerian Afropop singer, songwriter and performing act globally known as Guchi. Many Guchi songs become very popular and trendy online with a great number of streaming and downloads on Boomplay.

She was born in Kaduna State in Nigeria and spent most of her early years in the commercial cities of Abuja and Lagos.

Guchi originally hails from Imo State. She is the second child of a family of four children. She enrolled at the Edo State University, Ekpoma but didn't finish. She got admitted into the University of Lagos for a degree in Theatre and Media Arts.

Career
Guchi's love for music is inspired by her Dad's musical influence. Growing up, she discovered her Dad's love for Michael Jackson's songs and on joining the choir, decided to start making music.
Her talent for music became obvious during her time as a chorister. She came into the limelight after she released her song, 'Addicted' in 2019 and it has currently gotten a large number of views on YouTube. This song was directed by Matt Max.
A very short period after, she released Closer which was produced by Sifu Sounds with Visionary Pictures providing visuals for the hit song. Her versatility with Afro-pop, R&B, Dance-hall and High-life genres also made her stand out amongst many other promising music artistes of her time. Guchi is currently signed to PG Records Entertainment.

As a young chorister in her church choir, Ugochi was exposed to the basics of music composition and performance. Her music style consists of melodious wide-ranged vocals, addictive hooks and emotionally triggering topics that have helped her produce long-lasting songs. Growing up in Abuja Guchi possesses her theatrical performative style. Likely to be caught in vivacious purple hair, boyfriend Tee-shirts and high fashion boots.

In October 2021, her song Benzema was No 3 on Top Triller Global Chart first Billboard entry. Guchi is also recognised as one of the pioneers to define TikTok as a massive influencing tool for talent discovery and music distribution on her hit song Jeniffer.

Achievements
• In 2020, she was granted as an ambassadorship for the National Drug Law Enforcement Agency (NDLEA).
• She has also won Best Female Artiste at Prestige Entertainment Awards.
• She was nominated for the African Fan's Favourite category at the 2021 AFRIMA Award

Follow Boomplay and keep up-to-date with the latest Guchi songs and information.

Guchi Songs and Albums
• I am Guchi (EP)
• Jennifer
• Benzema
• Addicted
• Peri-Peri
• Closer
• American Love

Guchi songs are included in Boomplay music playlists. Search to stream and download Guchi songs MP3/ single/ albums on the platform....more

Country/Region : Nigeria
Listen to Guchi's new songs including "Speedometer", "Jennifer", "Benzema" and many more. Enjoy Guchi's latest songs and explore the Guchi's new music albums. If you want to download Guchi songs MP3, use the Boomplay App to download the Guchi songs for free. Discover Guchi's latest songs, popular songs, trending songs all on Boomplay.
Ugochi Lydia Onuoha (born November 25, 1997) popularly known as Guchi is a Nigerian Afropop singer, songwriter and performing act globally known as Guchi. Many Guchi songs become very popular and trendy online with a great number of streaming and downloads on Boomplay.

She was born in Kaduna State in Nigeria and spent most of her early years in the commercial cities of Abuja and Lagos.

Guchi originally hails from Imo State. She is the second child of a family of four children. She enrolled at the Edo State University, Ekpoma but didn't finish. She got admitted into the University of Lagos for a degree in Theatre and Media Arts.

Career
Guchi's love for music is inspired by her Dad's musical influence. Growing up, she discovered her Dad's love for Michael Jackson's songs and on joining the choir, decided to start making music.
Her talent for music became obvious during her time as a chorister. She came into the limelight after she released her song, 'Addicted' in 2019 and it has currently gotten a large number of views on YouTube. This song was directed by Matt Max.
A very short period after, she released Closer which was produced by Sifu Sounds with Visionary Pictures providing visuals for the hit song. Her versatility with Afro-pop, R&B, Dance-hall and High-life genres also made her stand out amongst many other promising music artistes of her time. Guchi is currently signed to PG Records Entertainment.

As a young chorister in her church choir, Ugochi was exposed to the basics of music composition and performance. Her music style consists of melodious wide-ranged vocals, addictive hooks and emotionally triggering topics that have helped her produce long-lasting songs. Growing up in Abuja Guchi possesses her theatrical performative style. Likely to be caught in vivacious purple hair, boyfriend Tee-shirts and high fashion boots.

In October 2021, her song Benzema was No 3 on Top Triller Global Chart first Billboard entry. Guchi is also recognised as one of the pioneers to define TikTok as a massive influencing tool for talent discovery and music distribution on her hit song Jeniffer.

Achievements
• In 2020, she was granted as an ambassadorship for the National Drug Law Enforcement Agency (NDLEA).
• She has also won Best Female Artiste at Prestige Entertainment Awards.
• She was nominated for the African Fan's Favourite category at the 2021 AFRIMA Award

Follow Boomplay and keep up-to-date with the latest Guchi songs and information.

Guchi Songs and Albums
• I am Guchi (EP)
• Jennifer
• Benzema
• Addicted
• Peri-Peri
• Closer
• American Love

Guchi songs are included in Boomplay music playlists. Search to stream and download Guchi songs MP3/ single/ albums on the platform.
New Comments(
580

)