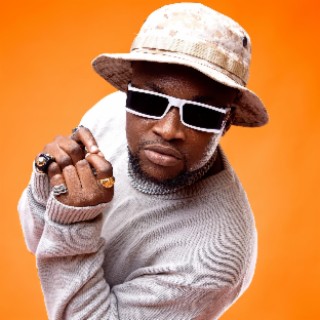 Keeny Ice
Current #11.7k

All Time #13.3k

Artistically known as Keeny Ice, Amu Barnabas is one of Ghana's most influential rappers and a Ghanaian Hip-hop/ Hiplife recording artiste from Aflao in the Volta Region of Ghana. Many of Keeny Ice songs become very popular and trendy online with a great number of streaming and downloads on Boomplay. He is the last of three boys born to a Benin father, Mr Pacal Amu and a Ghanaian mother, the late Mrs Elizabeth Senayah Amu on 11th June 1991.

Keeny Ice had his basic education at Modestus International Primary and JSS in 2006 with a BECE certificate. He then continued to study Visual Arts at Three Town Senior High School at Denu, also in the Volta Region of Ghana where he completed in 2011 with a WASSCE Certificate. During his second-cycle education, Keeny won the hearts of his peers and all his mates who watched him perform on stage during entertainment sessions and those who listened to his freestyle. He gradually became one of the best student artists in the Volta Region.

Career
After school, Keeny Ice decided to venture into music fully. He is currently focused on HipHop/Hiplife genres of music where he sings his native language, Ewe mixed with English as his identity. And with this identity, he has been signed to a Nigerian-owned Record Label, Mo'shes Musik.

Ice's debut single titled, 'Adam and eve' released in 2014 which featured legendary Ghanaian singer, Castro aided as an official introduction to music buffs in Ghana and surrounding countries. This collaboration gave him exactly the needed recognition where he was watched sharing stages with already established musicians in the Ghanaian Showbiz industry.
He then followed up with other singles and features including 'Dance Fever' featuring his Godfather Edem; 'Rap Monster', 'Alhaji', 'Hail Mary', 'Get Money', and 'FlowMatics', 'Move' featuring Kofi Kinata and 'Gankivi' which earned him 5 nominations and 3 awards at the 2018 Volta music awards. With these songs to his credit, Keeny Ice is gradually expanding his fan base and selling his brand across Africa. His Lyrical content, delivery and his energy on stage have made him a force to reckon with in the African music industry

The performance that gained him added recognition in his country of residence, Ghana, was at the 2017 Vodafone Ghana Music Awards Nominees Jam. He thrilled fans with his energetic stagecraft.

Achievements
• Keeny Ice won the Best Music Video at the 2018 VMAs
• He also won the Best Collaboration at the 2018 VMAs
• He won the Best Rapper awards at the 2018 VMAs
• He got nominated in 7 categories, including the artist of the year category at the 2019 VMAs
• He is the former brand Ambassador for sneaks clothing and also runs the KICA Foundation; an NGO that encourages the teaching and learning of creative arts in basic schools.

Follow Boomplay and keep up to date with the latest Keeny Ice songs and information.

Keeny Ice Songs and Albums
• Sound Check (Album)
• Hook Or Crook
• Lega
• Grind
• Payper CorleoneO.G
• Made In Aflao
• Questions
• Big ups
• My Way
• Keeper
• Deja Vu
• Conquer The World

Keeny Ice songs are included in Boomplay music playlists. Search to stream and download Keeny Ice songs MP3/ single/ albums on the platform....more

Country/Region : Ghana
Songs

(29)

Albums

(21)

Playlists

(2)
1

2

3

4

5

6

7

8

9

10

11

12

13

14

15

16

17

18

19

20

21

22

23

24

25

26

27

28

29
Listen to Keeny Ice's new songs including "Deja Vu ft. Camidoh", "Money ft. Hairlergbe", "Ebe God (feat. Victor AD)" and many more. Enjoy Keeny Ice's latest songs and explore the Keeny Ice's new music albums. If you want to download Keeny Ice songs MP3, use the Boomplay App to download the Keeny Ice songs for free. Discover Keeny Ice's latest songs, popular songs, trending songs all on Boomplay.
Artistically known as Keeny Ice, Amu Barnabas is one of Ghana's most influential rappers and a Ghanaian Hip-hop/ Hiplife recording artiste from Aflao in the Volta Region of Ghana. Many of Keeny Ice songs become very popular and trendy online with a great number of streaming and downloads on Boomplay. He is the last of three boys born to a Benin father, Mr Pacal Amu and a Ghanaian mother, the late Mrs Elizabeth Senayah Amu on 11th June 1991.

Keeny Ice had his basic education at Modestus International Primary and JSS in 2006 with a BECE certificate. He then continued to study Visual Arts at Three Town Senior High School at Denu, also in the Volta Region of Ghana where he completed in 2011 with a WASSCE Certificate. During his second-cycle education, Keeny won the hearts of his peers and all his mates who watched him perform on stage during entertainment sessions and those who listened to his freestyle. He gradually became one of the best student artists in the Volta Region.

Career
After school, Keeny Ice decided to venture into music fully. He is currently focused on HipHop/Hiplife genres of music where he sings his native language, Ewe mixed with English as his identity. And with this identity, he has been signed to a Nigerian-owned Record Label, Mo'shes Musik.

Ice's debut single titled, 'Adam and eve' released in 2014 which featured legendary Ghanaian singer, Castro aided as an official introduction to music buffs in Ghana and surrounding countries. This collaboration gave him exactly the needed recognition where he was watched sharing stages with already established musicians in the Ghanaian Showbiz industry.
He then followed up with other singles and features including 'Dance Fever' featuring his Godfather Edem; 'Rap Monster', 'Alhaji', 'Hail Mary', 'Get Money', and 'FlowMatics', 'Move' featuring Kofi Kinata and 'Gankivi' which earned him 5 nominations and 3 awards at the 2018 Volta music awards. With these songs to his credit, Keeny Ice is gradually expanding his fan base and selling his brand across Africa. His Lyrical content, delivery and his energy on stage have made him a force to reckon with in the African music industry

The performance that gained him added recognition in his country of residence, Ghana, was at the 2017 Vodafone Ghana Music Awards Nominees Jam. He thrilled fans with his energetic stagecraft.

Achievements
• Keeny Ice won the Best Music Video at the 2018 VMAs
• He also won the Best Collaboration at the 2018 VMAs
• He won the Best Rapper awards at the 2018 VMAs
• He got nominated in 7 categories, including the artist of the year category at the 2019 VMAs
• He is the former brand Ambassador for sneaks clothing and also runs the KICA Foundation; an NGO that encourages the teaching and learning of creative arts in basic schools.

Follow Boomplay and keep up to date with the latest Keeny Ice songs and information.

Keeny Ice Songs and Albums
• Sound Check (Album)
• Hook Or Crook
• Lega
• Grind
• Payper CorleoneO.G
• Made In Aflao
• Questions
• Big ups
• My Way
• Keeper
• Deja Vu
• Conquer The World

Keeny Ice songs are included in Boomplay music playlists. Search to stream and download Keeny Ice songs MP3/ single/ albums on the platform.
New Comments(
13

)
FAQs about Keeny Ice
Where is Keeny Ice from?
He is from Ghana.
What are the latest songs of Keeny Ice?
The latest songs of Keeny Ice are Soft Life, Gbigoro Way ft. Novo and Keeper ft. Hairlergbe.
What are the best songs of Keeny Ice?
The best songs of Keeny Ice are Money ft. Hairlergbe, Deja Vu ft. Camidoh and Hook Or Crook (feat. Lega).
What are the best albums of Keeny Ice?
The best albums of Keeny Ice are Border Vibes, Sound Check and Money.
How to download songs of Keeny Ice?
You can download songs of Keeny Ice from Boomplay App for free.
Firstly, install Boomplay app on your mobile phone.
Secondly, navigate to the song you would like to download.
Thirdly, Tap on More > Download.