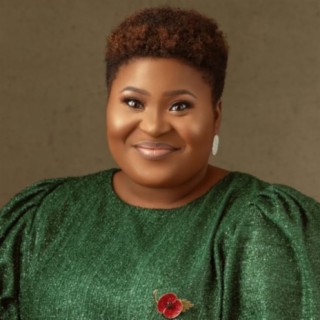 Judikay
Current #467

All Time #169

Judith Kanayo is professionally known as Judikay. Many of Judikay songs become very popular and trendy online with a great number of streaming and downloads on Boomplay.

She was born on October 26 as the first child in a family of four children. She originally hails from Oshimili South Local government area of Asaba in Delta State part of Nigeria. Judikay attended Dalos College Ota for her secondary education.She also obtained a degree in theatre arts at the Redeemer's University,Osun state.

Career
Judikay began by performing in her church, Christian Pentecostal Mission. She has been on the gospel music scene for quite a long time. Her music career began with her being the back-up singer for Akinwunmi Nathan Oluniyi Akiremi better known as Florocka. In 2013, she released her first single titled "Nobody Else". Ever since Judikay has been a voice to reckon with in the gospel music niche.

In 2019, Judikay earned her spot in the limelight when she released "More than Gold", a piece of heart-warming gospel music that adores the beauty of God. Judikay's "More than Gold" features Mercy Chinwo, a star female gospel artist in Nigeria and amazing vocals, and by their melody, lives were blessed.

She later released her debut album "Man of Galilee" in November 2019. The album which comprises 14 solid tracks is centred on the Goodness of God; the gospel. The album plays for 1 hour and 4 minutes and is available on Boomplay.

Achievements
• She won the Best Breakthrough Minister Female award at 2020 Maranatha Awards.
• She also won the 2021 edition of the Impact Gospel Awards.
Follow Boomplay and keep up-to-date with the latest Judikay songs and information.

Judikay is happily married to Anselem opara, The lovely couple tied the knot in a traditional marriage ceremony on August 15, 2020 which was held at her hometown in Oshimili local government area of Delta State.

Songs and Albums
• More than Gold
• Nothing Else
• Song of Angels
• Fountain
• Idinma
• Man of Galilee (Album)

Judikay songs are included in Boomplay music playlists. Search to stream and download Judikay songs MP3/ single/ albums on the platform....more

Country/Region : Nigeria
Songs

(12)

Albums

(0)

Playlists

(7)
1

2

3

4

5

6

7

8

9

10

11

12
Listen to Judikay's new songs including "JUDIKAY -SONGS OF THE ANGEL", "JUDIKAY - OMMENMA", "JUDIKAY - IDINMA" and many more. Enjoy Judikay's latest songs and explore the Judikay's new music albums. If you want to download Judikay songs MP3, use the Boomplay App to download the Judikay songs for free. Discover Judikay's latest songs, popular songs, trending songs all on Boomplay.
Judith Kanayo is professionally known as Judikay. Many of Judikay songs become very popular and trendy online with a great number of streaming and downloads on Boomplay.

She was born on October 26 as the first child in a family of four children. She originally hails from Oshimili South Local government area of Asaba in Delta State part of Nigeria. Judikay attended Dalos College Ota for her secondary education.She also obtained a degree in theatre arts at the Redeemer's University,Osun state.

Career
Judikay began by performing in her church, Christian Pentecostal Mission. She has been on the gospel music scene for quite a long time. Her music career began with her being the back-up singer for Akinwunmi Nathan Oluniyi Akiremi better known as Florocka. In 2013, she released her first single titled "Nobody Else". Ever since Judikay has been a voice to reckon with in the gospel music niche.

In 2019, Judikay earned her spot in the limelight when she released "More than Gold", a piece of heart-warming gospel music that adores the beauty of God. Judikay's "More than Gold" features Mercy Chinwo, a star female gospel artist in Nigeria and amazing vocals, and by their melody, lives were blessed.

She later released her debut album "Man of Galilee" in November 2019. The album which comprises 14 solid tracks is centred on the Goodness of God; the gospel. The album plays for 1 hour and 4 minutes and is available on Boomplay.

Achievements
• She won the Best Breakthrough Minister Female award at 2020 Maranatha Awards.
• She also won the 2021 edition of the Impact Gospel Awards.
Follow Boomplay and keep up-to-date with the latest Judikay songs and information.

Judikay is happily married to Anselem opara, The lovely couple tied the knot in a traditional marriage ceremony on August 15, 2020 which was held at her hometown in Oshimili local government area of Delta State.

Songs and Albums
• More than Gold
• Nothing Else
• Song of Angels
• Fountain
• Idinma
• Man of Galilee (Album)

Judikay songs are included in Boomplay music playlists. Search to stream and download Judikay songs MP3/ single/ albums on the platform.
FAQs about Judikay
Where is Judikay from?
She is from Nigeria.
How to download songs of Judikay?
You can download songs of Judikay from Boomplay App for free.
Firstly, install Boomplay app on your mobile phone.
Secondly, navigate to the song you would like to download.
Thirdly, Tap on More > Download.