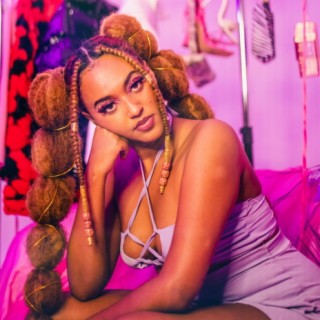 Bey T
Current #3,438

All Time #5,493

Betty Atsedu professionally known as Bey T was born on July 24, 1999 in Kenya. Bey T is a Kenyan singer, songwriter and rapper. She is among the fast rising young rappers in Africa, well known for her alluring cadence and rap abilities. In 2019 Bey T was among the select few African artists to receive mentorship under Mr.Eazi's EmPawa Masterclass Initiative.

Many of Bey T's songs become very popular and trendy online with a great number of streaming and downloads on Boomplay.

CAREER
Bey T fell in love with the poetry of rap while growing up which lead her to pursue her dreams of being a rapper.

She released her debut single 25low in 2018 followed by a string of singles which included 'If they dunno', 'Bad bad'. 'Facetime' and 'Vision'.

Her 2019 hit single 'Wololo' propelled her into mainstream popularity garnering more attention for her debut project Concept Vol 1. She went on to be featured on Khaligraph Jones cypher Khali Cartel 3 in which she stole the show with her melodic verse and smooth delivery.

Bey T has been consistently dropping stand alone singles with the most recent being Unanicheza ft Soa Matrix released this year (2022)

Follow Boomplay and keep up-to-date with the latest Bey T's songs and information.

Bey T's Songs
• Bey T's most popular singles include;
• Wololo
• If They Dunno
• Run It Back
• Ndio
• The Most
• Chele Chele
• Where (Has The Time Gone)

ACHIEVEMENTS
Bey T has surpassed 300,000 streams on Boomplay and over 4,000,000 views on Youtube.

Bey T's songs are included in Boomplay music playlists. Search to stream and Bey T's songs MP3/ single/ albums on the platform...more

Country/Region : Kenya
Listen to Bey T's new songs including "Unanicheza ft. Boohle, Soa Mattrix", "Where (Has the Time Gone)", "Chele Chele" and many more. Enjoy Bey T's latest songs and explore the Bey T's new music albums. If you want to download Bey T songs MP3, use the Boomplay App to download the Bey T songs for free. Discover Bey T's latest songs, popular songs, trending songs all on Boomplay.
Betty Atsedu professionally known as Bey T was born on July 24, 1999 in Kenya. Bey T is a Kenyan singer, songwriter and rapper. She is among the fast rising young rappers in Africa, well known for her alluring cadence and rap abilities. In 2019 Bey T was among the select few African artists to receive mentorship under Mr.Eazi's EmPawa Masterclass Initiative.

Many of Bey T's songs become very popular and trendy online with a great number of streaming and downloads on Boomplay.

CAREER
Bey T fell in love with the poetry of rap while growing up which lead her to pursue her dreams of being a rapper.

She released her debut single 25low in 2018 followed by a string of singles which included 'If they dunno', 'Bad bad'. 'Facetime' and 'Vision'.

Her 2019 hit single 'Wololo' propelled her into mainstream popularity garnering more attention for her debut project Concept Vol 1. She went on to be featured on Khaligraph Jones cypher Khali Cartel 3 in which she stole the show with her melodic verse and smooth delivery.

Bey T has been consistently dropping stand alone singles with the most recent being Unanicheza ft Soa Matrix released this year (2022)

Follow Boomplay and keep up-to-date with the latest Bey T's songs and information.

Bey T's Songs
• Bey T's most popular singles include;
• Wololo
• If They Dunno
• Run It Back
• Ndio
• The Most
• Chele Chele
• Where (Has The Time Gone)

ACHIEVEMENTS
Bey T has surpassed 300,000 streams on Boomplay and over 4,000,000 views on Youtube.

Bey T's songs are included in Boomplay music playlists. Search to stream and Bey T's songs MP3/ single/ albums on the platform
New Comments(
15

)
FAQs about Bey T
Where is Bey T from?
She is from Kenya.
How to download songs of Bey T?
You can download songs of Bey T from Boomplay App for free.
Firstly, install Boomplay app on your mobile phone.
Secondly, navigate to the song you would like to download.
Thirdly, Tap on More > Download.