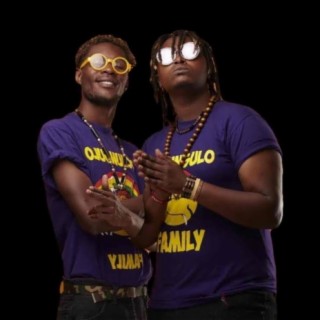 Ochungulo Family
Current #9,534

All Time #3,250

Ochungulo Family is one of the most sought-after Gengetone groups in Kenya formed in 2018 by 3 members namely; NellytheGoon, D'more and Benzema/Alejandro (real name David). All three members of the group hail from the Southlands neighborhood in Lang'ata Constituency, Nairobi. Many of Ochungulo Family Songs became very popular and trendy on social media in line with a great number of streaming and downloads on Boomplay.

Career
2017 gave birth to the renowned gengetone group. This was after Benzema recruited Dmore for their first single dubbed 'Ochungulo'. A year later, Nelly joined the crew and the gengetone trinity was formed. While they found success as a unit, the three long-time friends had long been pursuing solo careers.

NellytheGoon was a solo rapper, flowing in English over trap beats, a far cry from his now famous witty Sheng' wordplay style. D'more was looking to break into the mainstream of Kenyan music with various urban afro-pop and club banger tunes while Benzema, on the other hand, had been in the game for years as an electronic music producer and event organizer.

He was a member of Lectronica Circle, one of Kenya's earliest EDM groups. Benzema was also key in organizing Daylight Insomnia, a daytime event that was wildly popular with teenagers in Nairobi between 2012 and 2014. Ochungulo Family first gained sizeable traction with the release of Bora Uhai, by NellytheGoon and D'more, in 2018. They quickly followed it up with the release of Krimino and Na Iwake, a Gengetone banger which also introduced Benzema as part of Ochungulo Family.

Krimino and Na Iwake set the stage for the group's success.nOn December 12, 2018, Ochungulo Family headlined Loud.co.ke's (then Loud254) Jahuri day party in Eldoret. It was one of their first ever shows as a unit and it sold out. D'more and NellytheGoon formed a platform for artists and named it Wanati, It undertakes various musical projects with a wide range of upcoming and established artists. Among artists Wanati has worked with so far are Parroty,

Addi Chokoch, Kappy, Kabagazi and Vintage Clan. Wanati has built up its own dedicated following and released numerous hits in the process. Some of this hits are Tuko Locked, Get a Tako, Lewa and Saa Moja. The group has also faced controversy especially from Benzema aka Alejandro who is one of Ochungulo's most talked-about members thanks to his raunchy lyrics and antics.

In 2020, he was featured on rapper Noti Flow's single Foto Moto which came along with its suggestive music video, that ended up as one of the biggest hits of the year. It, however, also saw Benzema and Noti Flow finding themselves in the tabloids. Noti Flow claiming that she decided not to sleep with Benzema as he was unwilling to use protection.

Benzema, on the other hand, denying the claims and stood his ground that he had no interest in Noti Flow. In one interview, Benzema claimed that he took Noti Flow to bed after she blacked out during a studio session.

On 12th February, 2021. The Ochungulo family sent their fans a rather upsetting statement.

The group through a statement on their social media, declare their split. It is worth noting that all of Ochungulo's music has been removed from Youtube and all other content is linking back to Nelly's account. The now ex ochungulo members have decided to pursue individual careers and still remain friends as the split was mutual. They have promised fans more music from them as individuals.

Achievements
Ochungulo is one of Kenya's most popular gengetone groups, some hail them as the pioneers of gengetone.

Follow Boomplay and keep up-to-date with the latest songs of Ochungo Family and information.

Ochungulo Family's Songs
• Bora Uhai
• King Bobi Wine
• Krimino
• Na Iwake
• Thutha
• Na Iwake Remix ft. The Kansoul
• Aluta ft. Exray, Gwaash
• Kaa na Mama Yako
• Mbingijii Imekulwa na Dogi
• Dudu
• Make Up
• Pandemik
• Mpenzi Mtazamaji ft. The Kansoul
• Wanjiku

Ochungulo Family Songs are included in Boomplay music playlists. Search, stream, and download Ochungulo Family Songs, his latest singles and albums in MP3 only on the Boomplay platform for free....more

Country/Region : Kenya
Listen to Ochungulo Family's new songs including "Pandemik", "Kaa Na Mamayako", "Mbingijii" and many more. Enjoy Ochungulo Family's latest songs and explore the Ochungulo Family's new music albums. If you want to download Ochungulo Family songs MP3, use the Boomplay App to download the Ochungulo Family songs for free. Discover Ochungulo Family's latest songs, popular songs, trending songs all on Boomplay.
Ochungulo Family Biography
Ochungulo Family is one of the most sought-after Gengetone groups in Kenya formed in 2018 by 3 members namely; NellytheGoon, D'more and Benzema/Alejandro (real name David). All three members of the group hail from the Southlands neighborhood in Lang'ata Constituency, Nairobi. Many of Ochungulo Family Songs became very popular and trendy on social media in line with a great number of streaming and downloads on Boomplay.

Career
2017 gave birth to the renowned gengetone group. This was after Benzema recruited Dmore for their first single dubbed 'Ochungulo'. A year later, Nelly joined the crew and the gengetone trinity was formed. While they found success as a unit, the three long-time friends had long been pursuing solo careers.

NellytheGoon was a solo rapper, flowing in English over trap beats, a far cry from his now famous witty Sheng' wordplay style. D'more was looking to break into the mainstream of Kenyan music with various urban afro-pop and club banger tunes while Benzema, on the other hand, had been in the game for years as an electronic music producer and event organizer.

He was a member of Lectronica Circle, one of Kenya's earliest EDM groups. Benzema was also key in organizing Daylight Insomnia, a daytime event that was wildly popular with teenagers in Nairobi between 2012 and 2014. Ochungulo Family first gained sizeable traction with the release of Bora Uhai, by NellytheGoon and D'more, in 2018. They quickly followed it up with the release of Krimino and Na Iwake, a Gengetone banger which also introduced Benzema as part of Ochungulo Family.

Krimino and Na Iwake set the stage for the group's success.nOn December 12, 2018, Ochungulo Family headlined Loud.co.ke's (then Loud254) Jahuri day party in Eldoret. It was one of their first ever shows as a unit and it sold out. D'more and NellytheGoon formed a platform for artists and named it Wanati, It undertakes various musical projects with a wide range of upcoming and established artists. Among artists Wanati has worked with so far are Parroty,

Addi Chokoch, Kappy, Kabagazi and Vintage Clan. Wanati has built up its own dedicated following and released numerous hits in the process. Some of this hits are Tuko Locked, Get a Tako, Lewa and Saa Moja. The group has also faced controversy especially from Benzema aka Alejandro who is one of Ochungulo's most talked-about members thanks to his raunchy lyrics and antics.

In 2020, he was featured on rapper Noti Flow's single Foto Moto which came along with its suggestive music video, that ended up as one of the biggest hits of the year. It, however, also saw Benzema and Noti Flow finding themselves in the tabloids. Noti Flow claiming that she decided not to sleep with Benzema as he was unwilling to use protection.

Benzema, on the other hand, denying the claims and stood his ground that he had no interest in Noti Flow. In one interview, Benzema claimed that he took Noti Flow to bed after she blacked out during a studio session.

On 12th February, 2021. The Ochungulo family sent their fans a rather upsetting statement.

The group through a statement on their social media, declare their split. It is worth noting that all of Ochungulo's music has been removed from Youtube and all other content is linking back to Nelly's account. The now ex ochungulo members have decided to pursue individual careers and still remain friends as the split was mutual. They have promised fans more music from them as individuals.

Achievements
Ochungulo is one of Kenya's most popular gengetone groups, some hail them as the pioneers of gengetone.

Follow Boomplay and keep up-to-date with the latest songs of Ochungo Family and information.

Ochungulo Family's Songs
• Bora Uhai
• King Bobi Wine
• Krimino
• Na Iwake
• Thutha
• Na Iwake Remix ft. The Kansoul
• Aluta ft. Exray, Gwaash
• Kaa na Mama Yako
• Mbingijii Imekulwa na Dogi
• Dudu
• Make Up
• Pandemik
• Mpenzi Mtazamaji ft. The Kansoul
• Wanjiku

Ochungulo Family Songs are included in Boomplay music playlists. Search, stream, and download Ochungulo Family Songs, his latest singles and albums in MP3 only on the Boomplay platform for free.
New Comments(
59

)
FAQs about Ochungulo Family
Where is Ochungulo Family from?
They are from Kenya.
How to download songs of Ochungulo Family?
You can download songs of Ochungulo Family from Boomplay App for free.
Firstly, install Boomplay app on your mobile phone.
Secondly, navigate to the song you would like to download.
Thirdly, Tap on More > Download.