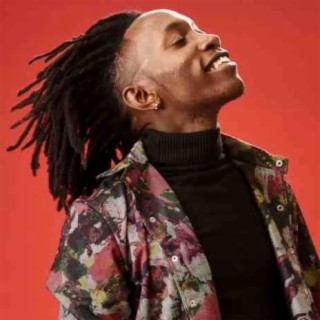 Bensoul
Current #17.5k

All Time #5,288

Benson Mutua Muia, popularly known as Bensoul, is a highly acclaimed Kenyan singer-songwriter, multi-instrumentalist, record producer and performing artiste. He was born on 4th March 1996 in Embu. Bensoul also goes by the moniker Papa Soul. Many of Bensoul's Songs became very popular and trendy on social media in line with a great number of streaming and downloads on Boomplay.

Career
Bensoul has had a passion for music since a young age. By as early as grade six, he had started expressing interest in learning a multitude of musical instruments. Right after high school, Bensoul moved to Nairobi to pursue a career in music. While there, he got associated with the Kenyan Afro soul band - H_ART THE BAND hence paving his way to joining Sauti Academy. This subsequently resulted in him securing a record deal with Sol Generation.

Bensoul's music career is rooted in intricate and beautifully crafted songwriting. This has seen him write songs for artists such as Nyashinski, Alikiba, Kidum, HART_THE BAND and Benpol among others. He has therefore established himself as one of the most sought-after songwriters in East Africa.

Bensoul made his debut under Sol Generation in early 2019 with his hit single; Lucy. The single introduced him to the public as an Afro soul singer influenced by genres such as reggae and rhumba. In May 2019, Bensoul was officially introduced to the masses as a Sol Generation signee on Sauti Sol's Extravaganza.

The song featured him and his fellow stablemates including Nviiri the Storyteller, Kaskazini and Crystal Asige. Due to the song's wide appeal, Bensoul was thrust into the public eye as one of the new musicians to watch out for.

Achievements
Bensoul's excellence has seen him recognised by copping the Artist of the Year award at the 2017 Café Ngoma Awards and Collabo of the Year at the 2018 Pulse Music Video Awards.

Bensoul also joined Chronixx on stage during the the latter's Chronology Tour in 2018. In what would be described as one of the biggest moments of his career, Bensoul got accredited as a songwriter on Burna Boy's Time Flies which appeared on the Grammy award-winning album - Twice as Tall. Bensoul released his debut EP called Quarantunes in April 2020. The four-track EP features songs sung under with an acoustic touch. The songs on the EP are Peddi, Forget You, No Kisses and Salama.

The EP has performed quite well, with a total of over 500K Boomplay streams. His sophomore EP called Medicine came in 2021. The project also features four tracks namely Stereo, Sugar Rush, Medicine and Ntala Nawe. Bensoul's music has been featured on Boomplay playlists such as African Sauce, Afro Vibes and Strictly Kenyan among others.

Explore Boomplay and download Bensoul's latest songs. Follow Boomplay and keep up-to-date with the latest songs of Bensoul and information.

Bensoul's Latest singles
• Niombee
• Favorite Song
• NAIROBI (feat. Nviiri the Storyteller, Sauti Sol & Mejja)
• Ile Kitu (ft. Kaskazini)
• Thick Thighs (ft. Bien)
• Aibu (ft. Bien

His latest single release - I Deny (feat. Nviiri the Storyteller & Fancy Fingers) - came on 18th March 2022.

Bensoul's Songs are included in Boomplay music playlists. Search, stream, and download Bensoul's Songs, his latest singles and albums in MP3 only on the Boomplay platform for free....more

Country/Region : Kenya
Listen to Bensoul's new songs including and many more. Enjoy Bensoul's latest songs and explore the Bensoul's new music albums. If you want to download Bensoul songs MP3, use the Boomplay App to download the Bensoul songs for free. Discover Bensoul's latest songs, popular songs, trending songs all on Boomplay.
Benson Mutua Muia, popularly known as Bensoul, is a highly acclaimed Kenyan singer-songwriter, multi-instrumentalist, record producer and performing artiste. He was born on 4th March 1996 in Embu. Bensoul also goes by the moniker Papa Soul. Many of Bensoul's Songs became very popular and trendy on social media in line with a great number of streaming and downloads on Boomplay.

Career
Bensoul has had a passion for music since a young age. By as early as grade six, he had started expressing interest in learning a multitude of musical instruments. Right after high school, Bensoul moved to Nairobi to pursue a career in music. While there, he got associated with the Kenyan Afro soul band - H_ART THE BAND hence paving his way to joining Sauti Academy. This subsequently resulted in him securing a record deal with Sol Generation.

Bensoul's music career is rooted in intricate and beautifully crafted songwriting. This has seen him write songs for artists such as Nyashinski, Alikiba, Kidum, HART_THE BAND and Benpol among others. He has therefore established himself as one of the most sought-after songwriters in East Africa.

Bensoul made his debut under Sol Generation in early 2019 with his hit single; Lucy. The single introduced him to the public as an Afro soul singer influenced by genres such as reggae and rhumba. In May 2019, Bensoul was officially introduced to the masses as a Sol Generation signee on Sauti Sol's Extravaganza.

The song featured him and his fellow stablemates including Nviiri the Storyteller, Kaskazini and Crystal Asige. Due to the song's wide appeal, Bensoul was thrust into the public eye as one of the new musicians to watch out for.

Achievements
Bensoul's excellence has seen him recognised by copping the Artist of the Year award at the 2017 Café Ngoma Awards and Collabo of the Year at the 2018 Pulse Music Video Awards.

Bensoul also joined Chronixx on stage during the the latter's Chronology Tour in 2018. In what would be described as one of the biggest moments of his career, Bensoul got accredited as a songwriter on Burna Boy's Time Flies which appeared on the Grammy award-winning album - Twice as Tall. Bensoul released his debut EP called Quarantunes in April 2020. The four-track EP features songs sung under with an acoustic touch. The songs on the EP are Peddi, Forget You, No Kisses and Salama.

The EP has performed quite well, with a total of over 500K Boomplay streams. His sophomore EP called Medicine came in 2021. The project also features four tracks namely Stereo, Sugar Rush, Medicine and Ntala Nawe. Bensoul's music has been featured on Boomplay playlists such as African Sauce, Afro Vibes and Strictly Kenyan among others.

Explore Boomplay and download Bensoul's latest songs. Follow Boomplay and keep up-to-date with the latest songs of Bensoul and information.

Bensoul's Latest singles
• Niombee
• Favorite Song
• NAIROBI (feat. Nviiri the Storyteller, Sauti Sol & Mejja)
• Ile Kitu (ft. Kaskazini)
• Thick Thighs (ft. Bien)
• Aibu (ft. Bien

His latest single release - I Deny (feat. Nviiri the Storyteller & Fancy Fingers) - came on 18th March 2022.

Bensoul's Songs are included in Boomplay music playlists. Search, stream, and download Bensoul's Songs, his latest singles and albums in MP3 only on the Boomplay platform for free.
New Comments(
30

)
FAQs about Bensoul
Where is Bensoul from?
He is from Kenya.