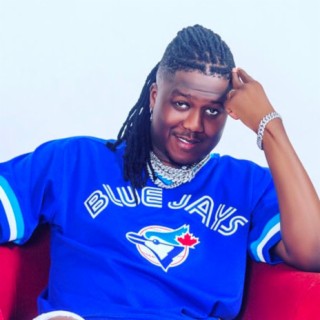 Innocent Kuti
Current #1,115

All Time #756

Innocent Kuti was born in Kissy, the eastern part of Freetown, Sierra Leone. Many of Innocent Kuti songs become very popular and trendy online with a great number of streaming and downloads on Boomplay.

CAREER AND ACHIEVEMENTS
He started singing in the church as a young boy and continued with a career in music after the war. Innocent Kuti was inspired by his experience in the civil war while staying in Guinea as a refugee and has since then chosen to lend a voice to the voiceless through his music.

His first album was titled Igwe and the second Gi dem Notice. After that came Gbanya Faykie, and Una Gi dem Chance.

Follow Boomplay and keep up-to-date with the latest Innocent Kuti songs and information.

Innocent Kuti Songs
• E Shock You?
• God nor Go Shame Us
• Mumu
• Noto Me Portion
• Dangote
• Pray 4 Me
• Full Package
• Oba Yanda
• What God Cannot Do Does Not Exist
• Champion Song
• Na Dem Go Taya
• Chairman
• Love Don Krase
• Savage
• Mama
• Waka Pan Dem

Innocent Kuti songs are included in Boomplay music playlists. Search to stream and download Innocent Kuti songs MP3/ single/ albums on the platform....more

Country : Sierra Leone
Songs

(0)

Albums

(0)

Playlists

(1)
Listen to Innocent Kuti's new songs including and many more. Enjoy Innocent Kuti's latest songs and explore the Innocent Kuti's new music albums. If you want to download Innocent Kuti songs MP3, use the Boomplay App to download the Innocent Kuti songs for free. Discover Innocent Kuti's latest songs, popular songs, trending songs all on Boomplay.
Innocent Kuti was born in Kissy, the eastern part of Freetown, Sierra Leone. Many of Innocent Kuti songs become very popular and trendy online with a great number of streaming and downloads on Boomplay.

CAREER AND ACHIEVEMENTS
He started singing in the church as a young boy and continued with a career in music after the war. Innocent Kuti was inspired by his experience in the civil war while staying in Guinea as a refugee and has since then chosen to lend a voice to the voiceless through his music.

His first album was titled Igwe and the second Gi dem Notice. After that came Gbanya Faykie, and Una Gi dem Chance.

Follow Boomplay and keep up-to-date with the latest Innocent Kuti songs and information.

Innocent Kuti Songs
• E Shock You?
• God nor Go Shame Us
• Mumu
• Noto Me Portion
• Dangote
• Pray 4 Me
• Full Package
• Oba Yanda
• What God Cannot Do Does Not Exist
• Champion Song
• Na Dem Go Taya
• Chairman
• Love Don Krase
• Savage
• Mama
• Waka Pan Dem

Innocent Kuti songs are included in Boomplay music playlists. Search to stream and download Innocent Kuti songs MP3/ single/ albums on the platform.
New Comments(
11

)