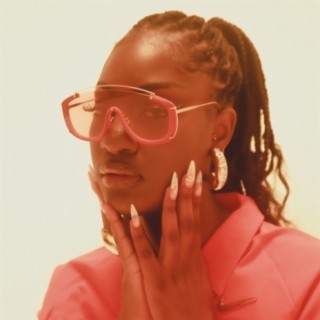 Tems
Current #140

All Time #409

Temilade Openiyi, known as Tems is a Nigerian alt-R&B singer, songwriter and record producer. She was born on 11 June 1995 in Lagos Nigeria. Her mother is Nigerian and her father is British-Nigerian. She had her early primary education in Lagos, before proceeding to Dowen College in Lekki. After obtaining her SSCE, she gained admission to study Economics in South African university at Johannesburg, South Africa.

Tems was first noticed by her music teacher where she started learning the piano. She'll always play and sing at the same time while her brother plays the guitar. When she was younger, she enjoyed listening to Destiny's child songs like 'Soldier' and 'Survivor'. Her favourite artist then was Beyoncé.

Her musical journey began when she was 20. She released her first EP, "Time Swap EP" in 2013. In 2018 she recorded her first song "Mr Rebel", a song she composed, and then in August 2019 she released a single "Try me" The official video to her 'Try Me' has surpassed 2 million views. After the huge success her single ''try me'' had and the collaboration with Khalid and fellow Nigerian artist Davido on an Afrobeats remix of 'Know Your Worth', Tems was already becoming the superstar she always wanted to be. September 2020, She released her debut extended play For Broken Ears that contains 7 songs and features nobody. Her single "Damages" from her For Broken Ears EP became another follow up hit to "Try Me", peaking at number six on the then-newly launched TurnTable Top 50 (a Nigerian chart) and garnering 3 million views on YouTube..

Tems was featured on Wizkids Made In Lagos Album on a song titled Essence, Essence would go on to become a very big commercial hit in the local and international market. This Tems's song earned her a number one spot on BBC 1Xtra Airplay Chart and also earned her first career entry on Billboard Hot 100. She also featured on the remix of the song alongside Justin Biber....more

Country/Region : Nigeria
Listen to Tems's new songs including "Mr Rebel", "Me & U", "A Kind Of Magic (Live Performance at Coke Studio Global)" and many more. Enjoy Tems's latest songs and explore the Tems's new music albums. If you want to download Tems songs MP3, use the Boomplay App to download the Tems songs for free. Discover Tems's latest songs, popular songs, trending songs all on Boomplay.
Temilade Openiyi, known as Tems is a Nigerian alt-R&B singer, songwriter and record producer. She was born on 11 June 1995 in Lagos Nigeria. Her mother is Nigerian and her father is British-Nigerian. She had her early primary education in Lagos, before proceeding to Dowen College in Lekki. After obtaining her SSCE, she gained admission to study Economics in South African university at Johannesburg, South Africa.

Tems was first noticed by her music teacher where she started learning the piano. She'll always play and sing at the same time while her brother plays the guitar. When she was younger, she enjoyed listening to Destiny's child songs like 'Soldier' and 'Survivor'. Her favourite artist then was Beyoncé.

Her musical journey began when she was 20. She released her first EP, "Time Swap EP" in 2013. In 2018 she recorded her first song "Mr Rebel", a song she composed, and then in August 2019 she released a single "Try me" The official video to her 'Try Me' has surpassed 2 million views. After the huge success her single ''try me'' had and the collaboration with Khalid and fellow Nigerian artist Davido on an Afrobeats remix of 'Know Your Worth', Tems was already becoming the superstar she always wanted to be. September 2020, She released her debut extended play For Broken Ears that contains 7 songs and features nobody. Her single "Damages" from her For Broken Ears EP became another follow up hit to "Try Me", peaking at number six on the then-newly launched TurnTable Top 50 (a Nigerian chart) and garnering 3 million views on YouTube..

Tems was featured on Wizkids Made In Lagos Album on a song titled Essence, Essence would go on to become a very big commercial hit in the local and international market. This Tems's song earned her a number one spot on BBC 1Xtra Airplay Chart and also earned her first career entry on Billboard Hot 100. She also featured on the remix of the song alongside Justin Biber.
New Comments(
269

)
FAQs about Tems
Where is Tems from?
She is from Nigeria.
How to download songs of Tems?
You can download songs of Tems from Boomplay App for free.
Firstly, install Boomplay app on your mobile phone.
Secondly, navigate to the song you would like to download.
Thirdly, Tap on More > Download.