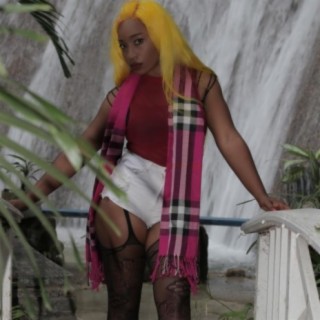 Cashan
Current #76.1k

All Time #35.1k

Born Sabrinia Hamilton, very unique, down to earth, humble, multitalented and ambitious are just few of the descriptive words which should be use when talking about recording artist Cashan. She hails from the parish of St.Ann, Jamaica. Where from a very young age was always passionate about music and aiming to become a great artist and musician.
She attended the Ocho Rios High School. Cashan officially recorded her first single in 2014 titled "Wife" but was released until two years later, from there on she started growing tremendously and became more mature musically.
She recorded a number of singles such as Journey On My Own, Mek It Up, Stack Cash and Faithless just to name a few. She an her team are always working on new music, gigs, promotions and the list goes on. Cashan is very passionate about her music and puts her all in whatever she does musically, never hesitant about anything, she doesn't stick herself to any one Genre, she is all-rounded . [Reggae, Dancehall, R&B, Pop, Afro Beat, Soca and Gospel].Though she's from Jamaica, her focus is international and not just local, aiming for a worldwide fan base, any age, any gender, any race, any religious background etc. She can be found on social media platforms mainly Instagram and Facebook:

Instagram
@cashan_music

Facebook
Cashan
Or
Cashan Hamilton...more

Country/Region : Jamaica
Songs

(22)

Albums

(15)

Playlists

(0)
1

2

3

4

5

6

7

8

9

10

11

12

13

14

15

16

17

18

19

20

21

22
Listen to Cashan's new songs including "Time Bomb", "Destroyer (feat. Jahvillani)", "Time" and many more. Enjoy Cashan's latest songs and explore the Cashan's new music albums. If you want to download Cashan songs MP3, use the Boomplay App to download the Cashan songs for free. Discover Cashan's latest songs, popular songs, trending songs all on Boomplay.
Born Sabrinia Hamilton, very unique, down to earth, humble, multitalented and ambitious are just few of the descriptive words which should be use when talking about recording artist Cashan. She hails from the parish of St.Ann, Jamaica. Where from a very young age was always passionate about music and aiming to become a great artist and musician.
She attended the Ocho Rios High School. Cashan officially recorded her first single in 2014 titled "Wife" but was released until two years later, from there on she started growing tremendously and became more mature musically.
She recorded a number of singles such as Journey On My Own, Mek It Up, Stack Cash and Faithless just to name a few. She an her team are always working on new music, gigs, promotions and the list goes on. Cashan is very passionate about her music and puts her all in whatever she does musically, never hesitant about anything, she doesn't stick herself to any one Genre, she is all-rounded . [Reggae, Dancehall, R&B, Pop, Afro Beat, Soca and Gospel].Though she's from Jamaica, her focus is international and not just local, aiming for a worldwide fan base, any age, any gender, any race, any religious background etc. She can be found on social media platforms mainly Instagram and Facebook:

Instagram
@cashan_music

Facebook
Cashan
Or
Cashan Hamilton
New Comments(
0

)

What do you think of this artist?
FAQs about Cashan
Where is Cashan from?
She is from Jamaica.
How to download songs of Cashan?
You can download songs of Cashan from Boomplay App for free.
Firstly, install Boomplay app on your mobile phone.
Secondly, navigate to the song you would like to download.
Thirdly, Tap on More > Download.