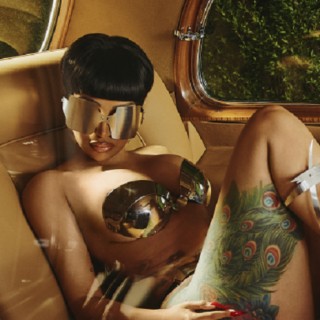 Cardi B
Current #657

All Time #468

Belcalis Marlenis Almánzar (born October 11, 1992), known professionally as Cardi B, is an American rapper. Born and raised in New York City,and also spent a lot of time with her grandmother in neighboring Washington Heights. She is of mixed Caribbean heritage, her mother being Trinidadian and her father being of Dominican descent.

Cardi B released two mixtapes—Gangsta Bitch Music, Vol. 1 (2016) and Vol. 2 (2017), before signing with Atlantic Records in February 2017. That same year she released her No. 1 single "Bodak Yellow" through Atlantic Records, she secretly got married to Migos group member Offset in September 2017.

Along with her BET Award nominations, Cardi B received two Grammy nominations in 2017, for Best Rap Performance and Best Rap Song, and performed her collaboration with Bruno Mars, "Finesse," during the January 2018 show. A few months later, she garnered eight nominations for the 2018 Billboard Music Awards, before taking home the win for Top Rap Female Artist.

In February 2019, Cardi B released her second collaboration with Mars, "Please Me," and claimed the Best Rap Album Grammy for Invasion of Privacy, making her the first solo woman to receive the honor.

In June, shortly after the release of another single, "Press," Cardi earned Album of the Year honors at the BET Awards. WAP, the lead single of Cardi B's second album, even made her the Hottest 100 number-one singles and made her the only female rap artist to achieve chart-topping singles in 2 decades (2010s and 2020s). Her accolades include a Grammy Award, 8 Billboard Music Awards, 5 Guinness World Records, 4 American Music Awards, 11 BET Hip Hop Awards & 2 ASCAP Songwriter of the Year awards. In 2018, Time included her on their annual list of the 100 most influential people in the world.

In Feb 2021 Cardi B released a new single Up which has gain over 185millions view on youtube and has been nominated for best video of the year, best hip hop award for best song of the year on Bet....more

Country/Region : United States
Listen to Cardi B's new songs including "Bodak Yellow (Mixed)", and many more. Enjoy Cardi B's latest songs and explore the Cardi B's new music albums. If you want to download Cardi B songs MP3, use the Boomplay App to download the Cardi B songs for free. Discover Cardi B's latest songs, popular songs, trending songs all on Boomplay.
Belcalis Marlenis Almánzar (born October 11, 1992), known professionally as Cardi B, is an American rapper. Born and raised in New York City,and also spent a lot of time with her grandmother in neighboring Washington Heights. She is of mixed Caribbean heritage, her mother being Trinidadian and her father being of Dominican descent.

Cardi B released two mixtapes—Gangsta Bitch Music, Vol. 1 (2016) and Vol. 2 (2017), before signing with Atlantic Records in February 2017. That same year she released her No. 1 single "Bodak Yellow" through Atlantic Records, she secretly got married to Migos group member Offset in September 2017.

Along with her BET Award nominations, Cardi B received two Grammy nominations in 2017, for Best Rap Performance and Best Rap Song, and performed her collaboration with Bruno Mars, "Finesse," during the January 2018 show. A few months later, she garnered eight nominations for the 2018 Billboard Music Awards, before taking home the win for Top Rap Female Artist.

In February 2019, Cardi B released her second collaboration with Mars, "Please Me," and claimed the Best Rap Album Grammy for Invasion of Privacy, making her the first solo woman to receive the honor.

In June, shortly after the release of another single, "Press," Cardi earned Album of the Year honors at the BET Awards. WAP, the lead single of Cardi B's second album, even made her the Hottest 100 number-one singles and made her the only female rap artist to achieve chart-topping singles in 2 decades (2010s and 2020s). Her accolades include a Grammy Award, 8 Billboard Music Awards, 5 Guinness World Records, 4 American Music Awards, 11 BET Hip Hop Awards & 2 ASCAP Songwriter of the Year awards. In 2018, Time included her on their annual list of the 100 most influential people in the world.

In Feb 2021 Cardi B released a new single Up which has gain over 185millions view on youtube and has been nominated for best video of the year, best hip hop award for best song of the year on Bet.
FAQs about Cardi B
Where is Cardi B from?
She is from United States.
What are the latest songs of Cardi B?
The latest songs of Cardi B are I Like It ft. Bad Bunny & J Balvin and Up.
What are the best songs of Cardi B?
The best songs of Cardi B are Up, WAP (feat. Megan Thee Stallion) and Hot Shit (feat. Kanye West & Lil Durk).
What are the best albums of Cardi B?
The best albums of Cardi B are Invasion of Privacy, Up and WAP (feat. Megan Thee Stallion).
How to download songs of Cardi B?
You can download songs of Cardi B from Boomplay App for free.
Firstly, install Boomplay app on your mobile phone.
Secondly, navigate to the song you would like to download.
Thirdly, Tap on More > Download.