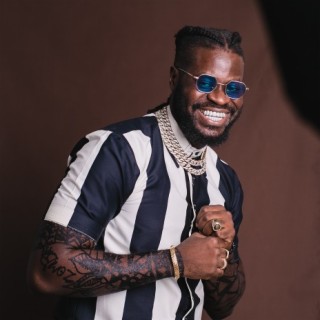 Mister Versace
Current #8,427

All Time #14.3k

Mister Versace is a Nigerian vocalist, producer, songwriter and multi instrumentalist. He was born in Greenwich London, grew up in Lagos Nigeria.

Mister Versace who was a Music and Drama coordinator at Concordia College has produced and worked with various established and upcoming Nigerian & UK artists . He holds an L.L.B Law degree from Cambridge, UK. He also Studied International Music and Sound Engineering at Point Blank Music School London U.K. 

On 2nd March 2017 Mister Versace successfully released his first solo single titled I Dey My Own, this was positively received  by fans with thousands of views on Youtube and Social media.

Shortly after, He was signed to RubberBand Nation Music Rec Label.
Under Rubberband Nation Mister Versace successfully released his second single titled 'My Papa'. My papa was written by Mister Versace to challenge the ancient educational system that deemed some professions more important than others....more

Boom ID : 101571660 Country : Nigeria Gender : Male
Songs

(4)

Albums

(4)

Playlists

(0)
Listen to Mister Versace's new songs including "Opor", "Mummy Pray for Me", "My Papa" and many more. Enjoy Mister Versace's latest songs and explore the Mister Versace's new music albums. If you want to download Mister Versace songs MP3, use the Boomplay App to download the Mister Versace songs for free. Discover Mister Versace's latest songs, popular songs, trending songs all on Boomplay.
Mister Versace is a Nigerian vocalist, producer, songwriter and multi instrumentalist. He was born in Greenwich London, grew up in Lagos Nigeria.

Mister Versace who was a Music and Drama coordinator at Concordia College has produced and worked with various established and upcoming Nigerian & UK artists . He holds an L.L.B Law degree from Cambridge, UK. He also Studied International Music and Sound Engineering at Point Blank Music School London U.K. 

On 2nd March 2017 Mister Versace successfully released his first solo single titled I Dey My Own, this was positively received  by fans with thousands of views on Youtube and Social media.

Shortly after, He was signed to RubberBand Nation Music Rec Label.
Under Rubberband Nation Mister Versace successfully released his second single titled 'My Papa'. My papa was written by Mister Versace to challenge the ancient educational system that deemed some professions more important than others.
New Comments(
0

)

What do you think of this artist?