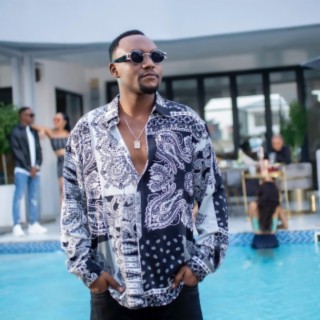 Darassa
Current #452

All Time #856

Darassa was born in Tanzania and grew up there. His real names are Sharif Thabit/Thabeet Ramadhan. Many of Darassa songs become very popular and trendy online with a great number of streaming and downloads on Boomplay. He schooled in Tanzania but dropped out of school when he was in form four. He defended his decision to drop out by saying he wanted to get into and focus on music.

Career
Darassa did a deep dive into the industry by learning the ins and outs of the industry and he only released his first batch of music in 2014. His first single was with Ben Pol and it was dubbed 'Sikati Tamaa'. Darassa then took a break from music in 2015. He attributes this break to wanting to learn more about music and strategize on his music.

In 2016, Darassa released his song with Rich Mavoko dubbed 'Utanipenda'. It was also in the same year that he dropped his huge banger 'Muziki' with Ben Pol. This song got him a lot buzz within and especially without Tanzania. He created signature lines for people with different lines on this song.

He has since gone on to collaborate with different people such as Jux, Marioo and Nameless. He has also released a lot more anthems such as 'Too Much' and 'Relax'. He also now has his own management company, Classic Music Group (CMG) Management.

Follow Boomplay and keep up to date with the latest Darassa songs and information.

Darassa Songs
• Proud Of You
• Waiter
• Umeniroga
• Nimetumwa Pesa
• Loyalty
• Size Yao
• Usiniletee shida
• Blessings
• Love Is Free
• Hands Up
• Lock Me Down
• My Life
• Utantoa Roho
• Hasso
• Nikiondoka
• Segedance
• Shemeji
• Hater
• Nana

Darassa songs are included in Boomplay music playlists. Search to stream and download Darassa songs MP3/ single/ albums on the platform....more

Country/Region : Tanzania
Listen to Darassa's new songs including "No Body ft. Bien-aime Baraza", "I Don't Care", "Loyalty ft. Nandy & Marioo" and many more. Enjoy Darassa's latest songs and explore the Darassa's new music albums. If you want to download Darassa songs MP3, use the Boomplay App to download the Darassa songs for free. Discover Darassa's latest songs, popular songs, trending songs all on Boomplay.
Darassa was born in Tanzania and grew up there. His real names are Sharif Thabit/Thabeet Ramadhan. Many of Darassa songs become very popular and trendy online with a great number of streaming and downloads on Boomplay. He schooled in Tanzania but dropped out of school when he was in form four. He defended his decision to drop out by saying he wanted to get into and focus on music.

Career
Darassa did a deep dive into the industry by learning the ins and outs of the industry and he only released his first batch of music in 2014. His first single was with Ben Pol and it was dubbed 'Sikati Tamaa'. Darassa then took a break from music in 2015. He attributes this break to wanting to learn more about music and strategize on his music.

In 2016, Darassa released his song with Rich Mavoko dubbed 'Utanipenda'. It was also in the same year that he dropped his huge banger 'Muziki' with Ben Pol. This song got him a lot buzz within and especially without Tanzania. He created signature lines for people with different lines on this song.

He has since gone on to collaborate with different people such as Jux, Marioo and Nameless. He has also released a lot more anthems such as 'Too Much' and 'Relax'. He also now has his own management company, Classic Music Group (CMG) Management.

Follow Boomplay and keep up to date with the latest Darassa songs and information.

Darassa Songs
• Proud Of You
• Waiter
• Umeniroga
• Nimetumwa Pesa
• Loyalty
• Size Yao
• Usiniletee shida
• Blessings
• Love Is Free
• Hands Up
• Lock Me Down
• My Life
• Utantoa Roho
• Hasso
• Nikiondoka
• Segedance
• Shemeji
• Hater
• Nana

Darassa songs are included in Boomplay music playlists. Search to stream and download Darassa songs MP3/ single/ albums on the platform.
New Comments(
111

)
FAQs about Darassa
Where is Darassa from?
He is from Tanzania.
How to download songs of Darassa?
You can download songs of Darassa from Boomplay App for free.
Firstly, install Boomplay app on your mobile phone.
Secondly, navigate to the song you would like to download.
Thirdly, Tap on More > Download.