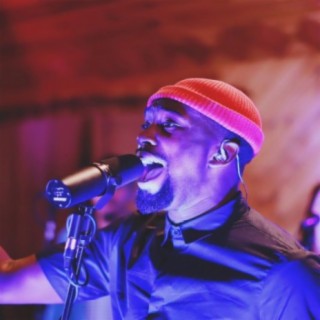 Dante Bowe
Current #17.5k

All Time #13.7k

Dante Bowe was born in the small town of Rockingham, NC. Raised in a very
music-appreciative environment, he was influenced by many artists from several
genres such as: John Legend, Chris Tomlin, and Aretha Franklin.
He has toured the world in countries like the Philippines, Germany, Israel, across
Europe and South America.
He is the worship pastor for Eddie James Ministries. This has given him the
opportunity to be on platforms such as the Call Azusa with Lou Engle, Potters
House with Bishop T.D. Jakes, The Ramp with Karen Wheaton, TBN, the Word
Network, Perry Stone and OCI, the Feast of Tabernacles with ICEJ in Israel and
City of Refuge LA, with Bishop Noel Jones.
He has also been blessed to share the stage with artists like Bethel Music, Jesus
Culture, Travis Greene, Housefires, Rick Pino, Tasha Page Lockhart and many
others.
Along with singing, Dante has been able to work on projects and write with some of
the top artists in the industry. He has collaborated with Casey J, Travis Greene,
Eddie James, Gerald & Tammy Haddon, KJ Scriven and Housefires just to name a
few.
Dante also recently released his first solo project, "Son of a Father" on March 31st ,
2017, which is an album based on Sonship, identity, and coming into the love of a
Heavenly Father. The album debuted at #5 on iTunes charts and #21 on Billboard. The lead single, "Potter and Friend", written by Bowe, has quickly caught the
attention of worshippers across the country....more

Country/Region : United States
Songs

(0)

Albums

(0)

Playlists

(0)
Listen to Dante Bowe's new songs including and many more. Enjoy Dante Bowe's latest songs and explore the Dante Bowe's new music albums. If you want to download Dante Bowe songs MP3, use the Boomplay App to download the Dante Bowe songs for free. Discover Dante Bowe's latest songs, popular songs, trending songs all on Boomplay.
Dante Bowe was born in the small town of Rockingham, NC. Raised in a very
music-appreciative environment, he was influenced by many artists from several
genres such as: John Legend, Chris Tomlin, and Aretha Franklin.
He has toured the world in countries like the Philippines, Germany, Israel, across
Europe and South America.
He is the worship pastor for Eddie James Ministries. This has given him the
opportunity to be on platforms such as the Call Azusa with Lou Engle, Potters
House with Bishop T.D. Jakes, The Ramp with Karen Wheaton, TBN, the Word
Network, Perry Stone and OCI, the Feast of Tabernacles with ICEJ in Israel and
City of Refuge LA, with Bishop Noel Jones.
He has also been blessed to share the stage with artists like Bethel Music, Jesus
Culture, Travis Greene, Housefires, Rick Pino, Tasha Page Lockhart and many
others.
Along with singing, Dante has been able to work on projects and write with some of
the top artists in the industry. He has collaborated with Casey J, Travis Greene,
Eddie James, Gerald & Tammy Haddon, KJ Scriven and Housefires just to name a
few.
Dante also recently released his first solo project, "Son of a Father" on March 31st ,
2017, which is an album based on Sonship, identity, and coming into the love of a
Heavenly Father. The album debuted at #5 on iTunes charts and #21 on Billboard. The lead single, "Potter and Friend", written by Bowe, has quickly caught the
attention of worshippers across the country.
New Comments(
1

)