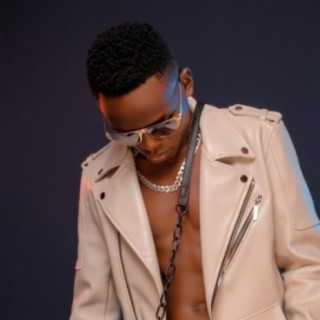 John Blaq
Current #2,506

All Time #1,277

John Blaq is Ugandan hip-hop and afrobeat artist. He was born in 1996 in Jinja Uganda. He grew up with his aunt in a Kampala suburb known as Bweyogerere.

Many of John's Songs became very popular and trendy on social media in line with a great number of streaming and downloads on Boomplay.

Career
During his childhood years, John Blaq experienced a lot of things many people, in general, couldn't even imagine when he was still staying with his aunt and none of them deterred him from going after his dreams and they are always used as a source of inspiration in his music career.

His passion for music started in the early 2000s when he was still in secondary school where he often participated in a load of hip-hop battles and never losing any of them and this inspired him and his friends to pursue music further.

Follow Boomplay and keep up-to-date with the latest songs of John Blaq and information.

John Blaq's Songs
• MBIMALA
• Tokutula ft. David Lutalo
• Ka Kiss
• Follow
• Tolina
• Don't Be Like
• Sitidde feat. Chris Evans
• Maama Bulamu
• Do dat
• Sweet Love

John Blaq's Songs are included in Boomplay's music playlists. Search, stream, and download John Blaq's Songs, her latest singles, and albums in MP3 only on the Boomplay platform for free...more

Country/Region : Uganda
Songs

(3)

Albums

(3)

Playlists

(2)
Listen to John Blaq's new songs including "Nekwataako", "Blessed (feat. Levixone)", "Natalie ft. Grenade Official & Skul Fiz" and many more. Enjoy John Blaq's latest songs and explore the John Blaq's new music albums. If you want to download John Blaq songs MP3, use the Boomplay App to download the John Blaq songs for free. Discover John Blaq's latest songs, popular songs, trending songs all on Boomplay.
John Blaq is Ugandan hip-hop and afrobeat artist. He was born in 1996 in Jinja Uganda. He grew up with his aunt in a Kampala suburb known as Bweyogerere.

Many of John's Songs became very popular and trendy on social media in line with a great number of streaming and downloads on Boomplay.

Career
During his childhood years, John Blaq experienced a lot of things many people, in general, couldn't even imagine when he was still staying with his aunt and none of them deterred him from going after his dreams and they are always used as a source of inspiration in his music career.

His passion for music started in the early 2000s when he was still in secondary school where he often participated in a load of hip-hop battles and never losing any of them and this inspired him and his friends to pursue music further.

Follow Boomplay and keep up-to-date with the latest songs of John Blaq and information.

John Blaq's Songs
• MBIMALA
• Tokutula ft. David Lutalo
• Ka Kiss
• Follow
• Tolina
• Don't Be Like
• Sitidde feat. Chris Evans
• Maama Bulamu
• Do dat
• Sweet Love

John Blaq's Songs are included in Boomplay's music playlists. Search, stream, and download John Blaq's Songs, her latest singles, and albums in MP3 only on the Boomplay platform for free
New Comments(
203

)
FAQs about John Blaq
Where is John Blaq from?
He is from Uganda.
How to download songs of John Blaq?
You can download songs of John Blaq from Boomplay App for free.
Firstly, install Boomplay app on your mobile phone.
Secondly, navigate to the song you would like to download.
Thirdly, Tap on More > Download.