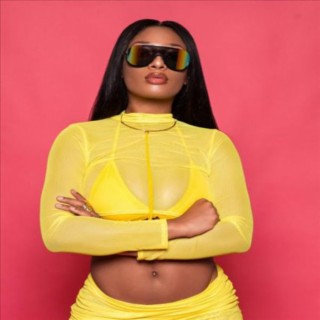 Megan Thee Stallion
Current #4,023

All Time #3,771

Megan Thee Stallion was born Megan Jovon Ruth Pete on February 15, 1995 in San Antonio, Texas and raised in Houston, Texas to Holly Aleece Thomas & Joseph Pete.Under her mother's management company, Pretty Time Entertainment Management, the Texas native first began to gain notoriety after meeting super producer TA and releasing her first single "Like a Stallion" in April 2016. After dropping a number of hot verses on a few Texas Cyphers, her verse on 'The Houston Cypher' over Drake's 4PM in Calabasas caught on like wildfire and placed her as a top trending topic in Houston on Twitter. From there her online following took off. Soon after, she released her mixtape 'Rich Ratchet' on Soundcloud and MyMixtapez and then her first EP "Make It Hot" soon followed.

In February 2018, Megan linked with a Houston legend, T. Farris, which led to her signing to 1501 Certified, she released the singles "Pull Up Late" and "Stalli (Freestyle)" in 2017, the latter of which had an accompanying video that would be viewed millions of times.

Megan Thee Stallion's first studio album, Fever, arrived in May 2019, complete with features from Juicy J and DaBaby. The album hit number ten on the Billboard 200, further cementing Megan's rise. After she and Normani contributed the track "Diamonds" to the 2020 superhero film Birds of Prey, she landed a pair of hits with the attitude-driven "B.I.T.C.H." and "Savage," both of which appeared on the EP Suga. Later that year, Megan released the singles "Girls in the Hood" and "Don't Stop," the latter of which featured rapper Young Thug.

Throughout her career, Megan Thee Stallion has received several accolades, including six BET Awards, five BET Hip Hop Awards, two MTV Video Music Awards, a Billboard Women in Music Award, and three Grammy Awards. At the 63rd Annual Grammy Awards, she became the second female rapper to win Best New Artist, after Lauryn Hill in 1999. In 2020, Time magazine named her one of the 100 most influential people in the world....more

Boom ID : 101565572 Country : United States Gender : Female
Listen to Megan Thee Stallion's new songs including and many more. Enjoy Megan Thee Stallion's latest songs and explore the Megan Thee Stallion's new music albums. If you want to download Megan Thee Stallion songs MP3, use the Boomplay App to download the Megan Thee Stallion songs for free. Discover Megan Thee Stallion's latest songs, popular songs, trending songs all on Boomplay.
Megan Thee Stallion was born Megan Jovon Ruth Pete on February 15, 1995 in San Antonio, Texas and raised in Houston, Texas to Holly Aleece Thomas & Joseph Pete.Under her mother's management company, Pretty Time Entertainment Management, the Texas native first began to gain notoriety after meeting super producer TA and releasing her first single "Like a Stallion" in April 2016. After dropping a number of hot verses on a few Texas Cyphers, her verse on 'The Houston Cypher' over Drake's 4PM in Calabasas caught on like wildfire and placed her as a top trending topic in Houston on Twitter. From there her online following took off. Soon after, she released her mixtape 'Rich Ratchet' on Soundcloud and MyMixtapez and then her first EP "Make It Hot" soon followed.

In February 2018, Megan linked with a Houston legend, T. Farris, which led to her signing to 1501 Certified, she released the singles "Pull Up Late" and "Stalli (Freestyle)" in 2017, the latter of which had an accompanying video that would be viewed millions of times.

Megan Thee Stallion's first studio album, Fever, arrived in May 2019, complete with features from Juicy J and DaBaby. The album hit number ten on the Billboard 200, further cementing Megan's rise. After she and Normani contributed the track "Diamonds" to the 2020 superhero film Birds of Prey, she landed a pair of hits with the attitude-driven "B.I.T.C.H." and "Savage," both of which appeared on the EP Suga. Later that year, Megan released the singles "Girls in the Hood" and "Don't Stop," the latter of which featured rapper Young Thug.

Throughout her career, Megan Thee Stallion has received several accolades, including six BET Awards, five BET Hip Hop Awards, two MTV Video Music Awards, a Billboard Women in Music Award, and three Grammy Awards. At the 63rd Annual Grammy Awards, she became the second female rapper to win Best New Artist, after Lauryn Hill in 1999. In 2020, Time magazine named her one of the 100 most influential people in the world.
New Comments(
79

)