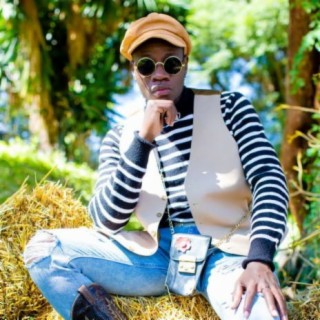 Guardian Angel
Current #593

All Time #1,095

Audiphaxad Peter Omwaka (born 29 January 1989), popularly known by his stage name Guardian Angel, is a 33 years old Kenyan gospel dancehall reggae musician. Many Guardian Angel songs become very popular and trendy online with a great number of streaming and downloads on Boomplay.

The singer, who described his music as "music of the soul" that encourages people to believe in God, has some popular records to his name, including Nadeka, Glorious, Uskond, Liwe Liwe, and Pendo.

The artist also caused a stir in the internet space recently with the news of his proposal to a 51-year-old fellow gospel artist, Esther Musila, who is way older than he isGuardian Angel was a brilliant student, as he luckily completed his primary and high school education through sponsorship by well-wishers.

While in high school, he discovered his unique singing talent during the high school festivals. As a result, he is the first Kenyan student to have won ten awards in the National High School music festivals.

Follow Boomplay and keep up-to-date with the latest Guardian Angel songs and information.

CAREER AND ACHIEVEMENTS
All through his early school days, Guardian Angel was a vital member of the music team, showcasing his talents. He started his musical journey in his form one class, fast forward to form 2 and then down to form 3 when he recorded and released a song in 2012 after high school. In several interviews, Guardian Angel has stated that gospel music was his only option to stay away from vices since he became born again at an early age.

In recent times, the talented singer has praised his manager, J Blessing, who is also his videographer, for protecting him from the rot of the entertainment industry. He reportedly became a brand ambassador for Eagle Safaris, which turned out to be a big win because he has shown intense happiness in it. He has continued to inspire the Christian circle in Kenya with soul-lifting songs and does not seem to be stopping anytime soon.

PERSONAL LIFE
The reggae-dancehall artist hasn't been open lately about his relationship status, but recently Guardian Angel popped the big question to fellow musician, Esther Musila. The proposal was met with further comments and reactions due to the pronounced age difference between the love birds. However, Esther Musila, who is 51 years old, has revealed how happy she was with the proposal. The mother of three does not seem perturbed by the nasty comments and reactions.

Guardian Angel was often denied access to his biological father's home because he didn't accept him as his son. This made the younger Audiphaxad a victim of several juvenile crises, but he came out victorious.

Net Worth
The Nadeka crooner, Guardian Angel has a net worth estimated around US$10,000 to US$50,000. This is inclusive of his assets, money and income. The source of his income is his career as a musician, as he earns a lot from his YouTube channel and other music sales.

Despite his high earnings, he has been able to still live modestly. Guardian Angel is not a new name in the Kenyan music space and, as such, has gathered a considerable number of views and streams on YouTube and other streaming platforms.

Some of his hit songs include Nadeka, Wakati wa Mungu, Mercy, Utafurahi, Wema wako and his most recent release titled Tunazidi, which is already a big vibe in Kenya.

Guardian Angel songs are included in Boomplay music playlists. Search to stream and download Guardian Angel songs MP3/ single/ albums on the platform....more

Country/Region : Kenya
Listen to Guardian Angel's new songs including "YESU SIO MWIZI", "Moyo Wangu ft. Dj Kezz", "Kuongozwa" and many more. Enjoy Guardian Angel's latest songs and explore the Guardian Angel's new music albums. If you want to download Guardian Angel songs MP3, use the Boomplay App to download the Guardian Angel songs for free. Discover Guardian Angel's latest songs, popular songs, trending songs all on Boomplay.
Audiphaxad Peter Omwaka (born 29 January 1989), popularly known by his stage name Guardian Angel, is a 33 years old Kenyan gospel dancehall reggae musician. Many Guardian Angel songs become very popular and trendy online with a great number of streaming and downloads on Boomplay.

The singer, who described his music as "music of the soul" that encourages people to believe in God, has some popular records to his name, including Nadeka, Glorious, Uskond, Liwe Liwe, and Pendo.

The artist also caused a stir in the internet space recently with the news of his proposal to a 51-year-old fellow gospel artist, Esther Musila, who is way older than he isGuardian Angel was a brilliant student, as he luckily completed his primary and high school education through sponsorship by well-wishers.

While in high school, he discovered his unique singing talent during the high school festivals. As a result, he is the first Kenyan student to have won ten awards in the National High School music festivals.

Follow Boomplay and keep up-to-date with the latest Guardian Angel songs and information.

CAREER AND ACHIEVEMENTS
All through his early school days, Guardian Angel was a vital member of the music team, showcasing his talents. He started his musical journey in his form one class, fast forward to form 2 and then down to form 3 when he recorded and released a song in 2012 after high school. In several interviews, Guardian Angel has stated that gospel music was his only option to stay away from vices since he became born again at an early age.

In recent times, the talented singer has praised his manager, J Blessing, who is also his videographer, for protecting him from the rot of the entertainment industry. He reportedly became a brand ambassador for Eagle Safaris, which turned out to be a big win because he has shown intense happiness in it. He has continued to inspire the Christian circle in Kenya with soul-lifting songs and does not seem to be stopping anytime soon.

PERSONAL LIFE
The reggae-dancehall artist hasn't been open lately about his relationship status, but recently Guardian Angel popped the big question to fellow musician, Esther Musila. The proposal was met with further comments and reactions due to the pronounced age difference between the love birds. However, Esther Musila, who is 51 years old, has revealed how happy she was with the proposal. The mother of three does not seem perturbed by the nasty comments and reactions.

Guardian Angel was often denied access to his biological father's home because he didn't accept him as his son. This made the younger Audiphaxad a victim of several juvenile crises, but he came out victorious.

Net Worth
The Nadeka crooner, Guardian Angel has a net worth estimated around US$10,000 to US$50,000. This is inclusive of his assets, money and income. The source of his income is his career as a musician, as he earns a lot from his YouTube channel and other music sales.

Despite his high earnings, he has been able to still live modestly. Guardian Angel is not a new name in the Kenyan music space and, as such, has gathered a considerable number of views and streams on YouTube and other streaming platforms.

Some of his hit songs include Nadeka, Wakati wa Mungu, Mercy, Utafurahi, Wema wako and his most recent release titled Tunazidi, which is already a big vibe in Kenya.

Guardian Angel songs are included in Boomplay music playlists. Search to stream and download Guardian Angel songs MP3/ single/ albums on the platform.
New Comments(
123

)
FAQs about Guardian Angel
Where is Guardian Angel from?
He is from Kenya.
How to download songs of Guardian Angel?
You can download songs of Guardian Angel from Boomplay App for free.
Firstly, install Boomplay app on your mobile phone.
Secondly, navigate to the song you would like to download.
Thirdly, Tap on More > Download.