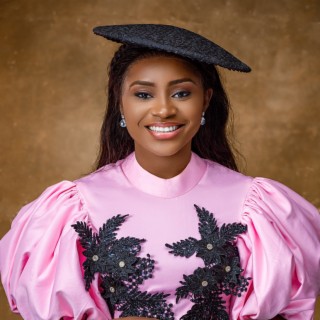 Yadah
Current #1,566

All Time #1,571

Yadah is a Nigerian female gospel artiste. She is a singer, songwriter and fashion designer. She comes from the Southern part of Nigeria and is currently under the management of SonsHub.

Agaga Praise Kukeurim popularly known as Yadah is from Obanliku LGA of Cross River state Nigeria. She grew up in Abuja where she completed her primary and secondary school education. She is a first-class graduate in Economics Education from Nasarawa state University.

Yadah songs become very popular and trendy online with a great number of streaming and downloads on Boomplay.

Career
She made her official appearance in the music scene with the release of goodie goodie in 2017 under the management of SonsHub media. She has gone on to release several songs which has blessed the world, songs accompanied by so many testimonies of souls saved and convinced of the father's Love : an EP in 2018 tagged "The blood covenant".

She went ahead to release her first album in August 2021 tagged "THE LOVE STORY" which contains powerful and edifying songs on God's love, including the widely accepted "BEYOND ME" that has become a daily anthem on the lips of many, FREE OF CHARGE, ONYE INAPUTARA, OUT OF NOTHING, e.t.c.

At the core of all of Yadah's song is the message of God's love and a great hope!

Yadah has worked with several great music names like Solomon Lange, Chris Morgan, Manus Akpanke, Mercy chinwo, Prospa Ochimana, producers like Sunny pee, Prinx Emmanuel, T-klex, AY klasiq, Donsam, etc.

Follow Boomplay and keep up-to-date with the latest Yadah songs and information.

Yadah Songs
• Goodie Goodie
• Free of Charge
• Onye Inaputara
• You Fell For Me
• Hosanna
• Beyond Me

Yadah songs are included in Boomplay music playlists. Search to stream and download Yadah songs MP3/ single/ albums on the platform.
Songs....more

Country/Region : Nigeria
Listen to Yadah's new songs including "Beyond Me", "Onye Inaputara", "Beyond Me (Live At YALIC Abuja)" and many more. Enjoy Yadah's latest songs and explore the Yadah's new music albums. If you want to download Yadah songs MP3, use the Boomplay App to download the Yadah songs for free. Discover Yadah's latest songs, popular songs, trending songs all on Boomplay.
Yadah is a Nigerian female gospel artiste. She is a singer, songwriter and fashion designer. She comes from the Southern part of Nigeria and is currently under the management of SonsHub.

Agaga Praise Kukeurim popularly known as Yadah is from Obanliku LGA of Cross River state Nigeria. She grew up in Abuja where she completed her primary and secondary school education. She is a first-class graduate in Economics Education from Nasarawa state University.

Yadah songs become very popular and trendy online with a great number of streaming and downloads on Boomplay.

Career
She made her official appearance in the music scene with the release of goodie goodie in 2017 under the management of SonsHub media. She has gone on to release several songs which has blessed the world, songs accompanied by so many testimonies of souls saved and convinced of the father's Love : an EP in 2018 tagged "The blood covenant".

She went ahead to release her first album in August 2021 tagged "THE LOVE STORY" which contains powerful and edifying songs on God's love, including the widely accepted "BEYOND ME" that has become a daily anthem on the lips of many, FREE OF CHARGE, ONYE INAPUTARA, OUT OF NOTHING, e.t.c.

At the core of all of Yadah's song is the message of God's love and a great hope!

Yadah has worked with several great music names like Solomon Lange, Chris Morgan, Manus Akpanke, Mercy chinwo, Prospa Ochimana, producers like Sunny pee, Prinx Emmanuel, T-klex, AY klasiq, Donsam, etc.

Follow Boomplay and keep up-to-date with the latest Yadah songs and information.

Yadah Songs
• Goodie Goodie
• Free of Charge
• Onye Inaputara
• You Fell For Me
• Hosanna
• Beyond Me

Yadah songs are included in Boomplay music playlists. Search to stream and download Yadah songs MP3/ single/ albums on the platform.
Songs.
New Comments(
44

)
FAQs about Yadah
Where is Yadah from?
She is from Nigeria.
How to download songs of Yadah?
You can download songs of Yadah from Boomplay App for free.
Firstly, install Boomplay app on your mobile phone.
Secondly, navigate to the song you would like to download.
Thirdly, Tap on More > Download.