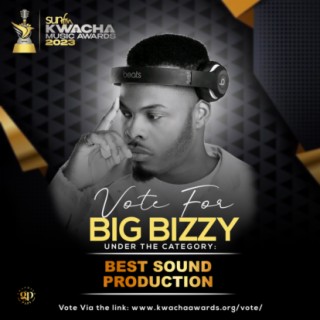 Big Bizzy
Current #13.5k

All Time #3,567

Romeo Katonga (Born March 17,1993), professionally known as Big Bizzy , is a Zambian music producer and recording artist based in Lusaka. Big Bizzy has produced for prominent artists from variety of genres, ranging from R&B, Hip Hop to Afro pop and Kwaito. Many of Big Bizzy songs become very popular and trendy online with a great number of streaming and downloads on Boomplay.

CAREER
Bizzy grew up around music as his mother used to listen and sing reggae music. He later met a good friend after completing high school known as E One who motivated him to start doing Rap music and they formed a rap duo known as Heroes Exposed. Bizzy also had dreams of being a music producer even when he was a rapper. Bizzy and E-one met T-sean who is one of Zambia's greatest music producer and dancehall artiste and formed the group called Baila Empire.

After a few years, Bizzy and E-one later met Gee wise and X5 and formed a four man music group known as Crazy 4. In 2015 Big Bizzy was signed to K-Amy Studios by Yahya Kaba (Killer beats) as a music producer where he has produced impressive hits by Alpha Romeo, Ma Africa, Jae Cash,Kan2, Crazy 4 e.t.c.

He has also formed his sub label(Starlight Music) under K-Amy Limited ,he has signed three talented artist . Karisma, S Jeey and J Mafia under his label.

Follow Boomplay and keep up-to-date with the latest Big Bizzy songs and information.

Big Bizzy Songs
• One Verse Cypher (Chapter One) (feat. Dizmo)
• War
• Oh My Love
• You Let Me Go
• Pali Iwe
• Burn No Bridges
• Teti Mbepe

Big Bizzy songs are included in Boomplay music playlists. Search to stream and download Big Bizzy songs MP3/ single/ albums on the platform....more

Country/Region : Zambia
Songs

(81)

Albums

(22)

Playlists

(0)
1

2

3

4

5

6

7

8

9

10

11

12

13

14

15

16

17

18

19

20

21

22

23

24

25

26

27

28

29

30

31

32

33

34

35

36

37

38

39

40

41

42

43

44

45

46

47

48

49

50

51

52

53

54

55

56

57

58

59

60

61

62

63

64

65

66

67

68

69

70

71

72

73

74

75

76

77

78

79

80

81
Listen to Big Bizzy's new songs including "One Verse Cypher (Chapter One) ft. Dizmo", "One Verse Cypher (Chapter Two) ft. Jae Cash", "Beautiful ft. 4Four & F Jay" and many more. Enjoy Big Bizzy's latest songs and explore the Big Bizzy's new music albums. If you want to download Big Bizzy songs MP3, use the Boomplay App to download the Big Bizzy songs for free. Discover Big Bizzy's latest songs, popular songs, trending songs all on Boomplay.
Romeo Katonga (Born March 17,1993), professionally known as Big Bizzy , is a Zambian music producer and recording artist based in Lusaka. Big Bizzy has produced for prominent artists from variety of genres, ranging from R&B, Hip Hop to Afro pop and Kwaito. Many of Big Bizzy songs become very popular and trendy online with a great number of streaming and downloads on Boomplay.

CAREER
Bizzy grew up around music as his mother used to listen and sing reggae music. He later met a good friend after completing high school known as E One who motivated him to start doing Rap music and they formed a rap duo known as Heroes Exposed. Bizzy also had dreams of being a music producer even when he was a rapper. Bizzy and E-one met T-sean who is one of Zambia's greatest music producer and dancehall artiste and formed the group called Baila Empire.

After a few years, Bizzy and E-one later met Gee wise and X5 and formed a four man music group known as Crazy 4. In 2015 Big Bizzy was signed to K-Amy Studios by Yahya Kaba (Killer beats) as a music producer where he has produced impressive hits by Alpha Romeo, Ma Africa, Jae Cash,Kan2, Crazy 4 e.t.c.

He has also formed his sub label(Starlight Music) under K-Amy Limited ,he has signed three talented artist . Karisma, S Jeey and J Mafia under his label.

Follow Boomplay and keep up-to-date with the latest Big Bizzy songs and information.

Big Bizzy Songs
• One Verse Cypher (Chapter One) (feat. Dizmo)
• War
• Oh My Love
• You Let Me Go
• Pali Iwe
• Burn No Bridges
• Teti Mbepe

Big Bizzy songs are included in Boomplay music playlists. Search to stream and download Big Bizzy songs MP3/ single/ albums on the platform.
New Comments(
26

)
FAQs about Big Bizzy
Where is Big Bizzy from?
He is from Zambia.
How to download songs of Big Bizzy?
You can download songs of Big Bizzy from Boomplay App for free.
Firstly, install Boomplay app on your mobile phone.
Secondly, navigate to the song you would like to download.
Thirdly, Tap on More > Download.