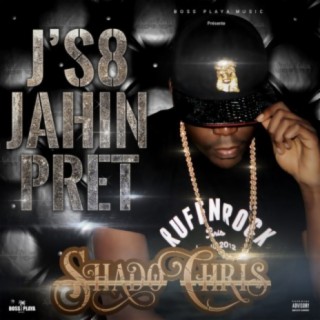 Shado Chris
Current #883

All Time #786

Falé Christian Djérianémé Marc-Alexandre, better known as Shado Chris, is an award-winning Ivorian singer, producer, and label owner whose skill is well-known throughout West Africa and beyond. Many of Shado Chris's Songs became very popular and trendy on social media in line with a great number of streaming and downloads on Boomplay. Shado Chris is known for his dynamic brand of hip-hop, R&B, and dance music-infused pop. Along with his own tracks, including 2014's "Mon Lahan "and 2017's "Chaleur, "he has collaborated on productions with Zeynab, Serge Beynaud C Nous Les Boss, Force One, and others.

Shado Chris was born in 1987 in Cocody, an Abidjan suburb, and is recognized for his dynamic mix of hip-hop, R&B, and dance music-infused pop.

Career
Shado Chris grew up in Ferkessédougou, where he developed an early interest in music, particularly rap music. Michael Jackson, 2Pac, DDf 15-49, and Stezo are a few of the artists who influenced him. He joined a local choir at the age of 15 and began developing his vocal abilities as well as teaching himself how to compose music on his computer.

He has a bachelor's degree in telecommunications engineering. Metizik, his self-produced debut, was released in 2008, and the process led to him opening his own recording studio. Gradually, he gained notoriety, and he was soon producing records for a slew of local musicians, including forming the Kiff No Beat band. More collaborations followed, including tracks with DJ Lewis, Debordo Doliziana, Bamba Ami Sarah, DJ Moasco, DJ Mareshal, etc.

Force One, and others. He formally extended his sphere of interest by beginning his solo career with the release of his debut single "Mon Lahan" in 2014, followed by tunes like "J'S8 Jahin Prêt" with Serge Beynaud and "Said" with Runtown and Nasty C. He has received numerous honours, including two 2016 Ivorian Music Oscar nominations for Best Male Artist and Best Music Video, a Gold Kundé nomination for Best Artist in West Africa, an Afrima Award nomination for his song "Noctambule" with Beninese artist Zeynab, and the RapIvoire Award for Best Beatmaker. In 2017, he launched Aura Corp, a musical firm that has nurtured well-known musicians such as Kadia and D14, to mention a few.

Follow Boomplay and keep up to date with the latest songs of Shado Chris and information.

Shado Chris's Songs
• Cabri Mort
• Kitadi
• Pehi Sair
• C'nous Les Boss
• Je N'ai pas Vole
• Jeux de riens
• C'est pas possible
• Bizi
• Fier de moi

Shado Chris's Songs are included in Boomplay music playlists. Search, stream, and download Shado Chris's Songs, the latest singles and albums in MP3 only on the Boomplay platform for free....more

Country/Region : Côte d'Ivoire
Listen to Shado Chris's new songs including "Ignoré ft. Medey", "Pehi Sair", and many more. Enjoy Shado Chris's latest songs and explore the Shado Chris's new music albums. If you want to download Shado Chris songs MP3, use the Boomplay App to download the Shado Chris songs for free. Discover Shado Chris's latest songs, popular songs, trending songs all on Boomplay.
Falé Christian Djérianémé Marc-Alexandre, better known as Shado Chris, is an award-winning Ivorian singer, producer, and label owner whose skill is well-known throughout West Africa and beyond. Many of Shado Chris's Songs became very popular and trendy on social media in line with a great number of streaming and downloads on Boomplay. Shado Chris is known for his dynamic brand of hip-hop, R&B, and dance music-infused pop. Along with his own tracks, including 2014's "Mon Lahan "and 2017's "Chaleur, "he has collaborated on productions with Zeynab, Serge Beynaud C Nous Les Boss, Force One, and others.

Shado Chris was born in 1987 in Cocody, an Abidjan suburb, and is recognized for his dynamic mix of hip-hop, R&B, and dance music-infused pop.

Career
Shado Chris grew up in Ferkessédougou, where he developed an early interest in music, particularly rap music. Michael Jackson, 2Pac, DDf 15-49, and Stezo are a few of the artists who influenced him. He joined a local choir at the age of 15 and began developing his vocal abilities as well as teaching himself how to compose music on his computer.

He has a bachelor's degree in telecommunications engineering. Metizik, his self-produced debut, was released in 2008, and the process led to him opening his own recording studio. Gradually, he gained notoriety, and he was soon producing records for a slew of local musicians, including forming the Kiff No Beat band. More collaborations followed, including tracks with DJ Lewis, Debordo Doliziana, Bamba Ami Sarah, DJ Moasco, DJ Mareshal, etc.

Force One, and others. He formally extended his sphere of interest by beginning his solo career with the release of his debut single "Mon Lahan" in 2014, followed by tunes like "J'S8 Jahin Prêt" with Serge Beynaud and "Said" with Runtown and Nasty C. He has received numerous honours, including two 2016 Ivorian Music Oscar nominations for Best Male Artist and Best Music Video, a Gold Kundé nomination for Best Artist in West Africa, an Afrima Award nomination for his song "Noctambule" with Beninese artist Zeynab, and the RapIvoire Award for Best Beatmaker. In 2017, he launched Aura Corp, a musical firm that has nurtured well-known musicians such as Kadia and D14, to mention a few.

Follow Boomplay and keep up to date with the latest songs of Shado Chris and information.

Shado Chris's Songs
• Cabri Mort
• Kitadi
• Pehi Sair
• C'nous Les Boss
• Je N'ai pas Vole
• Jeux de riens
• C'est pas possible
• Bizi
• Fier de moi

Shado Chris's Songs are included in Boomplay music playlists. Search, stream, and download Shado Chris's Songs, the latest singles and albums in MP3 only on the Boomplay platform for free.