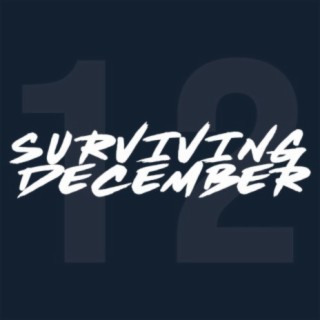 Surviving December
Current #25.4k

All Time #25.3k

Reviving the music you used to love!
Yearning for the sounds of the true punk rock you grew up with? Let Surviving December transport you back to a simpler time with their eclectic musical mix of pop-punk-rock.
The band's roots reach back to 2005, when brothers Mark and Jason Hobbs first started writing music in a dingy Devon basement alongside Chris Golden and Josh Norton-Cox. Fast forward 15 years to 2020, and Mark, Jason and Chris found themselves rekindling their partnership during the strange era of Covid-19.
Now joined by Gemma Patten, Tom Crossman and Ryan Wighton, and with original member Josh returning as producer, this unique six-piece line-up have fused their refined musicianship, while staying true to their founding influences of Blink 182, The Ataris, Senses Fail and New Found Glory. The result is a vintage and truly authentic sound, given a contemporary twist by their trio of vocalists.
Surviving December have not let lockdown get in the way of their aspirations to bring...more

Country/Region : Others
Songs

(21)

Albums

(2)

Playlists

(0)
1

2

3

4

5

6

7

8

9

10

11

12

13

14

15

16

17

18

19

20

21
Listen to Surviving December's new songs including "Set It Off", "Fade", "Saved From Falling" and many more. Enjoy Surviving December's latest songs and explore the Surviving December's new music albums. If you want to download Surviving December songs MP3, use the Boomplay App to download the Surviving December songs for free. Discover Surviving December's latest songs, popular songs, trending songs all on Boomplay.
Surviving December Biography
Reviving the music you used to love!
Yearning for the sounds of the true punk rock you grew up with? Let Surviving December transport you back to a simpler time with their eclectic musical mix of pop-punk-rock.
The band's roots reach back to 2005, when brothers Mark and Jason Hobbs first started writing music in a dingy Devon basement alongside Chris Golden and Josh Norton-Cox. Fast forward 15 years to 2020, and Mark, Jason and Chris found themselves rekindling their partnership during the strange era of Covid-19.
Now joined by Gemma Patten, Tom Crossman and Ryan Wighton, and with original member Josh returning as producer, this unique six-piece line-up have fused their refined musicianship, while staying true to their founding influences of Blink 182, The Ataris, Senses Fail and New Found Glory. The result is a vintage and truly authentic sound, given a contemporary twist by their trio of vocalists.
Surviving December have not let lockdown get in the way of their aspirations to bring
New Comments(
0

)

What do you think of this artist?
FAQs about Surviving December
How to download songs of Surviving December?
You can download songs of Surviving December from Boomplay App for free.
Firstly, install Boomplay app on your mobile phone.
Secondly, navigate to the song you would like to download.
Thirdly, Tap on More > Download.