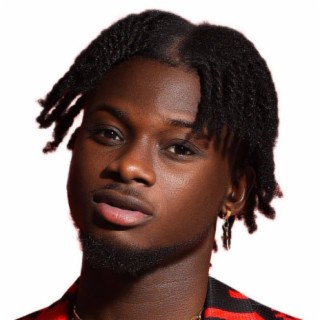 Kuami Eugene
Current #523

All Time #522

Kwame Eugene was born to Alex and Juliana Marfo in Akim Oda, Ghana. His interest in music led him to sing in the church from a very young age where he also learnt how to play the drum, keyboard and guitar. Many of Kwame Eugene songs become very popular and trendy online with great number of streaming and downloads on Boomplay.

Kuami Eugene dropped out of school because of his love for music and spent more than two months studying music in a studio located in the Eastern Region without informing the school authority and his mother.

He was later expelled from school after it was discovered that he had skipped school. He attended Salvation Army Senior High school located at Akim-Wenchi. The young artiste, who grew up in the environs of Fadama, a suburb of Accra furthered his education to Ghana Telecom University.

CAREER AND ACHIEVEMENTS
Kwami Eugene was a contestant in the season 5 of the reality competition show MTN Hitmaker in Ghana in 2016, where he finished third overall. He was signed shortly afterwards to Lynx Entertainment and has gone on to release several singles. In 2017, "Angela" reached one million views on YouTube, the most for any music artist on that label, and was indicated to be in rotation among the top 10 songs in Ghana.

He is a featured artist in "Adwenfi" by DJ Vyrusky and Shatta Wale. In 2018, he released a continuation of the story line in the "Angela" song called "Confusion". And in June 2018, he released the single "Wish Me Well", which was in response to the negative comments he received on social media, some of which alleged he was stealing lyrics from another artist Ice Prince.

In 2017, he participated in Sarkodie's Rapperholic Concert in Ghana, on the 25th of December. Ghana Music Honors 2017 Edition, December to Remember 2017, Concert 2017, the 61st Ghana Independence Celebration Show at Indigo 02 in London. Kuami Eugene has gone on to perform on many more stages including at Oh My Festival in Amsterdam, Afrobeats to the World concert at the Playstation Theatre in New York and Afronation in Ghana.

Follow Boomplay and keep up to date with latest Kwame Eugene songs and information.

Kwame Eugene SONGS
• "Dollar On You"
• "Ɛbɛyɛyie"
• "Fadama Boy"
• "Hiribaba" (featuring MzVee)
• "Boom Bang Bang"
• "Angela"
• "Confusion"
• "Wish Me Well"
• "Wish Me Well remix" (featuring Ice Prince)
• "Meji Meji" (featuring Davido)
• "Walaahi"
• "No More" (featuring Sarkodie)
• "Ohemaa" (featuring KiDi)
• "Obiaato"
• "Turn Up"
• "Ghana We Dey" (featuring Samini & Shatta Wale)
• "Open Gate"

Kwame Eugene songs are included in Boomplay music playlists. Search to stream and download Kwame Eugene songs MP3/ single/ albums on the Boomplay....more

Country/Region : Ghana
Listen to Kuami Eugene's new songs including "Ohemaa (Remix) ft. KiDi", "I Feel Nice (Mixed) ft. Group Chat & EMPIRE", "Turn Up" and many more. Enjoy Kuami Eugene's latest songs and explore the Kuami Eugene's new music albums. If you want to download Kuami Eugene songs MP3, use the Boomplay App to download the Kuami Eugene songs for free. Discover Kuami Eugene's latest songs, popular songs, trending songs all on Boomplay.
Kwame Eugene was born to Alex and Juliana Marfo in Akim Oda, Ghana. His interest in music led him to sing in the church from a very young age where he also learnt how to play the drum, keyboard and guitar. Many of Kwame Eugene songs become very popular and trendy online with great number of streaming and downloads on Boomplay.

Kuami Eugene dropped out of school because of his love for music and spent more than two months studying music in a studio located in the Eastern Region without informing the school authority and his mother.

He was later expelled from school after it was discovered that he had skipped school. He attended Salvation Army Senior High school located at Akim-Wenchi. The young artiste, who grew up in the environs of Fadama, a suburb of Accra furthered his education to Ghana Telecom University.

CAREER AND ACHIEVEMENTS
Kwami Eugene was a contestant in the season 5 of the reality competition show MTN Hitmaker in Ghana in 2016, where he finished third overall. He was signed shortly afterwards to Lynx Entertainment and has gone on to release several singles. In 2017, "Angela" reached one million views on YouTube, the most for any music artist on that label, and was indicated to be in rotation among the top 10 songs in Ghana.

He is a featured artist in "Adwenfi" by DJ Vyrusky and Shatta Wale. In 2018, he released a continuation of the story line in the "Angela" song called "Confusion". And in June 2018, he released the single "Wish Me Well", which was in response to the negative comments he received on social media, some of which alleged he was stealing lyrics from another artist Ice Prince.

In 2017, he participated in Sarkodie's Rapperholic Concert in Ghana, on the 25th of December. Ghana Music Honors 2017 Edition, December to Remember 2017, Concert 2017, the 61st Ghana Independence Celebration Show at Indigo 02 in London. Kuami Eugene has gone on to perform on many more stages including at Oh My Festival in Amsterdam, Afrobeats to the World concert at the Playstation Theatre in New York and Afronation in Ghana.

Follow Boomplay and keep up to date with latest Kwame Eugene songs and information.

Kwame Eugene SONGS
• "Dollar On You"
• "Ɛbɛyɛyie"
• "Fadama Boy"
• "Hiribaba" (featuring MzVee)
• "Boom Bang Bang"
• "Angela"
• "Confusion"
• "Wish Me Well"
• "Wish Me Well remix" (featuring Ice Prince)
• "Meji Meji" (featuring Davido)
• "Walaahi"
• "No More" (featuring Sarkodie)
• "Ohemaa" (featuring KiDi)
• "Obiaato"
• "Turn Up"
• "Ghana We Dey" (featuring Samini & Shatta Wale)
• "Open Gate"

Kwame Eugene songs are included in Boomplay music playlists. Search to stream and download Kwame Eugene songs MP3/ single/ albums on the Boomplay.
FAQs about Kuami Eugene
Where is Kuami Eugene from?
He is from Ghana.
How to download songs of Kuami Eugene?
You can download songs of Kuami Eugene from Boomplay App for free.
Firstly, install Boomplay app on your mobile phone.
Secondly, navigate to the song you would like to download.
Thirdly, Tap on More > Download.