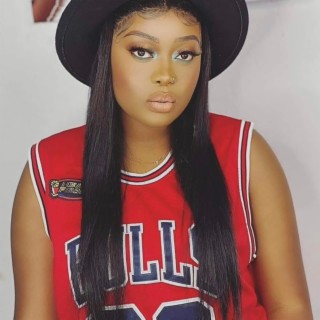 Xaven
Current #5,647

All Time #6,299

Zambian songstress Xaven, popularly known as Kopala. Her real name is Rachel but she chose Xaven to personify high attitude which is what gives her confidence. Many of Xaven songs become very popular and trendy online with a great number of streaming and downloads on Boomplay.

Xaven is currently riding high with her new song "Undisputed" produced by Nexus Music Entertainment. The singer says she always wants to do music that people can relate to because this is what her legacy as a musician will be about when she hangs her musical boots.

Xaven's passion for music stared way back in high school and her dad persuaded her to complete her studies first and venture into music.

Follow Boomplay and keep up to date with the latest Xaven songs and information.

Xaven Songs
• Nalema
• undisputed
• Twalila
• Nalema ft. Yo Maps

Xaven songs are included in Boomplay music playlists. Search to stream and download Xaven songs MP3/ single/ albums on the platform....more

Country/Region : Zambia
Songs

(0)

Albums

(0)

Playlists

(0)

Videos and More
Listen to Xaven's new songs including and many more. Enjoy Xaven's latest songs and explore the Xaven's new music albums. If you want to download Xaven songs MP3, use the Boomplay App to download the Xaven songs for free. Discover Xaven's latest songs, popular songs, trending songs all on Boomplay.
Zambian songstress Xaven, popularly known as Kopala. Her real name is Rachel but she chose Xaven to personify high attitude which is what gives her confidence. Many of Xaven songs become very popular and trendy online with a great number of streaming and downloads on Boomplay.

Xaven is currently riding high with her new song "Undisputed" produced by Nexus Music Entertainment. The singer says she always wants to do music that people can relate to because this is what her legacy as a musician will be about when she hangs her musical boots.

Xaven's passion for music stared way back in high school and her dad persuaded her to complete her studies first and venture into music.

Follow Boomplay and keep up to date with the latest Xaven songs and information.

Xaven Songs
• Nalema
• undisputed
• Twalila
• Nalema ft. Yo Maps

Xaven songs are included in Boomplay music playlists. Search to stream and download Xaven songs MP3/ single/ albums on the platform.
New Comments(
30

)
FAQs about Xaven
Where is Xaven from?
She is from Zambia.
What are the latest songs of Xaven?
The latest songs of Xaven are Ngeyo Behaviour, Ndine Olowa (Oweh) and Ndine Olowa.
What are the best songs of Xaven?
The best songs of Xaven are Nalema ft. Yo Maps, Idedeshe ft. Nez Long and Ngeyo Behaviour.
What are the best albums of Xaven?
The best albums of Xaven are Nalema, Idedeshe and Ngeyo Behaviour.