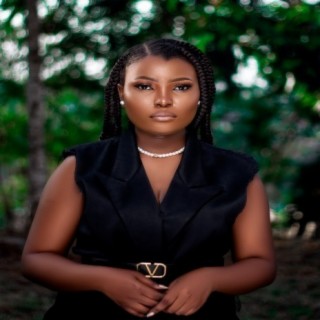 Anjella
Current #2,451

All Time #1,688

Anjella (born Angelina Samson George), is a Tanzanian singer and songwriter. Anjella was born on 3rd October 2000 to her parents in Tanzania who named her Angelina Samson George. Many of Anjella songs become very popular and trendy online with a great number of streaming and downloads on Boomplay. she is signed under the Konde Music Worldwide Label.

Her rise to stardom came in February 2021 when Harmonize featured her in his All Night single. She earned the collaboration after emerging top in a challenge that Harmonize had put out to find new talent to record with. In March, she was officially unveiled as the latest signee of the Konde Music Worldwide record label, which is owned by singer Harmonize.

Career
Anjella came to the spotlight in 2021, after East African Star Harmonize discovered her. Harmonize, owner of Konde Music Worldwide, discovered her talent, worked with her and endorsed her into the Konde Gang as one of the youngest if not youngest artists on the label. She has released more than three tracks now including Kama and All Night which saw her collaborate with Bongo Flava musician and mentor, Harmonize. She has also released a song titled Nobody.

Follow Boomplay and keep up to date with the latest Anjella songs and information.

Anjella Songs
• Kama
• Nobody
• Sina Bahati
• Kioo
• SI Saizi Yako
• Ahsante Magufuli
• Shulala
• Toroka

Anjella songs are included in Boomplay music playlists. Search to stream and download Anjella songs MP3/ single/ albums on the platform....more

Country/Region : Tanzania
Songs

(7)

Albums

(7)

Playlists

(7)
Listen to Anjella's new songs including "Kioo ft. Harmonize", "Nobody", "Kama ft. Harmonize" and many more. Enjoy Anjella's latest songs and explore the Anjella's new music albums. If you want to download Anjella songs MP3, use the Boomplay App to download the Anjella songs for free. Discover Anjella's latest songs, popular songs, trending songs all on Boomplay.
Anjella (born Angelina Samson George), is a Tanzanian singer and songwriter. Anjella was born on 3rd October 2000 to her parents in Tanzania who named her Angelina Samson George. Many of Anjella songs become very popular and trendy online with a great number of streaming and downloads on Boomplay. she is signed under the Konde Music Worldwide Label.

Her rise to stardom came in February 2021 when Harmonize featured her in his All Night single. She earned the collaboration after emerging top in a challenge that Harmonize had put out to find new talent to record with. In March, she was officially unveiled as the latest signee of the Konde Music Worldwide record label, which is owned by singer Harmonize.

Career
Anjella came to the spotlight in 2021, after East African Star Harmonize discovered her. Harmonize, owner of Konde Music Worldwide, discovered her talent, worked with her and endorsed her into the Konde Gang as one of the youngest if not youngest artists on the label. She has released more than three tracks now including Kama and All Night which saw her collaborate with Bongo Flava musician and mentor, Harmonize. She has also released a song titled Nobody.

Follow Boomplay and keep up to date with the latest Anjella songs and information.

Anjella Songs
• Kama
• Nobody
• Sina Bahati
• Kioo
• SI Saizi Yako
• Ahsante Magufuli
• Shulala
• Toroka

Anjella songs are included in Boomplay music playlists. Search to stream and download Anjella songs MP3/ single/ albums on the platform.
New Comments(
127

)
FAQs about Anjella
Where is Anjella from?
She is from Tanzania.
How to download songs of Anjella?
You can download songs of Anjella from Boomplay App for free.
Firstly, install Boomplay app on your mobile phone.
Secondly, navigate to the song you would like to download.
Thirdly, Tap on More > Download.