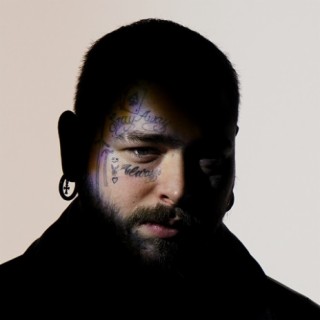 Post Malone
Current #306

All Time #229

Austin Richard Post, known professionally as Post Malone, is an American rapper, singer, songwriter and record producer.

Post was born (July 4, 1995 )in Syracuse, New York, the son of Nicole Frazier Lake, from Walton, NY, and Rich Post. His father had been a disc jockey in his youth and introduced Post to many different genres of music including hip-hop, country, and rock. He is of Polish, English, and Scottish descent.

Post has always had a love for emo music,according to Post his very first foray into professional music began when he was in a heavy metal band.

Post recorded "White Iverson" two days after writing it as a reference to the professional basketball player Allen Iverson. It was uploaded to Post's SoundCloud account. After hitting one million views within a month of releasing "White Iverson", Post quickly garnered attention from record labels. In August 2015, he signed a recording contract with Republic Records.

On April 20, 2016, Post premiered his new single, "Go Flex" on Zane Lowe's Beats 1 show. On May 12, 2016, he released his first full-length project, a mixtape, titled August 26, the title of which was a reference to the release date of his debut album.

In September, Malone released the first single from the album, "Rockstar", featuring 21 Savage. The song peaked at number one on the Billboard Hot 100.

In an interview with Billboard in May 2018, Malone's manager announced that Malone was planning to start his own record label and film production company and Post later won Top Rap Song at the Billboard Music Awards for "Rockstar" featuring 21 Savage. Post confirmed in June 2018 that he was writing his third album....more

Country/Region : United States
Listen to Post Malone's new songs including and many more. Enjoy Post Malone's latest songs and explore the Post Malone's new music albums. If you want to download Post Malone songs MP3, use the Boomplay App to download the Post Malone songs for free. Discover Post Malone's latest songs, popular songs, trending songs all on Boomplay.
Austin Richard Post, known professionally as Post Malone, is an American rapper, singer, songwriter and record producer.

Post was born (July 4, 1995 )in Syracuse, New York, the son of Nicole Frazier Lake, from Walton, NY, and Rich Post. His father had been a disc jockey in his youth and introduced Post to many different genres of music including hip-hop, country, and rock. He is of Polish, English, and Scottish descent.

Post has always had a love for emo music,according to Post his very first foray into professional music began when he was in a heavy metal band.

Post recorded "White Iverson" two days after writing it as a reference to the professional basketball player Allen Iverson. It was uploaded to Post's SoundCloud account. After hitting one million views within a month of releasing "White Iverson", Post quickly garnered attention from record labels. In August 2015, he signed a recording contract with Republic Records.

On April 20, 2016, Post premiered his new single, "Go Flex" on Zane Lowe's Beats 1 show. On May 12, 2016, he released his first full-length project, a mixtape, titled August 26, the title of which was a reference to the release date of his debut album.

In September, Malone released the first single from the album, "Rockstar", featuring 21 Savage. The song peaked at number one on the Billboard Hot 100.

In an interview with Billboard in May 2018, Malone's manager announced that Malone was planning to start his own record label and film production company and Post later won Top Rap Song at the Billboard Music Awards for "Rockstar" featuring 21 Savage. Post confirmed in June 2018 that he was writing his third album.
FAQs about Post Malone
Where is Post Malone from?
He is from United States.
What are the latest songs of Post Malone?
The latest songs of Post Malone are Cooped Up / Return Of The Mack ft. Mark Morrison & Sickick and TEAR$.
What are the best songs of Post Malone?
The best songs of Post Malone are Goodbyes ft. Young Thug, rockstar ft. 21 Savage and Better Now.
What are the best albums of Post Malone?
The best albums of Post Malone are Hollywood's Bleeding and beerbongs & bentleys.