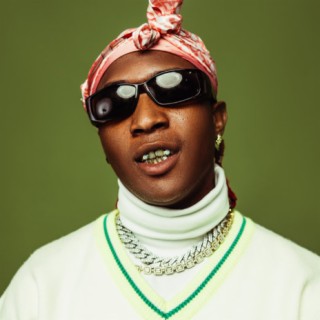 Bella Shmurda
Current #306

All Time #182

Ahmed Abiola Akinbiyi Lawal, known professionally as Bella Shmurda or fine boi Bella, is a Nigerian singer and songwriter. He was born on 27 January 1996, at Okokomaiko,Lagos, Nigeria.He had his primary and secondary education in Lagos .

He gained admission in 2016 to the Lagos State University to study History and International Relations. Bella Shurmda showed early signs of interest in music at a young age. He began freestyling and uploaded his freestyle videos on social media. His family always supports his music and he also said his Mum is his biggest supporter.

Bella Shmurda shot to limelight in 2019 when he remixed his debut single 'Vision 2020' and had Olamide jump on the remix. The song was originally released in 2018 but didn't receive much publicity. The visuals of the remix also included popular dancer, Poco Lee. Since breaking into the limelight, Bella Shmurda has gone on to release more hits including the chart-topping tune, Cashapp featuring Zlatan. He also appeared on Olamide's Carpe Diem album on a song titled "Triumphant" and davidos' a better time album on "fade".

He was nominated for the Headies Next Rated awards but did not win. Bella Shmurda has two EPs, titled, High Tension and High Tension 2.0. High tension was released in 2020 and enjoyed a lot of attention and airplay. Following the success of the EP, he released High Tension 2.0 in July 2021, the EP is still gaining full momentum and houses songs like Party next door and world...more

Country/Region : Nigeria
Listen to Bella Shmurda's new songs including "Only You", "One Touch (feat. Zlatan)", "Ara (Gen Gen Tin) (Mixed)" and many more. Enjoy Bella Shmurda's latest songs and explore the Bella Shmurda's new music albums. If you want to download Bella Shmurda songs MP3, use the Boomplay App to download the Bella Shmurda songs for free. Discover Bella Shmurda's latest songs, popular songs, trending songs all on Boomplay.
Ahmed Abiola Akinbiyi Lawal, known professionally as Bella Shmurda or fine boi Bella, is a Nigerian singer and songwriter. He was born on 27 January 1996, at Okokomaiko,Lagos, Nigeria.He had his primary and secondary education in Lagos .

He gained admission in 2016 to the Lagos State University to study History and International Relations. Bella Shurmda showed early signs of interest in music at a young age. He began freestyling and uploaded his freestyle videos on social media. His family always supports his music and he also said his Mum is his biggest supporter.

Bella Shmurda shot to limelight in 2019 when he remixed his debut single 'Vision 2020' and had Olamide jump on the remix. The song was originally released in 2018 but didn't receive much publicity. The visuals of the remix also included popular dancer, Poco Lee. Since breaking into the limelight, Bella Shmurda has gone on to release more hits including the chart-topping tune, Cashapp featuring Zlatan. He also appeared on Olamide's Carpe Diem album on a song titled "Triumphant" and davidos' a better time album on "fade".

He was nominated for the Headies Next Rated awards but did not win. Bella Shmurda has two EPs, titled, High Tension and High Tension 2.0. High tension was released in 2020 and enjoyed a lot of attention and airplay. Following the success of the EP, he released High Tension 2.0 in July 2021, the EP is still gaining full momentum and houses songs like Party next door and world
New Comments(
822

)
FAQs about Bella Shmurda
Where is Bella Shmurda from?
He is from Nigeria.
How to download songs of Bella Shmurda?
You can download songs of Bella Shmurda from Boomplay App for free.
Firstly, install Boomplay app on your mobile phone.
Secondly, navigate to the song you would like to download.
Thirdly, Tap on More > Download.