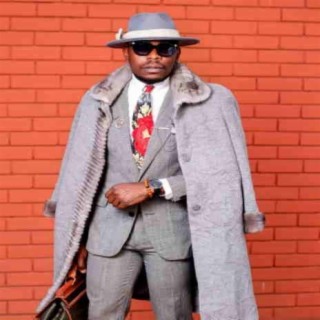 Collins Mutindi
Current #26.6k

All Time #1,125

Collins mutindi is a kenyan singer born in Eastlands, Nairobi, Kenya. He is a producer for the deaf and an artiste, a talented manager and CEO of Mutindi Music Production. He is also a father of two, a boy and a girl.

Many of Mutindi's Songs became very popular and trendy on social media in line with a great number of streaming and downloads on Boomplay.

Career
Having hardworking parents, Collins was able to secure education with ease alongside his other four siblings. Upon reaching grade three his primary teachers foresaw a singing potential in him. He was then recruited to the school art club which gave him a platform to perform to various Kenyan delegates including late Kenya`s Second President Daniel Arap Moi.

He also got a chance to perform to the then Vice President of Kenya Musalia Mudavadi during President Daniel Moi`s regime. However, Mutindi relocated to Nairobi later after his College Studies. He got hooked to substances and drug abuse at some point in life which made him lose his networks and ended up without gigs.

He started vandalizing metal, aluminum, coop, and galvanized steel for survival. His parents came to his rescue and took him back. later Mutindi gained interest in sign language and begun researching music since he had not seen any producer making music for the deaf and vowed to make a change in the lives of those with hearing impairment since he is a man who tries the most unthinkable.

Achievements
Being an artiste, Collins have also thought of something extraordinary that according to the Kenyan constitution it's impossible. He vied for the position of the Nairobi women representative.

He did a solo performance for the vice president of Kenya Musalia Mudavadi a few years back. He mentored and accommodated a street kid named Sijay from Nakuru streets and now he has two professionally made tracks and videos. He got nominated for Entertainment Founder of the Year (Over 30) for Mutindi Music Production in 2021.

Follow Boomplay and keep up-to-date with the latest songs of Collins Mutindi and information.

Collins Mutindi's songs
• Mwaminifu
• Asante mungu
• Wisdom
• None like you ft jane iguri

Stream his songs for free only on boomplay. Collins Mutindi's Songs are included in Boomplay music playlists. Search, stream, and download Collins Mutindi's Songs, his latest singles and albums in MP3 only on the Boomplay platform for free....more

Country/Region : Kenya
Songs

(5)

Albums

(5)

Playlists

(0)
Listen to Collins Mutindi's new songs including "WISDOM", "None Like You ft. Jane Iguri", "Asante Mungu" and many more. Enjoy Collins Mutindi's latest songs and explore the Collins Mutindi's new music albums. If you want to download Collins Mutindi songs MP3, use the Boomplay App to download the Collins Mutindi songs for free. Discover Collins Mutindi's latest songs, popular songs, trending songs all on Boomplay.
Collins mutindi is a kenyan singer born in Eastlands, Nairobi, Kenya. He is a producer for the deaf and an artiste, a talented manager and CEO of Mutindi Music Production. He is also a father of two, a boy and a girl.

Many of Mutindi's Songs became very popular and trendy on social media in line with a great number of streaming and downloads on Boomplay.

Career
Having hardworking parents, Collins was able to secure education with ease alongside his other four siblings. Upon reaching grade three his primary teachers foresaw a singing potential in him. He was then recruited to the school art club which gave him a platform to perform to various Kenyan delegates including late Kenya`s Second President Daniel Arap Moi.

He also got a chance to perform to the then Vice President of Kenya Musalia Mudavadi during President Daniel Moi`s regime. However, Mutindi relocated to Nairobi later after his College Studies. He got hooked to substances and drug abuse at some point in life which made him lose his networks and ended up without gigs.

He started vandalizing metal, aluminum, coop, and galvanized steel for survival. His parents came to his rescue and took him back. later Mutindi gained interest in sign language and begun researching music since he had not seen any producer making music for the deaf and vowed to make a change in the lives of those with hearing impairment since he is a man who tries the most unthinkable.

Achievements
Being an artiste, Collins have also thought of something extraordinary that according to the Kenyan constitution it's impossible. He vied for the position of the Nairobi women representative.

He did a solo performance for the vice president of Kenya Musalia Mudavadi a few years back. He mentored and accommodated a street kid named Sijay from Nakuru streets and now he has two professionally made tracks and videos. He got nominated for Entertainment Founder of the Year (Over 30) for Mutindi Music Production in 2021.

Follow Boomplay and keep up-to-date with the latest songs of Collins Mutindi and information.

Collins Mutindi's songs
• Mwaminifu
• Asante mungu
• Wisdom
• None like you ft jane iguri

Stream his songs for free only on boomplay. Collins Mutindi's Songs are included in Boomplay music playlists. Search, stream, and download Collins Mutindi's Songs, his latest singles and albums in MP3 only on the Boomplay platform for free.