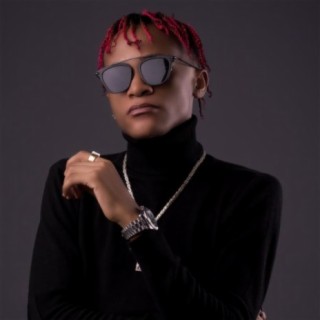 Innoss'B
Current #278

All Time #109

Innocent Balume, known by his stage name Innoss'B, is a Congolese singer-songwriter, rapper, percussionist, and dancer from Goma, Congo DRC. Many of Innoss'B songs become very popular and trendy online with a great number of streaming and downloads on Boomplay. In addition to adapting modern styles like Afrobeats and hip-hop, Innoss'B is a skilled djembe player.

Innoss'B was born to a musical family - his mother was a church singer, his father was a pop music dancer and he first performed with his brothers in the group Maisha Soul.

Career.
They trained at Yolé!Africa, a youth cultural center in Goma founded in 2000 by internationally acclaimed filmmaker and activist Petna Ndaliko Katondolo. At the age of 12, he won the 'Vodacom Super Star in DR Congo' with more than 1.3 million votes throughout the country.

Follow Boomplay and keep up-to-date with the latest Innoss'B songs and information.

Achievement.
He was also the first winner of the Vodacom Superstars, which brought him to the attention of actor and director Ben Affleck. In 2013 he was signed to a management contract with Interglobe Music. He has recorded and toured with Akon and is known for always mentioning Eriki Mandala in his songs.

Innoss'B Songs
• Innoss'B has released so many songs:
• Achour
• follow me
• Lost
• EhYo Innossb
• I Like You
• Big Africa
• Abibi
• Ola
• No Bodyguard
• Free
• Pick Up My Phone Calls
• Yoka Ngai
• Real Party
• Crazy
• Neti Na Uh
• Turn On the Radio
• Bounce Like a Ball
• Big Africa
• Ce C'est Bon
• Pola
• Cha Cha
• Eloko (featuring Werrason)
• Elengi (featuring Koffi Olomide)
• Pepele
• Together as One
• I Can Be Your Blue Eyed Boy"
• Eh Yo Innoss'B

Innoss'B songs are included in Boomplay music playlists. Search to stream and download Innoss'B songs MP3/ single/ albums on the platform....more

Country/Region : Democratic Republic of the Congo
Songs

(22)

Albums

(6)

Playlists

(4)
1

2

3

4

5

6

7

8

9

10

11

12

13

14

15

16

17

18

19

20

21

22
Listen to Innoss'B's new songs including "Maboko Milayi", "Kiss (feat. Zuchu)", "Yope Remix" and many more. Enjoy Innoss'B's latest songs and explore the Innoss'B's new music albums. If you want to download Innoss'B songs MP3, use the Boomplay App to download the Innoss'B songs for free. Discover Innoss'B's latest songs, popular songs, trending songs all on Boomplay.
Innocent Balume, known by his stage name Innoss'B, is a Congolese singer-songwriter, rapper, percussionist, and dancer from Goma, Congo DRC. Many of Innoss'B songs become very popular and trendy online with a great number of streaming and downloads on Boomplay. In addition to adapting modern styles like Afrobeats and hip-hop, Innoss'B is a skilled djembe player.

Innoss'B was born to a musical family - his mother was a church singer, his father was a pop music dancer and he first performed with his brothers in the group Maisha Soul.

Career.
They trained at Yolé!Africa, a youth cultural center in Goma founded in 2000 by internationally acclaimed filmmaker and activist Petna Ndaliko Katondolo. At the age of 12, he won the 'Vodacom Super Star in DR Congo' with more than 1.3 million votes throughout the country.

Follow Boomplay and keep up-to-date with the latest Innoss'B songs and information.

Achievement.
He was also the first winner of the Vodacom Superstars, which brought him to the attention of actor and director Ben Affleck. In 2013 he was signed to a management contract with Interglobe Music. He has recorded and toured with Akon and is known for always mentioning Eriki Mandala in his songs.

Innoss'B Songs
• Innoss'B has released so many songs:
• Achour
• follow me
• Lost
• EhYo Innossb
• I Like You
• Big Africa
• Abibi
• Ola
• No Bodyguard
• Free
• Pick Up My Phone Calls
• Yoka Ngai
• Real Party
• Crazy
• Neti Na Uh
• Turn On the Radio
• Bounce Like a Ball
• Big Africa
• Ce C'est Bon
• Pola
• Cha Cha
• Eloko (featuring Werrason)
• Elengi (featuring Koffi Olomide)
• Pepele
• Together as One
• I Can Be Your Blue Eyed Boy"
• Eh Yo Innoss'B

Innoss'B songs are included in Boomplay music playlists. Search to stream and download Innoss'B songs MP3/ single/ albums on the platform.
New Comments(
138

)
FAQs about Innoss'B
Where is Innoss'B from?
He is from Democratic Republic of the Congo.
How to download songs of Innoss'B?
You can download songs of Innoss'B from Boomplay App for free.
Firstly, install Boomplay app on your mobile phone.
Secondly, navigate to the song you would like to download.
Thirdly, Tap on More > Download.