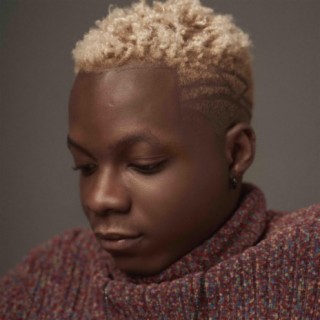 Terri
Current #3,254

All Time #1,711

Terry Daniel Aweke (born 27 May 1999) professionally known by his stage name Terri (Starboy Terri or Terri Ryn) is a creative Nigerian singer and songwriter signed to Wizkid's Starboy Entertainment.

Terri is steadily gaining fame in the Nigerian Music Industry.

His contribution to Wizkid's song; Soco draws a lot of attention to him and give him fame in the industry.

Terri songs become very popular and trendy online with a great number of streaming and downloads on Boomplay.

Career
After he did a song cover for Wizkid and DJ Jimmy Jatt's Oshe, Terri gained the attention of the popular Nigerian sensation, Wizkid.

In February 2018, while Terri was only 18 years old, he was signed to one of the Nigerian leading record labels Starboy Entertainment.

Before being noticed by Wizkid, Terri made several attempts at starting up his music career.

He started with the name Stoned Teezy and used his saved lunch money to record songs in a studio but it was during 2016 that his music career began to take shape when he released singles like, Where the Party At featuring Fresh and Remy Martins.

He came into the limelight when he was introduced to Soco, a song written by Wizkid and two others released under the name of Starboy Entertainment.

He went on to release his first official single titled Bia in September 2018 under the Starboy Entertainment record label.
He gained more audience after the release of Soco and Shuu.

Terri recently released his first EP titled Afro series, a compilation of seven tracks, without featuring any other artiste but got help producing from top-class Nigerian producers like Iambeatz, Killertunes etc.

Follow Boomplay and keep up-to-date with the latest Terri songs and information.

Terri Songs
• Ojoro
• Bia (2018)
• Shuu (2018)
• Soco ft Wizkid, Spotless and Ceeza Milli (2018)
• On Me (2019)
• Same You (2019)
• Non-stop (2019)
• Jojo ft King Perry and Soft (2019)
• Turn on me (2019)
• Afro Series EP (2020)

Achievements
Terri won a joint award together with Wizkid, Terri, Spotless and Ceeza Milli, for the best collaboration category for the song "Soco" during the Sound City MVP Awards in 2019. He was also recently made Artist of the Month by Apple Music. Additionally, Starboy Terri's music has gone viral, with a video appearing online showing Americans dancing to it at the White House protests.

Terri songs are included in Boomplay music playlists. Search to stream and download Terri songs MP3/ single/ albums on the platform....more

Country/Region : Nigeria
Songs

(0)

Albums

(0)

Playlists

(3)
Listen to Terri's new songs including and many more. Enjoy Terri's latest songs and explore the Terri's new music albums. If you want to download Terri songs MP3, use the Boomplay App to download the Terri songs for free. Discover Terri's latest songs, popular songs, trending songs all on Boomplay.
Terry Daniel Aweke (born 27 May 1999) professionally known by his stage name Terri (Starboy Terri or Terri Ryn) is a creative Nigerian singer and songwriter signed to Wizkid's Starboy Entertainment.

Terri is steadily gaining fame in the Nigerian Music Industry.

His contribution to Wizkid's song; Soco draws a lot of attention to him and give him fame in the industry.

Terri songs become very popular and trendy online with a great number of streaming and downloads on Boomplay.

Career
After he did a song cover for Wizkid and DJ Jimmy Jatt's Oshe, Terri gained the attention of the popular Nigerian sensation, Wizkid.

In February 2018, while Terri was only 18 years old, he was signed to one of the Nigerian leading record labels Starboy Entertainment.

Before being noticed by Wizkid, Terri made several attempts at starting up his music career.

He started with the name Stoned Teezy and used his saved lunch money to record songs in a studio but it was during 2016 that his music career began to take shape when he released singles like, Where the Party At featuring Fresh and Remy Martins.

He came into the limelight when he was introduced to Soco, a song written by Wizkid and two others released under the name of Starboy Entertainment.

He went on to release his first official single titled Bia in September 2018 under the Starboy Entertainment record label.
He gained more audience after the release of Soco and Shuu.

Terri recently released his first EP titled Afro series, a compilation of seven tracks, without featuring any other artiste but got help producing from top-class Nigerian producers like Iambeatz, Killertunes etc.

Follow Boomplay and keep up-to-date with the latest Terri songs and information.

Terri Songs
• Ojoro
• Bia (2018)
• Shuu (2018)
• Soco ft Wizkid, Spotless and Ceeza Milli (2018)
• On Me (2019)
• Same You (2019)
• Non-stop (2019)
• Jojo ft King Perry and Soft (2019)
• Turn on me (2019)
• Afro Series EP (2020)

Achievements
Terri won a joint award together with Wizkid, Terri, Spotless and Ceeza Milli, for the best collaboration category for the song "Soco" during the Sound City MVP Awards in 2019. He was also recently made Artist of the Month by Apple Music. Additionally, Starboy Terri's music has gone viral, with a video appearing online showing Americans dancing to it at the White House protests.

Terri songs are included in Boomplay music playlists. Search to stream and download Terri songs MP3/ single/ albums on the platform.
New Comments(
83

)