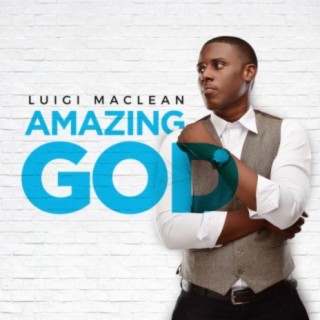 Luigi Maclean
Current #14k

All Time #14.5k

Singer Luigi Maclean is widely deemed a powerful new voice in gospel music from Ghana, and a refreshing addition to a powerful roster of worshippers in the country. Many of Luigi Maclean songs become very popular and trendy online with a great number of streaming and downloads on Boomplay. Alumnus of the Mfantsipim School in Cape Coast, and the Kwame Nkrumah University of Science and Technology (KNUST)

Luigi was born into a musical family, and believes music to be a tool for provoking spiritual transformation and awakening in the world. As a brand built on the word of God, the singer's ministry is steeped in a tone that constantly encourages, conveys hope, and builds faith.

Career
Already in his blossoming career, luigi has served as a tenor backing vocalist in Joe Mettle's LoveGift band for over 10 years. Luigi has been blessed to mount prestigious stages including Joyful Way INC's Explosion of Joy, Ghana Music Awards, and Harvest Praise, sharing platforms with leading ministers like Diana Hamilton, Steve Crown, and a host of others.
Signed with Reverb Studios

Best-known for his appearance on mentor Joe Mettle's "Bo Noo Ni," the singer has risen from grace to grace, at a pace which can only be evidence of God's blessing.
Luigi is the author of the moving hymn, "Amazing God," his debut single released ahead of his forthcoming solo album. He has also accrued immense recognition for his craft, including nominations at the 2019 Vodafone-sponsored Ghana Music Awards and Africa Gospel Music and Media Awards (2019).

Follow Boomplay and keep up to date with the latest Luigi Maclean songs and information.

Luigi Maclean Songs
• Mala
• Oguama
• Amazing God
• God is Able
• Goo No Ni

Luigi Maclean songs are included in Boomplay music playlists. Search to stream and download Luigi Maclean songs MP3/ single/ albums on the platform....more

Country : Ghana
Songs

(0)

Albums

(0)

Playlists

(6)
Listen to Luigi Maclean's new songs including and many more. Enjoy Luigi Maclean's latest songs and explore the Luigi Maclean's new music albums. If you want to download Luigi Maclean songs MP3, use the Boomplay App to download the Luigi Maclean songs for free. Discover Luigi Maclean's latest songs, popular songs, trending songs all on Boomplay.
Singer Luigi Maclean is widely deemed a powerful new voice in gospel music from Ghana, and a refreshing addition to a powerful roster of worshippers in the country. Many of Luigi Maclean songs become very popular and trendy online with a great number of streaming and downloads on Boomplay. Alumnus of the Mfantsipim School in Cape Coast, and the Kwame Nkrumah University of Science and Technology (KNUST)

Luigi was born into a musical family, and believes music to be a tool for provoking spiritual transformation and awakening in the world. As a brand built on the word of God, the singer's ministry is steeped in a tone that constantly encourages, conveys hope, and builds faith.

Career
Already in his blossoming career, luigi has served as a tenor backing vocalist in Joe Mettle's LoveGift band for over 10 years. Luigi has been blessed to mount prestigious stages including Joyful Way INC's Explosion of Joy, Ghana Music Awards, and Harvest Praise, sharing platforms with leading ministers like Diana Hamilton, Steve Crown, and a host of others.
Signed with Reverb Studios

Best-known for his appearance on mentor Joe Mettle's "Bo Noo Ni," the singer has risen from grace to grace, at a pace which can only be evidence of God's blessing.
Luigi is the author of the moving hymn, "Amazing God," his debut single released ahead of his forthcoming solo album. He has also accrued immense recognition for his craft, including nominations at the 2019 Vodafone-sponsored Ghana Music Awards and Africa Gospel Music and Media Awards (2019).

Follow Boomplay and keep up to date with the latest Luigi Maclean songs and information.

Luigi Maclean Songs
• Mala
• Oguama
• Amazing God
• God is Able
• Goo No Ni

Luigi Maclean songs are included in Boomplay music playlists. Search to stream and download Luigi Maclean songs MP3/ single/ albums on the platform.