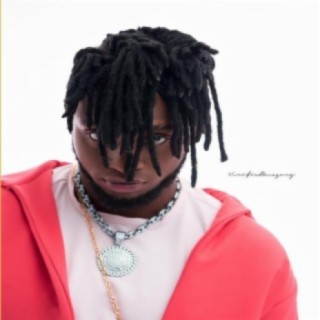 Jojobaby
Current #76.3k

All Time #21.7k

Christian Joshua Daberechi aka Jojobaby is a multi talented musical artiste from Nigeria's SouthEast region. He is signed to the Dream Music Group and his comfortable doing songs in the R&B, Afrobeats, Afro soul and Fusion Genre. Cradled in the city of Kano and having gone through thick and thin in Lagos. Jojobabay, who had been part of fiercely contested top Nigerian music reality show, Nigerian Idols, is spurred by the experience garnered at the show. However, his music versatility spans beyond the Nigerian space. Jojobaby's passion for music exuded from his early days in the church choir, as a young chap he played several instruments. He delved into music professionally in the year 2021 and has encountered the good, the bad and the ugly of the industry. Born into a loving family of 2 siblings, Jojobaby's biggest influence in the music world is Chris Brown buoyed by his energy, talent and style. In his own words, he would one day love to work with Don Jazzy, creating tunes that would make millions sway. Hard work, determination, goal setting and tenacity are values Jojobaby hold in high esteem as he delivers his First EP, OBSESSION.

You can reach him on Instagram and twitter @realjojobaby while on Facebook @jojobaby...more

Country/Region : Nigeria
Songs

(2)

Albums

(2)

Playlists

(0)

Videos and More
Listen to Jojobaby's new songs including "DEPTH", "Tangerine ft. Krizbeatz", and many more. Enjoy Jojobaby's latest songs and explore the Jojobaby's new music albums. If you want to download Jojobaby songs MP3, use the Boomplay App to download the Jojobaby songs for free. Discover Jojobaby's latest songs, popular songs, trending songs all on Boomplay.
Christian Joshua Daberechi aka Jojobaby is a multi talented musical artiste from Nigeria's SouthEast region. He is signed to the Dream Music Group and his comfortable doing songs in the R&B, Afrobeats, Afro soul and Fusion Genre. Cradled in the city of Kano and having gone through thick and thin in Lagos. Jojobabay, who had been part of fiercely contested top Nigerian music reality show, Nigerian Idols, is spurred by the experience garnered at the show. However, his music versatility spans beyond the Nigerian space. Jojobaby's passion for music exuded from his early days in the church choir, as a young chap he played several instruments. He delved into music professionally in the year 2021 and has encountered the good, the bad and the ugly of the industry. Born into a loving family of 2 siblings, Jojobaby's biggest influence in the music world is Chris Brown buoyed by his energy, talent and style. In his own words, he would one day love to work with Don Jazzy, creating tunes that would make millions sway. Hard work, determination, goal setting and tenacity are values Jojobaby hold in high esteem as he delivers his First EP, OBSESSION.

You can reach him on Instagram and twitter @realjojobaby while on Facebook @jojobaby
FAQs about Jojobaby
Where is Jojobaby from?
He is from Nigeria.
How to download songs of Jojobaby?
You can download songs of Jojobaby from Boomplay App for free.
Firstly, install Boomplay app on your mobile phone.
Secondly, navigate to the song you would like to download.
Thirdly, Tap on More > Download.