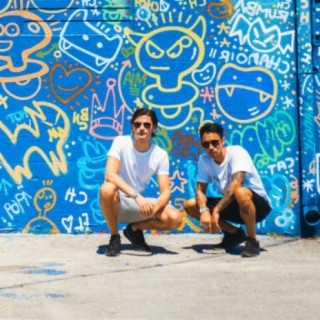 Bassjackers
Current #99k+

All Time #102.2k

DJ, Marlon Flohr, and producer, Ralph van Hilst, who together form Bassjackers, are perfectly in sync as a duo. Their opposing personalities – Marlon being the wild one rocking each and every stage they play and Ralph the more cool and collective preferring to shine behind the scene on the producer seat, are a perfect combination for this unique one dj-one producer collaboration.

The duo exploded onto the scene and in 2011 their dancefloor bomb "Mush Mush" was picked up by Tiësto and released on his label Musical Freedom. The track dominated the Beatport top 10 chart for over two months and was one of the biggest festival tracks of the year. This was a sign of things to come.

Since then, Bassjackers have reached massive new heights in their career with numerous chart-topping bangers and hit collaborations with the likes of Martin Garrix, Afrojack, KSHMR, Dimitri Vegas & Like Mike, R3hab, and Showtek, to name a few, as well as remixes for A-list artists including Rihanna, Enrique Iglesias, Moby, and Ne-Yo. At the top of their game, Bassjackers continue to tear up stages worldwide and wow crowds along the way....more

Country/Region : Netherlands
Songs

(1)

Albums

(0)

Playlists

(2)
Listen to Bassjackers's new songs including "Derp (Mix Cut) ft. MAKJ", and many more. Enjoy Bassjackers's latest songs and explore the Bassjackers's new music albums. If you want to download Bassjackers songs MP3, use the Boomplay App to download the Bassjackers songs for free. Discover Bassjackers's latest songs, popular songs, trending songs all on Boomplay.
DJ, Marlon Flohr, and producer, Ralph van Hilst, who together form Bassjackers, are perfectly in sync as a duo. Their opposing personalities – Marlon being the wild one rocking each and every stage they play and Ralph the more cool and collective preferring to shine behind the scene on the producer seat, are a perfect combination for this unique one dj-one producer collaboration.

The duo exploded onto the scene and in 2011 their dancefloor bomb "Mush Mush" was picked up by Tiësto and released on his label Musical Freedom. The track dominated the Beatport top 10 chart for over two months and was one of the biggest festival tracks of the year. This was a sign of things to come.

Since then, Bassjackers have reached massive new heights in their career with numerous chart-topping bangers and hit collaborations with the likes of Martin Garrix, Afrojack, KSHMR, Dimitri Vegas & Like Mike, R3hab, and Showtek, to name a few, as well as remixes for A-list artists including Rihanna, Enrique Iglesias, Moby, and Ne-Yo. At the top of their game, Bassjackers continue to tear up stages worldwide and wow crowds along the way.
New Comments(
0

)

What do you think of this artist?
FAQs about Bassjackers
Where is Bassjackers from?
They are from Netherlands.
What are the latest songs of Bassjackers?
The latest songs of Bassjackers are Traffic, F*CK (Dimitri Vegas & Like Mike Edit) and Wrong or Right (The Riddle).
What are the best songs of Bassjackers?
The best songs of Bassjackers are Flip The Beat ft. Apek, Derp (Mix Cut) ft. MAKJ and Memento ft. TWIIG.
What are the best albums of Bassjackers?
The best albums of Bassjackers are Flip The Beat, Memento and Crackin (Martin Garrix Edit).
How to download songs of Bassjackers?
You can download songs of Bassjackers from Boomplay App for free.
Firstly, install Boomplay app on your mobile phone.
Secondly, navigate to the song you would like to download.
Thirdly, Tap on More > Download.