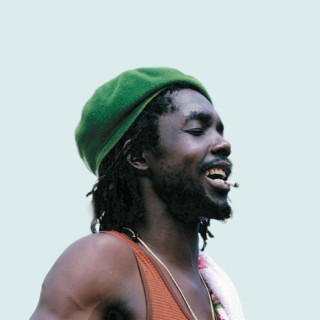 Peter Tosh
Current #1,806

All Time #2,514

Peter Tosh, born in Winston Hubert McIntosh on 19 Oct 1944 and passed away on 11 Sept 1987, was a devoted Rastafarian and a legendary Jamaican reggae musician, known for songs as "Legalize It", "Igziabeher (Let Jah Be Praised", "Stop that Train", "Bush Doctor", "Equal Rights", "Stepping Razor", "Mama Africa" and "Get Up Stand Up" with Bob Marley. Many Peter Tosh songs become very popular and trendy online with a great number of streaming and downloads on Boomplay.

He was founding member of The Wailers, and went on to have a successful solo career after their album Burnin'.

Tosh was born in Petersfield (Westmoreland, Jamaica) by parents too young to take care of him. He grew up raised by his aunt. Nicknamed 'Stepping Razor', he began to sing and learn guitar at an early age, inspired by American radio stations. After an illustrious career with The Wailers and as a solo musician and a reggae Grammy, he was murdered at his home during a robbery.

CAREER AND ACHIEVEMENTS

He often struggled in Jamaica with his group the Wailers (aka the Wailing Wailers - the group included Bunny Wailer and the world-renowned Bob Marley). Tosh joined them on a tour of England in 1972. This was to become his first step to world fame, as during this trip the group signed with Chris Blackwells' Island Records.

Their first album for this record label was the classic LP Catch A Fire. This album represented an entirely new breed of reggae, which meshed Jamaican roots riddims with American soul music and British rock. Tosh songs included "Stop That Train" and "400 Years."

A tour of America and Britain followed as well as follow up "Burnin" which featured Tosh's most well known song "Get Up, Stand Up". However, tension grew within the group, especially between Peter Tosh and Bob Marley, as Tosh witnessed Marley's persona within the group overshadow his own. Both Tosh and Bunny Wailer left in 1975 in pursuit of solo careers....more

Country/Region : Jamaica
Songs

(1)

Albums

(0)

Playlists

(13)
Listen to Peter Tosh's new songs including "Out Of Space (Plomo Remix)", and many more. Enjoy Peter Tosh's latest songs and explore the Peter Tosh's new music albums. If you want to download Peter Tosh songs MP3, use the Boomplay App to download the Peter Tosh songs for free. Discover Peter Tosh's latest songs, popular songs, trending songs all on Boomplay.
Peter Tosh, born in Winston Hubert McIntosh on 19 Oct 1944 and passed away on 11 Sept 1987, was a devoted Rastafarian and a legendary Jamaican reggae musician, known for songs as "Legalize It", "Igziabeher (Let Jah Be Praised", "Stop that Train", "Bush Doctor", "Equal Rights", "Stepping Razor", "Mama Africa" and "Get Up Stand Up" with Bob Marley. Many Peter Tosh songs become very popular and trendy online with a great number of streaming and downloads on Boomplay.

He was founding member of The Wailers, and went on to have a successful solo career after their album Burnin'.

Tosh was born in Petersfield (Westmoreland, Jamaica) by parents too young to take care of him. He grew up raised by his aunt. Nicknamed 'Stepping Razor', he began to sing and learn guitar at an early age, inspired by American radio stations. After an illustrious career with The Wailers and as a solo musician and a reggae Grammy, he was murdered at his home during a robbery.

CAREER AND ACHIEVEMENTS

He often struggled in Jamaica with his group the Wailers (aka the Wailing Wailers - the group included Bunny Wailer and the world-renowned Bob Marley). Tosh joined them on a tour of England in 1972. This was to become his first step to world fame, as during this trip the group signed with Chris Blackwells' Island Records.

Their first album for this record label was the classic LP Catch A Fire. This album represented an entirely new breed of reggae, which meshed Jamaican roots riddims with American soul music and British rock. Tosh songs included "Stop That Train" and "400 Years."

A tour of America and Britain followed as well as follow up "Burnin" which featured Tosh's most well known song "Get Up, Stand Up". However, tension grew within the group, especially between Peter Tosh and Bob Marley, as Tosh witnessed Marley's persona within the group overshadow his own. Both Tosh and Bunny Wailer left in 1975 in pursuit of solo careers.