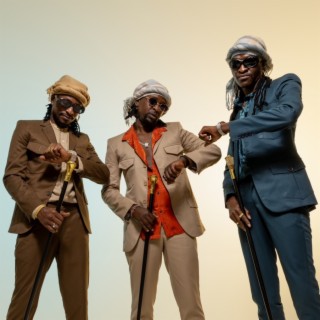 H_ART THE BAND
Current #12k

All Time #6,054

H_ART THE BAND is an Afro soul boy band originating from Nairobi, Kenya. It consists of three artists namely Wachira Gatama, Kenneth 'Kenchez' Muya and Mordecai Mwini. They all hail from Kayole, a neighbourhood in the Eastlands area of Nairobi. Many of H_art The Band's Songs became very popular and trendy on social media in line with a great number of streaming and downloads on Boomplay.

Career
The three members of the band met at the Kenya National Theatre while participating in a stage play about cancer awareness back in 2012. They later on formed the band officially in early 2013.The band secured a record deal with Penya Records in 2013 and without much delay, released their debut single - Uliza Kiatu - in mid 2014.

The song became a straight hit immediately after its release and enjoyed heavy radio and TV rotation in Kenya and East Africa at large. Due to the song's wide appeal, H_ART THE BAND's name became even more famous. H_ART THE BAND credits the choice of the band name to their music being 'art from the heart'.

This can therefore not be denied as that vibe is felt explicitly in their releases. Their second album - Simple Man - followed in 2021 to widespread critical acclaim.

It is a six-track record consisting of features from Nyashinski, Brizy Annechild among others. A standout single off the album is My Jaber (Friday) [feat. Brizy Annechild] which became a smash hit. The music video accompanying the track has now over 6 million views on YouTube.

Achievements
H_ART THE BAND was crowned Stage Performer of the Year during the 2015 edition of Bingwa Awards. The band has also received two AFRIMA (All Africa Music Awards) nominations under Revelation of African Act and Most Promising Artist in Africa for their work on Nikikutazama.

The band boasts of nearly 3 million total Boomplay streams and a whooping 38.2 total streams on their YouTube page. H_ART THE BAND currently has 2 full-length studio albums...more

Country/Region : Kenya
Listen to H_ART THE BAND's new songs including "EL SHADDAI ft. CEDO", "UKIMUONA", "Watabonga ft. Khaligraph Jones" and many more. Enjoy H_ART THE BAND's latest songs and explore the H_ART THE BAND's new music albums. If you want to download H_ART THE BAND songs MP3, use the Boomplay App to download the H_ART THE BAND songs for free. Discover H_ART THE BAND's latest songs, popular songs, trending songs all on Boomplay.
H_ART THE BAND is an Afro soul boy band originating from Nairobi, Kenya. It consists of three artists namely Wachira Gatama, Kenneth 'Kenchez' Muya and Mordecai Mwini. They all hail from Kayole, a neighbourhood in the Eastlands area of Nairobi. Many of H_art The Band's Songs became very popular and trendy on social media in line with a great number of streaming and downloads on Boomplay.

Career
The three members of the band met at the Kenya National Theatre while participating in a stage play about cancer awareness back in 2012. They later on formed the band officially in early 2013.The band secured a record deal with Penya Records in 2013 and without much delay, released their debut single - Uliza Kiatu - in mid 2014.

The song became a straight hit immediately after its release and enjoyed heavy radio and TV rotation in Kenya and East Africa at large. Due to the song's wide appeal, H_ART THE BAND's name became even more famous. H_ART THE BAND credits the choice of the band name to their music being 'art from the heart'.

This can therefore not be denied as that vibe is felt explicitly in their releases. Their second album - Simple Man - followed in 2021 to widespread critical acclaim.

It is a six-track record consisting of features from Nyashinski, Brizy Annechild among others. A standout single off the album is My Jaber (Friday) [feat. Brizy Annechild] which became a smash hit. The music video accompanying the track has now over 6 million views on YouTube.

Achievements
H_ART THE BAND was crowned Stage Performer of the Year during the 2015 edition of Bingwa Awards. The band has also received two AFRIMA (All Africa Music Awards) nominations under Revelation of African Act and Most Promising Artist in Africa for their work on Nikikutazama.

The band boasts of nearly 3 million total Boomplay streams and a whooping 38.2 total streams on their YouTube page. H_ART THE BAND currently has 2 full-length studio albums
New Comments(
48

)
FAQs about H_ART THE BAND
Where is H_ART THE BAND from?
They are from Kenya.
How to download songs of H_ART THE BAND?
You can download songs of H_ART THE BAND from Boomplay App for free.
Firstly, install Boomplay app on your mobile phone.
Secondly, navigate to the song you would like to download.
Thirdly, Tap on More > Download.