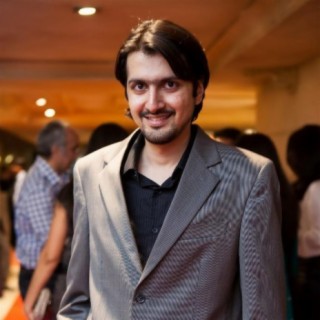 Ricky Kej
Current #125.3k

All Time #24.9k

Composer Ricky Kej is well known for his compositions for film, advertising, world fusion, global chillout, and new age recordings. His music has appeared on nearly 100 compilations from all over the world.

Born in North Carolina, Kej moved to India when he was quite young. Music was not his first pursuit; indeed, he didn't begin to pursue it until he was in his twenties. He studied dentistry in college and began playing guitar in rock bands. Though he graduated as a Dental Surgeon, he moved directly from that career path toward music.

Kej's initial successes in music were in the advertising field. He produced over 3,000 jingles during and immediately after college, landing spots with Levis, Air India, Blaupunkt, Microsoft, and dozens of others.

His debut album, 2003's Communicative Art: Lounge from the Bay, was successful after various tracks appeared on nearly two-dozen international compilation albums.

Kej issued his breakthrough second and third albums, Kamasutra Lounge: Music for Seduction, Vol. 1, in 2008 and its follow-up, Kamasutra Lounge, Vol...more

Country/Region : India
Songs

(209)

Albums

(28)

Playlists

(0)
1

2

3

4

5

6

7

8

9

10

11

12

13

14

15

16

17

18

19

20

21

22

23

24

25

26

27

28

29

30

31

32

33

34

35

36

37

38

39

40

41

42

43

44

45

46

47

48

49

50

51

52

53

54

55

56

57

58

59

60

61

62

63

64

65

66

67

68

69

70

71

72

73

74

75

76

77

78

79

80

81

82

83

84

85

86

87

88

89

90

91

92

93

94

95

96

97

98

99

100
Listen to Ricky Kej's new songs including "Azadi Ka Amrit Mahotsav - Anthem ft. Siddharth Basrur & Shivansh Jindal", "Blue Dream ft. Glenn Zottola", "Shine Your Light (Song By Refugees) ft. Refugee Musicians, Salim Merchant, Neeti Mohan & Aditya Narayan" and many more. Enjoy Ricky Kej's latest songs and explore the Ricky Kej's new music albums. If you want to download Ricky Kej songs MP3, use the Boomplay App to download the Ricky Kej songs for free. Discover Ricky Kej's latest songs, popular songs, trending songs all on Boomplay.
Composer Ricky Kej is well known for his compositions for film, advertising, world fusion, global chillout, and new age recordings. His music has appeared on nearly 100 compilations from all over the world.

Born in North Carolina, Kej moved to India when he was quite young. Music was not his first pursuit; indeed, he didn't begin to pursue it until he was in his twenties. He studied dentistry in college and began playing guitar in rock bands. Though he graduated as a Dental Surgeon, he moved directly from that career path toward music.

Kej's initial successes in music were in the advertising field. He produced over 3,000 jingles during and immediately after college, landing spots with Levis, Air India, Blaupunkt, Microsoft, and dozens of others.

His debut album, 2003's Communicative Art: Lounge from the Bay, was successful after various tracks appeared on nearly two-dozen international compilation albums.

Kej issued his breakthrough second and third albums, Kamasutra Lounge: Music for Seduction, Vol. 1, in 2008 and its follow-up, Kamasutra Lounge, Vol
New Comments(
0

)

What do you think of this artist?