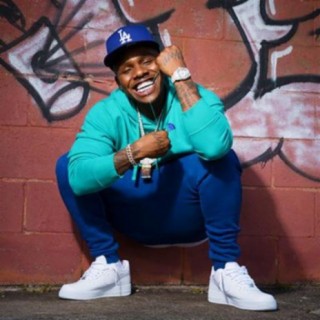 DaBaby
Current #0

All Time #341

Jonathan Lyndale Kirk was born on December 22, 1991, in Cleveland, Ohio. He moved to Charlotte, North Carolina in 1999, where he spent most of his early years. He attended Vance High School, where he graduated in 2010. He attended the University of North Carolina at Greensboro for two years, but did not complete his studies, saying he only went to college for his parents' sake. He grew up listening to Eminem, 50 Cent and Lil Wayne with his two older brothers.

Rapper DaBaby dove headfirst into music, making a taking music seriously between 2014 and 2015. In 2015, he started off his music career by releasing Nonfiction, his debut mixtape.

In January 2019, upon being signed to Interscope, Dababy launched his own imprint, Billion Dollar Baby Entertainment. On March 1, 2019, Dababy debut studio album Baby on Baby, was released via Interscope Records. He is also signed to South Coast Music Group and has a joint contract with both labels. The thirteen-track project features guest appearances from Offset, Rich Homie Quan, Rich the Kid and Stunna 4 Vegas. Baby on Baby debuted at number 25 on the Billboard 200 albums chart in the US. The Dababy's song "Suge" debuted on the Billboard Hot 100 at number 87 on the chart dated April 13, 2019, and later reached the top 10, on the chart dated June 8, 2019.

At the 62nd Annual Grammy Awards, held in 2020, Dababy received two nominations, both for "Suge", in the categories Best Rap Performance and Best Rap Song. On April 13, 2020, he announced on Twitter that his third studio album, Blame It on Baby, would be released on April 17, 2020. The album received mixed to positive reviews, and achieved commercial success, debuting atop the Billboard 200 with 124,000 album-equivalent units, becoming Dababy second number-one album. He also produced his highest-charting song, "Rockstar", featuring Roddy Ricch, which spent seven non-consecutive weeks at number-one on the Billboard Hot 100, and reached number-one in the United Kingdom....more

Country/Region : United States
Songs

(0)

Albums

(0)

Playlists

(31)

Videos and More
Listen to DaBaby's new songs including and many more. Enjoy DaBaby's latest songs and explore the DaBaby's new music albums. If you want to download DaBaby songs MP3, use the Boomplay App to download the DaBaby songs for free. Discover DaBaby's latest songs, popular songs, trending songs all on Boomplay.
Jonathan Lyndale Kirk was born on December 22, 1991, in Cleveland, Ohio. He moved to Charlotte, North Carolina in 1999, where he spent most of his early years. He attended Vance High School, where he graduated in 2010. He attended the University of North Carolina at Greensboro for two years, but did not complete his studies, saying he only went to college for his parents' sake. He grew up listening to Eminem, 50 Cent and Lil Wayne with his two older brothers.

Rapper DaBaby dove headfirst into music, making a taking music seriously between 2014 and 2015. In 2015, he started off his music career by releasing Nonfiction, his debut mixtape.

In January 2019, upon being signed to Interscope, Dababy launched his own imprint, Billion Dollar Baby Entertainment. On March 1, 2019, Dababy debut studio album Baby on Baby, was released via Interscope Records. He is also signed to South Coast Music Group and has a joint contract with both labels. The thirteen-track project features guest appearances from Offset, Rich Homie Quan, Rich the Kid and Stunna 4 Vegas. Baby on Baby debuted at number 25 on the Billboard 200 albums chart in the US. The Dababy's song "Suge" debuted on the Billboard Hot 100 at number 87 on the chart dated April 13, 2019, and later reached the top 10, on the chart dated June 8, 2019.

At the 62nd Annual Grammy Awards, held in 2020, Dababy received two nominations, both for "Suge", in the categories Best Rap Performance and Best Rap Song. On April 13, 2020, he announced on Twitter that his third studio album, Blame It on Baby, would be released on April 17, 2020. The album received mixed to positive reviews, and achieved commercial success, debuting atop the Billboard 200 with 124,000 album-equivalent units, becoming Dababy second number-one album. He also produced his highest-charting song, "Rockstar", featuring Roddy Ricch, which spent seven non-consecutive weeks at number-one on the Billboard Hot 100, and reached number-one in the United Kingdom.
New Comments(
151

)
FAQs about DaBaby
Where is DaBaby from?
He is from United States.
What are the latest songs of DaBaby?
The latest songs of DaBaby are JOC IN '06, CALL OF DUTY and DON'T LET EM LIE.
What are the best songs of DaBaby?
The best songs of DaBaby are ROCKSTAR ft. Roddy Ricch and SHOWING OFF HER BODY ft. Davido.
What are the best albums of DaBaby?
The best albums of DaBaby are BLAME IT ON BABY, SHOWING OFF HER BODY and BLAME IT ON BABY (DELUXE).