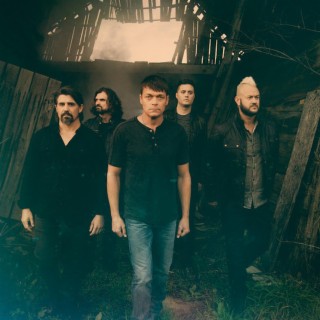 3 Doors Down
Current #3,440

All Time #3,465

The original members of the musical group 3 Doors Down were raised in the small town of Escatawpa, Mississippi, and first included vocalist/drummer Brad Arnold, guitarist Matt Roberts, and bassist Todd Harrell. They began as a rock trio in 1994, playing at a friend's backyard party. Their name was chosen after they saw a broken sign in Foley, Alabama, which read "Doors Down." Since they were a three piece band, they added 3 and became 3 Doors Down.

In the early 2000's they produced several post-grunge singles that included Kryptonite and the ballad Here Without You. Kryptonite generated considerable excitement at Biloxi's radio station WCPR and that support helped 3 Doors Down become a regional favorite. The band added guitarist Chris Henderson and used a studio drummer so that Arnold could sing live. They began to draw relatively large crowds at their local live shows and gradually they extended their range beyond the South to famous clubs in New York like CBGB where 3 Doors Down caught the attention of Republic Records, a subsidiary of Universal. Signed by Republic Records, the musicians issued their first major-label debut, The Better Life, in early 2000....more

Boom ID : 101509997 Country : United States Gender : Group
Songs

(6)

Albums

(1)

Playlists

(1)
Listen to 3 Doors Down's new songs including "Here Without You", "When I'm Gone", "Kryptonite" and many more. Enjoy 3 Doors Down's latest songs and explore the 3 Doors Down's new music albums. If you want to download 3 Doors Down songs MP3, use the Boomplay App to download the 3 Doors Down songs for free. Discover 3 Doors Down's latest songs, popular songs, trending songs all on Boomplay.
The original members of the musical group 3 Doors Down were raised in the small town of Escatawpa, Mississippi, and first included vocalist/drummer Brad Arnold, guitarist Matt Roberts, and bassist Todd Harrell. They began as a rock trio in 1994, playing at a friend's backyard party. Their name was chosen after they saw a broken sign in Foley, Alabama, which read "Doors Down." Since they were a three piece band, they added 3 and became 3 Doors Down.

In the early 2000's they produced several post-grunge singles that included Kryptonite and the ballad Here Without You. Kryptonite generated considerable excitement at Biloxi's radio station WCPR and that support helped 3 Doors Down become a regional favorite. The band added guitarist Chris Henderson and used a studio drummer so that Arnold could sing live. They began to draw relatively large crowds at their local live shows and gradually they extended their range beyond the South to famous clubs in New York like CBGB where 3 Doors Down caught the attention of Republic Records, a subsidiary of Universal. Signed by Republic Records, the musicians issued their first major-label debut, The Better Life, in early 2000.