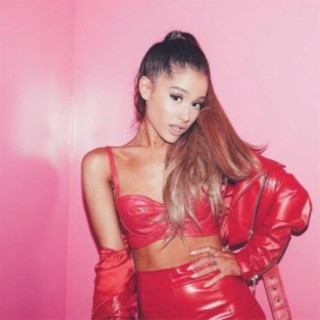 Ariana Grande
Current #736

All Time #282

Ariana Grande (Born June 26, 1993 Boca Raton Florida) She is of Italian descent and considers herself to belong to the Italian American ethnic group. Her parents are Edward Butera, a graphic design firm owner, and Joan Grande, the CEO of communications and safety equipment firm "Hose-McCann Communications". The star also has an older half-brother, who is a producer and an entertainer. Ariana Grande brother is called Frankie Grande. She has been involved in acting and singing since she was a child. She was always a part of school performances and had a goal to record an R&B album. When she got older, she was cast for a supporting role in the musical "13" on Broadway and sang at the jazz club "Birdland" in New York City.

Ariana Grande's acting career took off when she got the role of Cat Valentine in the TV show "Victorious" on Nickelodeon. This appearance got her a huge fan base and the status of a teenage idol. After "Victorious" ended in 2013 after three years of running, she went on to star in a spin-off called "Sam & Cat". This was when the young celebrity made her choice between acting and music career, effectively choosing the latter.

The debut album "Yours Truly", influenced by 1950s pop music and R&B, came out in 2013. Since then, the promising artist has recorded four more albums: "My Everything" (2014), "Dangerous Woman" (2016), "Sweetener" (2018) and "Thank U, Next" (2019). All of them have become platinum. For Ariana Grande's outstanding work and contribution to the modern music industry, she has received a lot of awards, including a Grammy award, a Brit Award, two Billboard Awards and three American Music awards. Ariana Grande also managed to become Billboard "Woman of the Year" in 2018 and the most followed woman on Instagram....more

Country/Region : United States
Listen to Ariana Grande's new songs including and many more. Enjoy Ariana Grande's latest songs and explore the Ariana Grande's new music albums. If you want to download Ariana Grande songs MP3, use the Boomplay App to download the Ariana Grande songs for free. Discover Ariana Grande's latest songs, popular songs, trending songs all on Boomplay.
Ariana Grande (Born June 26, 1993 Boca Raton Florida) She is of Italian descent and considers herself to belong to the Italian American ethnic group. Her parents are Edward Butera, a graphic design firm owner, and Joan Grande, the CEO of communications and safety equipment firm "Hose-McCann Communications". The star also has an older half-brother, who is a producer and an entertainer. Ariana Grande brother is called Frankie Grande. She has been involved in acting and singing since she was a child. She was always a part of school performances and had a goal to record an R&B album. When she got older, she was cast for a supporting role in the musical "13" on Broadway and sang at the jazz club "Birdland" in New York City.

Ariana Grande's acting career took off when she got the role of Cat Valentine in the TV show "Victorious" on Nickelodeon. This appearance got her a huge fan base and the status of a teenage idol. After "Victorious" ended in 2013 after three years of running, she went on to star in a spin-off called "Sam & Cat". This was when the young celebrity made her choice between acting and music career, effectively choosing the latter.

The debut album "Yours Truly", influenced by 1950s pop music and R&B, came out in 2013. Since then, the promising artist has recorded four more albums: "My Everything" (2014), "Dangerous Woman" (2016), "Sweetener" (2018) and "Thank U, Next" (2019). All of them have become platinum. For Ariana Grande's outstanding work and contribution to the modern music industry, she has received a lot of awards, including a Grammy award, a Brit Award, two Billboard Awards and three American Music awards. Ariana Grande also managed to become Billboard "Woman of the Year" in 2018 and the most followed woman on Instagram.
FAQs about Ariana Grande
Where is Ariana Grande from?
She is from United States.