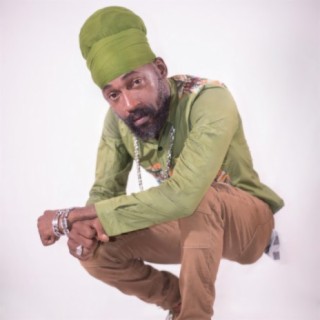 Lutan Fyah
Current #2,685

All Time #2,672

Lutan Fyah (Anthony Martin) was born on 4 December, 1975 in Spanish Town, Jamaica. Lutan Fyah songs, like One Dyce, become very popular and trendy online with a great number of streaming and downloads on Boomplay.

Career
He started his musical career in 1999 and recorded his first songs for Buju Banton's Gargamel records. In 2004 he released his first solo album "Dem No Know Demself" on Minor7Flat5 followed in 2005 by "Time & Place" on Lustre Kings.

He also released several singles on various label from Jamaica, USA and UK. In 2007, his album "You Brings Blessings"

Fyah also released several singles on various label from Jamaica, United States and the UK, and has also covered Dr. Dre songs and The Fugees. He has appeared on many compilation albums and featured in many other artists song releases. In 2009 Dubstep artist Rusko released Babylon Volume 2 including the track "Sound Guy Is My Target" featuring Fyah.

Fyah has voiced a number of singles for Jah Warrior including Never Surrender My Faith, Let Righteousness Be Your Guide, and Crab Inna Barrel. Fyah has performed several times at the Uppsala Reggae Festival.

Follow Boomplay and keep up-to-date with the latest Lutan Fyah songs and information.

Lutan Fyah Songs
• Real Love Showcase
• Lutan Fyah - African Be Proud Music Never Dies

Lutan Fyah songs are included in Boomplay music playlists. Search to stream and download Lutan Fyah songs MP3/ single/ albums on the platform...more

Country : Jamaica
Songs

(226)

Albums

(49)

Playlists

(6)
1

2

3

4

5

6

7

8

9

10

11

12

13

14

15

16

17

18

19

20

21

22

23

24

25

26

27

28

29

30

31

32

33

34

35

36

37

38

39

40

41

42

43

44

45

46

47

48

49

50

51

52

53

54

55

56

57

58

59

60

61

62

63

64

65

66

67

68

69

70

71

72

73

74

75

76

77

78

79

80

81

82

83

84

85

86

87

88

89

90

91

92

93

94

95

96

97

98

99

100
Listen to Lutan Fyah's new songs including "Never Say Never ft. Beenie Man", "My Love Is Running Over", "Kick It Inna Africa" and many more. Enjoy Lutan Fyah's latest songs and explore the Lutan Fyah's new music albums. If you want to download Lutan Fyah songs MP3, use the Boomplay App to download the Lutan Fyah songs for free. Discover Lutan Fyah's latest songs, popular songs, trending songs all on Boomplay.
Lutan Fyah (Anthony Martin) was born on 4 December, 1975 in Spanish Town, Jamaica. Lutan Fyah songs, like One Dyce, become very popular and trendy online with a great number of streaming and downloads on Boomplay.

Career
He started his musical career in 1999 and recorded his first songs for Buju Banton's Gargamel records. In 2004 he released his first solo album "Dem No Know Demself" on Minor7Flat5 followed in 2005 by "Time & Place" on Lustre Kings.

He also released several singles on various label from Jamaica, USA and UK. In 2007, his album "You Brings Blessings"

Fyah also released several singles on various label from Jamaica, United States and the UK, and has also covered Dr. Dre songs and The Fugees. He has appeared on many compilation albums and featured in many other artists song releases. In 2009 Dubstep artist Rusko released Babylon Volume 2 including the track "Sound Guy Is My Target" featuring Fyah.

Fyah has voiced a number of singles for Jah Warrior including Never Surrender My Faith, Let Righteousness Be Your Guide, and Crab Inna Barrel. Fyah has performed several times at the Uppsala Reggae Festival.

Follow Boomplay and keep up-to-date with the latest Lutan Fyah songs and information.

Lutan Fyah Songs
• Real Love Showcase
• Lutan Fyah - African Be Proud Music Never Dies

Lutan Fyah songs are included in Boomplay music playlists. Search to stream and download Lutan Fyah songs MP3/ single/ albums on the platform
New Comments(
0

)

What do you think of this artist?