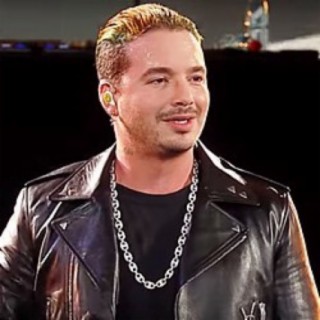 J Balvin
Current #2,162

All Time #3,665

José Álvaro Osorio Balvin, also known as J Balvin, was born on May 7, 1985 in Medellín, Colombia. He began his musical career at age 14.
When he was 17 years old, he moved to the United States to learn English and study music. Since then, he has been working between the United States and Colombia, performing in several urban clubs in Medellín.
Everything changed after Balvin released the single "Yo Te Lo Dije", which created a considerable "buzz" in the United States, and put it on the radar of the industry. His performance in the 2013 Youth Award consolidated his career.
The following year, Balvin released the song "6 AM" ft. Farruko, which was a great success on Latin radio stations in the United States, Latin America and Europe.
A remix of their song "Ay Vamos" ft. Nicky Jam and French Montana was used in the movie "Fast and Furious 7". Latin remixes of songs by Ariana Grande, Robin Thicke, Maroon 5 and Prince Royce have also been made.
In 2015, Balvin was very successful with the song "Ginza", which reached # 1 on Billboard's Hot Latin Songs list.
"Energy", was released in 2016, with other successes, such as "Safari" ft. Pharrell Williams, Sky and BIA, "35 Pa Las 12" ft. Fire and "Bobo", among many others.
In June of the 2017, J Balvin is sent next to Willy William with the simple one, "Mi Gente", arriving at the position number 1 of Global Top 50 in Spotify. With 7 different remixes, among them, Steve Aoki, Alesso, Cedric Gervais, Dillon Francis, Sunnery James & Ryan Marciano, Henry Fong and the most important with Beyonce.
On January 19, 2018, he launched "Machika", together with Jeon and Anitta. On February 26 he premieres "Ahora", another of the singles from the new album. On April 13 comes "Ambiente", approaching the release of the full album on May 25, under the title "Vibras"....more

Country/Region : Colombia
Listen to J Balvin's new songs including "Con Flow Mátalo ft. Dragon & Caballero, Jay y el Punto, Kevin Roldan, Maluma & Reykon", and many more. Enjoy J Balvin's latest songs and explore the J Balvin's new music albums. If you want to download J Balvin songs MP3, use the Boomplay App to download the J Balvin songs for free. Discover J Balvin's latest songs, popular songs, trending songs all on Boomplay.
José Álvaro Osorio Balvin, also known as J Balvin, was born on May 7, 1985 in Medellín, Colombia. He began his musical career at age 14.
When he was 17 years old, he moved to the United States to learn English and study music. Since then, he has been working between the United States and Colombia, performing in several urban clubs in Medellín.
Everything changed after Balvin released the single "Yo Te Lo Dije", which created a considerable "buzz" in the United States, and put it on the radar of the industry. His performance in the 2013 Youth Award consolidated his career.
The following year, Balvin released the song "6 AM" ft. Farruko, which was a great success on Latin radio stations in the United States, Latin America and Europe.
A remix of their song "Ay Vamos" ft. Nicky Jam and French Montana was used in the movie "Fast and Furious 7". Latin remixes of songs by Ariana Grande, Robin Thicke, Maroon 5 and Prince Royce have also been made.
In 2015, Balvin was very successful with the song "Ginza", which reached # 1 on Billboard's Hot Latin Songs list.
"Energy", was released in 2016, with other successes, such as "Safari" ft. Pharrell Williams, Sky and BIA, "35 Pa Las 12" ft. Fire and "Bobo", among many others.
In June of the 2017, J Balvin is sent next to Willy William with the simple one, "Mi Gente", arriving at the position number 1 of Global Top 50 in Spotify. With 7 different remixes, among them, Steve Aoki, Alesso, Cedric Gervais, Dillon Francis, Sunnery James & Ryan Marciano, Henry Fong and the most important with Beyonce.
On January 19, 2018, he launched "Machika", together with Jeon and Anitta. On February 26 he premieres "Ahora", another of the singles from the new album. On April 13 comes "Ambiente", approaching the release of the full album on May 25, under the title "Vibras".
New Comments(
6

)