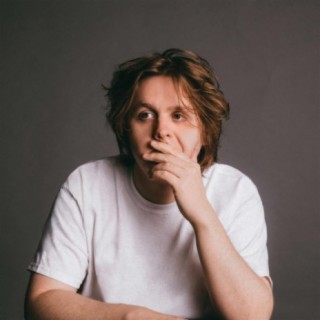 Lewis Capaldi
Current #845

All Time #921

Lewis Marc Capaldi popularly known as Lewis Capaldi is a Scottish singer-songwriter and musician born on October 7, 1996 in Glasgow, Scotland.

Aged 18, he was discovered by his manager Ryan Walter through an iPhone recording Capaldi recorded in his bedroom and had uploaded to his SoundCloud account. The day after first contacting Capaldi, Walter flew from America to Britain to hear Capaldi play live.

He released his debut extended play recording Bloom EP on 20 October 2017, on which he worked with Grammy Award-winning Malay producer, a long-time collaborator of Frank Ocean.

He later released his first track "Bruises" on 31 March 2017. The song quickly amassed close to 28 million plays on Spotify worldwide, making him the fastest ever unsigned artist to reach 25 million plays on the platform.

Shortly afterwards, he was signed to the German branch of the Universal Music Group, and was assigned to the Vertigo Berlin division. His releases are distributed in UK by Virgin EMI Records and in North America by Capitol Records.

In late 2017, Capaldi was named as one of Vevo dscvr 'Artists to Watch 2018' and he won Best Acoustic at the Scottish Alternative Music Awards. Capaldi was also long-listed for BBC Music's Sound of 2018.

In September 2020, Capaldi's Divinely Uninspired to a Hellish Extent passed one million UK chart sales.

In December 2020 he performed "Someone You Loved" and "Before You Go" along with a cover of Wham's "Last Christmas" at the iHeartRadio Jingle Ball.

Since 2020, Capaldi has been in writing and recording sessions for his forthcoming second studio album which is expected to be released at some stage during 2022. He announced at the end of December 2020 that he'd be taking a break from social media to focus on work for the album....more

Country/Region : United Kingdom
Songs

(0)

Albums

(0)

Playlists

(10)
Listen to Lewis Capaldi's new songs including and many more. Enjoy Lewis Capaldi's latest songs and explore the Lewis Capaldi's new music albums. If you want to download Lewis Capaldi songs MP3, use the Boomplay App to download the Lewis Capaldi songs for free. Discover Lewis Capaldi's latest songs, popular songs, trending songs all on Boomplay.
Lewis Marc Capaldi popularly known as Lewis Capaldi is a Scottish singer-songwriter and musician born on October 7, 1996 in Glasgow, Scotland.

Aged 18, he was discovered by his manager Ryan Walter through an iPhone recording Capaldi recorded in his bedroom and had uploaded to his SoundCloud account. The day after first contacting Capaldi, Walter flew from America to Britain to hear Capaldi play live.

He released his debut extended play recording Bloom EP on 20 October 2017, on which he worked with Grammy Award-winning Malay producer, a long-time collaborator of Frank Ocean.

He later released his first track "Bruises" on 31 March 2017. The song quickly amassed close to 28 million plays on Spotify worldwide, making him the fastest ever unsigned artist to reach 25 million plays on the platform.

Shortly afterwards, he was signed to the German branch of the Universal Music Group, and was assigned to the Vertigo Berlin division. His releases are distributed in UK by Virgin EMI Records and in North America by Capitol Records.

In late 2017, Capaldi was named as one of Vevo dscvr 'Artists to Watch 2018' and he won Best Acoustic at the Scottish Alternative Music Awards. Capaldi was also long-listed for BBC Music's Sound of 2018.

In September 2020, Capaldi's Divinely Uninspired to a Hellish Extent passed one million UK chart sales.

In December 2020 he performed "Someone You Loved" and "Before You Go" along with a cover of Wham's "Last Christmas" at the iHeartRadio Jingle Ball.

Since 2020, Capaldi has been in writing and recording sessions for his forthcoming second studio album which is expected to be released at some stage during 2022. He announced at the end of December 2020 that he'd be taking a break from social media to focus on work for the album.
New Comments(
70

)