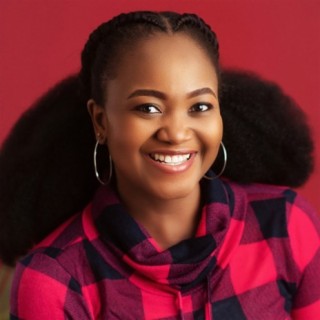 Aghogho
Current #7,504

All Time #6,908

Aghogho is a Nigerian singer, songwriter, administrator and human resources professional. Many of Aghogho's Songs became very popular and trendy on social media in line with a great number of streaming and downloads on Boomplay.

Career
Her passion for singing started at an early age of 9 which led her to writing her own songs at the age of 15. Many years later, this passion is evident in her spirit-filled and impactful ministrations. She sings inspirational and Gospel songs.

Aghogho has been recognized as one of the leading female gospel artists in Abuja, Nigeria. Her music is impactful as it is diverse, cutting across different music genres, reflecting her inspiring music creativity, with which she has built a brand name for herself in the gospel music industry in Nigeria and beyond.

She released her debut Album You Are in the last quarter of 2019. The album featured Onos, Temple, Toluwanimee, Nikki Laoye and Atonye Douglas.

YOU ARE has gained significant airplay on several radio stations across continents especially as a source of encouragement to listeners during the Covid-19 pandemic period. During the 2020 lockdown Aghogho stepped up her game with the release of Than Before which many tagged the emergence of a star. The song got massive accolades and has since remained fans favourite.

She started 2021 on an inspiring note with a self titled 6 track EP. Aghogho. The Ep has been recognized by listeners as purely good music. Many media houses early this year listed Aghogho as one of the artists to watch out for in 2021.

The EP is a fusion of soul, RnB, Afropop genres with a blend of powerful vocals and melodic delivery to put you in the right frame of mind each time you listen.

Her latest release is a powerful worship sound titled At your feet. It is available on her website as well as on digital stores.

Follow Boomplay and keep up to date with the latest songs of Aghogho and information.

Aghogho's Songs
• Saviour And Friend
• It Is You
• Connected
• Supernatural
• Then Before
• All The Praise
• The Tomorrow
• Get Up
• Thank You
• Sweet Love
• Safe

Aghogho's Songs are included in Boomplay music playlists. Search, stream, and download Aghogho's Songs, her latest singles and albums in MP3 only on the Boomplay platform for free....more

Country/Region : Nigeria
Songs

(34)

Albums

(14)

Playlists

(1)
1

2

3

4

5

6

7

8

9

10

11

12

13

14

15

16

17

18

19

20

21

22

23

24

25

26

27

28

29

30

31

32

33

34
Listen to Aghogho's new songs including "Than Before", "Imela ft. Isabella Melodies", "Great Is Your Faithfulness" and many more. Enjoy Aghogho's latest songs and explore the Aghogho's new music albums. If you want to download Aghogho songs MP3, use the Boomplay App to download the Aghogho songs for free. Discover Aghogho's latest songs, popular songs, trending songs all on Boomplay.
Aghogho is a Nigerian singer, songwriter, administrator and human resources professional. Many of Aghogho's Songs became very popular and trendy on social media in line with a great number of streaming and downloads on Boomplay.

Career
Her passion for singing started at an early age of 9 which led her to writing her own songs at the age of 15. Many years later, this passion is evident in her spirit-filled and impactful ministrations. She sings inspirational and Gospel songs.

Aghogho has been recognized as one of the leading female gospel artists in Abuja, Nigeria. Her music is impactful as it is diverse, cutting across different music genres, reflecting her inspiring music creativity, with which she has built a brand name for herself in the gospel music industry in Nigeria and beyond.

She released her debut Album You Are in the last quarter of 2019. The album featured Onos, Temple, Toluwanimee, Nikki Laoye and Atonye Douglas.

YOU ARE has gained significant airplay on several radio stations across continents especially as a source of encouragement to listeners during the Covid-19 pandemic period. During the 2020 lockdown Aghogho stepped up her game with the release of Than Before which many tagged the emergence of a star. The song got massive accolades and has since remained fans favourite.

She started 2021 on an inspiring note with a self titled 6 track EP. Aghogho. The Ep has been recognized by listeners as purely good music. Many media houses early this year listed Aghogho as one of the artists to watch out for in 2021.

The EP is a fusion of soul, RnB, Afropop genres with a blend of powerful vocals and melodic delivery to put you in the right frame of mind each time you listen.

Her latest release is a powerful worship sound titled At your feet. It is available on her website as well as on digital stores.

Follow Boomplay and keep up to date with the latest songs of Aghogho and information.

Aghogho's Songs
• Saviour And Friend
• It Is You
• Connected
• Supernatural
• Then Before
• All The Praise
• The Tomorrow
• Get Up
• Thank You
• Sweet Love
• Safe

Aghogho's Songs are included in Boomplay music playlists. Search, stream, and download Aghogho's Songs, her latest singles and albums in MP3 only on the Boomplay platform for free.
FAQs about Aghogho
Where is Aghogho from?
She is from Nigeria.
How to download songs of Aghogho?
You can download songs of Aghogho from Boomplay App for free.
Firstly, install Boomplay app on your mobile phone.
Secondly, navigate to the song you would like to download.
Thirdly, Tap on More > Download.